Allen Ludden was named Allen Packard Ellsworth at birth and was the son of Elmer and Leilia Matilda (Allen) Ellsworth. When he was just 15 months old, on 5 Jan 1919 his father, Elmer Ellsworth, an ice dealer, died due to complications from the 1918 Flu epidemic (Spanish Flu). 
In about 1922, his mother, Leilia married Homer J. Ludden, an electrical engineer.  Homer would later adopt Allen and they changed his name to Allen Ellsworth Ludden. His ancestry profile shows him as Allen Packard Ellsworth Ludden.
After the death of his first wife, Allen married the famous Betty White.
He is included in this series because he is the grandson of Nathan Kelly Van Matre's daughter Clara Marilda Van Matre and I thought his story was worth sharing. 
Born:               5 Oct 1917 in Mineral Point, Lafayette County, Wisconsin, USA.
Died:               9 Jun 1981 at the age of 63 in Los Angeles, Los Angeles County, California, USA of stomach cancer.
Married 1st:     11 Oct 1943 Margaret Frances McGloin in Cook County, Illinois, USA.  
Married 2nd:    14 Jun 1963 Betty Marion White in Las Vegas, Clark County, Nevada, USA. 
Find A Grave:   Memorial #1925 buried at Graceland Cemetery, Mineral Point, Iowa County, Wisconsin, USA, plot 

Military:  Capt. U.S. Army, World War II- Enlistment date: 3 Mar 1943, Discharge date: 11 May 1946. Pot I1.
As a child, his family lived in the Wisconsin cities of Janesville, Elkhorn, Antigo and Waupaca, before moving to Texas when Allen was nine years old. The Ludden family resided in Corpus Christi, Texas.
He was an English and dramatics major at the University of Texas at Austin, Texas, graduating with a Bachelor of Arts Degree in 1940 and a Master of Arts Degree in 1941. 
He joined the US Army in 1943 and served as an officer in charge of entertainment in the Pacific theater, received a Bronze Star Medal for meritorious service, and was discharged with the rank of captain in 1946. In 1948 he became the program director at radio station WCBS in New York City. He left that position in June 1959 to become program coordinator for all of CBS's owned-and-operated radio stations. During the 1940s and early 1950s he began his career as an adviser for youth in teen magazine columns and on radio. His radio show for teenagers, Mind Your Manners, received an honorable mention Peabody Award in 1950. 
In 1959 he became the host of the CBS television student quiz show "Genera Electric College Bowl" until 1962 and in October 1961 he began his run as the host of "Password." He hosted other television game shows, including "Win With the Stars" (1968 to 1969), the short-lived "Stumpers!" (October to December 1976), "Liar's Club" (1977 to 1979), and "Password Plus" (1979 to 1980).  Additionally, he penned four books of "Plain Talk" advice, along with a novel for young readers, "Roger Thomas, Actor" (1959), and was the recipient of the 1961 Horatio Alger Award.
He released an album called Allen Ludden Sings His Famorite Songs on RCA Records in 1964.
Allen was diagnosed with cancer in early 1980, he took a leave of absence from Password Plus for chemotherapy treatment, with Bill Cullen filling in as host and later Tom Kennedy assumed duties as host. Although he hoped to return to the show, his cancer grew worse and he never returned. On October 7, 1980, he slipped into a coma while on vacation in Monterey, California. 
Allen was buried beside his father in the Ellsworth family plot in Graceland Cemetery in his hometown of Mineral Point, Wisconsin.
The following article posted in the Buffalo News on May 19621 gives a glimpse of his personality that I thought interesting enough to share.
Allen Ludden — New Type of Television Emcee
'High Brow' Finds Himself in Demand
By FRANK LANGLEY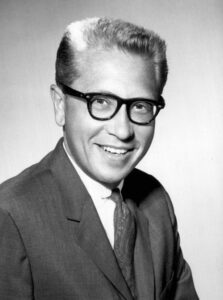 When he first began hosting the once – a – week GE College Bowl (5:30 PM Sundays, Ch. 4), more than one viewer wrote in asking Allen Ludden what he did for a living. "It really wasn't a strange question," Ludden recently remarked, "for I myself knew that I just wasn't the type of TV emce that people expected to see." Todayd that question would ssem strange indeed, what with Ludden spending 3 1/2 hours before the cameras each week as the College Bowl moderator and host of the day-and-night-time Password telegames on CBS-TV and Ch. 4. The years between the debut of College Bowl and the debut of Password have been years of change for TV hosts. The emergence of Allen Ludden as the first of a new, high-domed breed of television hosts is a commentary on the evolution of television, no less than on Ludden himself.
TELEVISION has changed," insists the man who looks like George Gobel in horn-rimmed glasses. "When a show I emceed back in 19/54 sank in its channel, I couldn't get another emcee job. Luckily, I did get an executive position first at NBC, then at  CBS. "But my point is: Why am I flooded with hosting offers today when, half a dozen years ago, I had to quit this sort of job to be able to work at all? Why, am I suddenly so commercial?"
"I HAVEN'T changed." Ludden declares. "I'm a slicker showman perhaps, but essentially I'm the same guy."What has changed is TV. The air today is full of shows a sponsor wouldn't have touched in those years–and College Bowl and Password are two of them. "I don't consider the middle 50s as any 'Golden Age' of television. But I do think we're on the brink of a "Golden Age" right now."
ON THE Sunday afternoon College Bowl, Ludden is the referee in a battle of quick-recall between two college teams. On Password, which Ludden describes as a game of mental ping pong, a team member tries to convey a secret word to his partner by uttering a word clue.
After its daytime debut on DBS las October (2PM, Ch. 4) the game showed so much promise that it was given a Tuesday nighttime tryout (8 PM, Ch 4) and has proved very popular there. The evening Password is being moved to. 6:30 PM, Sundays in the fall. Since College Bowl is on at 5:30. and two shows with Ludden half an hour apart were too much, he was asked to choose between College Bowl and the evening Password. He chose the stay with password and will give up College Bowl. Until he left his job last fall as a Consultant for creative Services, CBS News, Ludden considered TV hosting a part-time job. Only when Password was offered to him did Ludden lay his future on the line as a TV personality.
THE ALLEN LUDDEN "egg head" appearance is not a deceptive one. He taught in the Austin (Texas) High School and the University of Texas, and still reports to the university at least once a year as a member of the school's Curriculum Committee. He has also authored four books since 1954 and has another in the panning stage. "I hope," he says, "to act in summer stock and I would also like to do a conversation-type TV program. "No, I can't imagine myself as another Garry Moore. I am not a comedian. But I can imagine doing the type of show that dave Garroway used to do. That I can think about."
LUDDEN'S WIFE, who had been ill for some time, died soon after Password started. It was not until March that Allen could take time off for a European holiday to regain a little perspective on himself and his life. From the Sistine Chapel in Rome to the George V bar in Paris to the poets' corner in London's Westminster Abbey, Ludden was recognized wherever there were American tourists. It was his first personal exposure to the viewing public. "People would come up to me a little nervously and ask, "Are you Allen Ludden?" he recalled. "I'd say yes and they'd say something pleasant about one or both shows."
LUDDEN is a native of Mineral Point, Wisconsin, but grew up in Corpus Christi and San Antonio, Tex. He received his bachelor's and master's degrees (in English) at the University of Texas (he was Phi Beta Kappa). A teen-age advice show, Mind Your manners, that he dreamed up and put on a Hartford, Conn., radio station, was picked up by NBC. Ludden later interested the network in a quiz show with college students as contestants. he moved to New York for the show, which lasted 26 weeks and quietly died. Then followed producing jobs in radio and television with NBC and CBS.
WHEN THE College Bowl quiz show became a sponsored success, Ludden began to build a reputation as a bright, literate–and quiet mannered–master of ceremonies. Other offers of jobs came along, including Password.
Margaret Frances McGloin daughter of Gilbert James and Coyrene Ameta (Cook) McGloin.
Born:               27 Nov 1915 in Corpus Christi, Nueces County, Texas, USA.
Died:               30 Oct 1961 at the age of 45 in Manhattan, New York County, New York, USA of lung cancer.
Find A Grave:   Memorial #25434014 buried at Gate of Heaven Cemetery, Hawthorne, Westchester County, New York, USA, Section 23, Plot 19, Grave 11.
daughter of Horace Logan and Christine "Tess" (Cachikis) White.
Born:               17 Jan 1922 in Oak Park, Cook County, Illinois, USA.
Died:               28 Dec 2021 at the age of 99, just 19 days before her 100th birthday, in Brentwood, Los Angeles, Los Angeles County, California, USA.
Married 1st:     1945 Frederick Richard Barker, an Army Pilot in WWII.
Divorced:         1945 Frederick Richard Barker. Barker reportedly lived on a chicken farm in Ohio, which Betty realized was not the lifestyle she wanted to embody. 
Married 2nd:    1947 Albert Edward "Lane Allen" Wootten a talent agent and later director and actor.
Divorced:         1949 Albert Edward "Lane Allen" Wooten. Find A Grave:   Memorial #235442009. Betty was cremated. Her ashes were given to Glenn Kaplan, the man in charge of Betty's health care directive. According to Betty's wishes, her final resting place will not be revealed to the public.
While volunteering with the American Women's Voluntary Services, Betty met Air Force P-38 pilot Dick Barker. After the war, they were married in 1945 and moved to Belle Center, Ohio, where Barker owned a chicken farm; he wanted to embrace a simpler life, but Betty did not enjoy doing so. They returned to Los Angeles and divorced within a year. 
She married Hollywood talent agent Albert Edward Wootten who went by the name Lane Allen, in 1947, and they divorced in 1949 because he wanted to start a family but she wanted to focus on her career rather than having children.
After her divorce from Lane Allen, Betty broke out in the entertainment industry, starring on the show Hollywood on Television in 1949. She would remain single until 1963.
Betty Marion White was an American actress and comedian. A pioneer of early television with a career spanning seven decades, she was noted for her vast television appearances acting in sitcoms, sketch comedy, and game shows. She produced and starred in the series Life with Elizabeth (1953-1955) making her the first woman to produce a sitcom.
After moving from radio to television, she became a staple panelist of American games shows such as Password, Match Game, Tattletales, To Tell the Truth, The Hollywood squares, and the $25,000 Pyramid. Dubbed "the first lady of game shows", she became the first woman to received the Daytime Emm Award for Outstanding Game Show Host for the show Just Men! in 1983.
She then became more widely known for her guest and recurring appearances on shows such as The Carol Burnett Show, The Bold and the Beautiful and Boston Legal.
White's biggest roles include Sue Ann Nivens on the CBS sitcom The Mary Tyler Moore Show (1973-1977), Ross Nylund on the NBC sitcom The Golden Girls (1985-1992), and Elka Ostrovsky on the TV Land sitcom Hot in Cleveland (2010-2015).  She had a late career resurgence when she starred in the romantic comedy film The Proposal (2009) and hosted Saturday Night Live the following year, garnering her a Primetime Emmy Award for Outstanding Guest Actress in a Comedy Series. The 2018 documentary Betty White: First Lady of Television detailed her life and career.
For her lengthy work in radio, television, and film, she twice earned the Guiness World Record for the longest TV career by a female entertainer in both 2014 and 2018. She received various awards and nomination, including seven Emmy Awards, three Screen Actors Guild Awards, and a Grammy Award. She received a star on the Hollywood Walk of Fame and inducted into the Television hall of Fame in 1995.
Betty had a lifelong love for animals. Her love for animals was passed down to her from her parents, noting in her book, Betty & Friends that they were "genuine animal nuts" and stating that she is "eternally grateful" for their passion for animals. She participated in several different telethons to raise money for their services and even contributing to the creation of the Long Beach spcaLA Pitchford Companion Animal Village and Education Center.
Although the details of her estate remains a mystery (at the time of this writing), it is suspected that she left a large portion of her estate to the many animal charities she advocated for throughout her life.
Allen and Margaret (McGloin) Ludden
Allen and Margaret were married in Cook County, Illinois in 1943. By 1950 they were living in West Hartford Township, Hartford County, Connecticut where Allen was a writer for radio.
On April 4, 1961, Margaret underwent emergency lung surgery in Roosevelt Hospital in New York City. Allen was unable to attend a scheduled local game show in Corpus Christi, Texas. His brother, Frank Ludden substituted for him.
Hospital To Release Mrs. Ludden Soon – April 10, 19612
Mrs. Allen Ludden, the former Margaret McGloin of Corpus Christi, is progressing, satisfactorily and is expected to go home from Roosevelt Hospital in New York City in about a week. Allen Ludden, moderator of "General Electric College Bowl" on CBS television network, was unable to come to Corpus Christi for a scheduled show last week due to his wife's hospitalization. Mrs. Ludden is the daughter of Mrs. Amela McGloin, local postmaster.
Mrs. Allen Ludden Dies in New York – 30 October 19613
Mrs. Margaret Ludden, 46, wife of television personality Allen Ludden and daughter of Corpus Christi Postmaster Mrs. Ameta McGloin, died at 9 a.m. today of cancer in New York City's Roosevelt Hospital.
Although she had undergone surgery previously, Mrs. Ludden had not been inactive for any long period of time until she was hospitalized five weeks ago.
A TRIP planned here by her husband last spring to conduct a quiz show among students similar to his CNS-TV "GE College Bowl" was canceled in April because Mrs. Ludden was undergoing lung surgery.
Both Mrs. Ludden and her husband were graduated from corpus Christi High school and were married in 1943. He is the son of Mr. and Mrs. H. J. Ludden of 630 Indiana.
Mrs. Ludden attended Del Mar College following high school graduation.
SURVIVING are her husband, two daughters, Martha and Sara; a son, David; her mother, two sisters, Mrs. Ernest L. Johnson of Corus Christi, and mrs. Larry McGannon of Midland, and two brothers, Gilbert and Pat McGloin, both of Corpus Christi.
The Luddens left Corpus Christi in 1946. The family lives at Briarcliff Manor, N.Y.
Funeral services will be held Wednesday morning at St. Theresa Catholic Church in Briarcliff Manor, N.Y. Burial will be in Gate of Heaven Cemetery, Mount Pleasant, N. Y.
Beecher Funeral Home of Pleasantville, N.Y., is in charge of arrangements.
Allen Ludden and Betty White
In 1961, Betty appeared on the New York based game show, Password. She quickly became enamored with the host at the time, Allen Ludden.  Ludden reportedly proposed to Betty three times (at least twice) before she finally accepted. 
The two were married on June 14, 1963 at the Sands Hotel and Casino in Las Vegas.
Betty White and Allen Ludden met on his show Password. Their romance blossomed when they played summer stock theatre together in the play Critic's Choice in 1962. They also appeared together in the romantic comedy Janus in 1963. They appeared together in an episode of The Odd Couple in which Felix and Oscar appeared on Password and also as a couple on a season 4 episode of The Love Boat.
After they married, they settled in Westchester, County, New York. By 1975 they were living in a suburb of Los Angeles, California.
Allen and Betty remained together for 18 years before he passed away from stomach cancer in 1981.
Betty said to Daily Mail in 2011 "Once you've had the best, who needs the rest?"  She called Allen Ludden the "love of her life". She told Larry King in 2010, her marriage to Ludden was simply "the best. He was the love of my life." King ventured that she never got over him, and she agreed. "Never," she said.
After he married Betty, he began his shows with the trademark phrase, "Hi, Doll." This was his little nod to Betty's mom, Tess, who was an avid watcher.
Betty, although never had any children of her own, became a doting stepmom to Allens three kids.
Allen and Betty lived a very public life. There are hundreds of articles about them and their life.  I've added a couple below that I found interesting and that gave interesting tidbits about their life together.
Betty White Weds; Still Betty White4
Who Says East, West Never Meet?
By DICK KLEINER
Newspaper Enterprie Assn.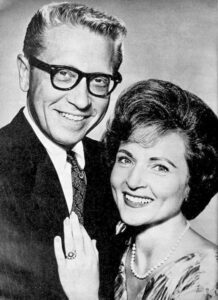 NEW YORK–Now that Betty White is Mrs. Allen Ludden she is still Betty White. If that sounds paradoxical, let Betty explain.
"I feel," she says, "as though I'll always be betty White. I'm proud of my new name, but I'm not really Mrs. Ludden. There once was a wonderful woman with that name."
Ludden was a widower when he met Miss White, when they both appeared in "Critic's Choice" in summer stock last year. The romance blossomed, with Ludden's children leading the cheering section. Martha, 13, and Sara, 10, immediately became Betty's good friends and still are. David, 15, helped the cause along, too.
The three call her Betty, and that's the way she wants it. All five are happy about the way things are working out.
Betty and Allen only have one bone of contention, and that's more of a gag than anything else. They feud, kiddingly, about the relative merits of the two coasts. Allen is a confirmed easterner, with betty just as dedicated to California.
They will, of course, live in the East, because that's where Allen does password. Betty will probably find plenty of panel shows and other work to occupy herself here.
"My agent," she says, "is happier about the marriage than anybody. he's been wanting me to move her for years."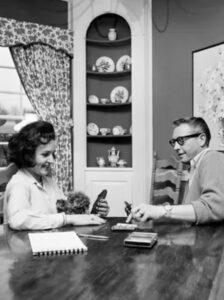 Experts in the Art of 'Gamemanship'5
Allen Luddens Always At It–On and Off TV
By CYNTHIA LOWRY
AP Television-Radio Writer
NEW YORK (AP) – Allen Ludden, a Phi Beta Kappa and former university instructor, plays games professionally — on television — 52 weeks of the year. Even his vacation period is filled with programs which are pre-taped.
Betty White his wife, is an actress who plays games professionally — on television — two weeks out of every four.
So what do the Allen Luddens do when they are relaxing at home?
They play games. At this writing. Ludden is demuring because in a two-year-old cumulative gin rummy score, his wife has a lead of almost 6,000 points.
The couple, who base their activities in New York where Allen's daily "Password" is produced, have lived since their marriage two years ago in a big, old and beautiful house in Westchester County, about 35 miles from midtown Manhattan.
There are three Ludden children — Allen was a widower — David 17, Martha, 15, and Sarah, 11. They are. as eager gamesmen as the adults in the family.
'Password' at Dinner
The family often plays "Password" at dinner; chess, checkers, bridge, cribbage or anything else in odd moments.
Allen and Betty met on "Password," having arrived at their professional status by two very different routes.
She grew up in Los Angeles, studied acting and moved into radio, with bit parts in such shows as "This is Your FBI," "The great Gildersleeve" and "Blondie." In 1951 Betty became the star of a local Los Angeles television program — on the air five hours a day, six days a week, which explains her easy manners before the cameras.
Later she starred in "Life With Elizabeth," a live comedy show seen all over the country, and in 1954, the daily "Betty White Show" on NBC.
Allen became interested in dramatics as a student at the University of Texas and directed an Austin Little Theatre group while teaching there.
Allen became interested in dramatics as a student at the University of Texas and directed an Austin Little Theatre group while teaching there.
He produced Army shows in the Pacific during World War II, and later became personal manager and advance man for Maurice Evans on a nationwide tour of "Hamlet." Eventually he got into radio, with a teen-age interview show, "Mind Your Manners" on Hartford's WTIC. This led him to New York as moderator of the radio version of "College Bowl."
"College Bowl," a top-speed quiz show went on television and led him logically to the day time "Password" when it started in 1961.
Allen has a cultivated taste for games: Betty was born with it.
Compulsive Game Players
"I come from a family of compulsive game players," she said. "Last week when I was flying east with my mother, we made up a little game. I gave her initials, and she had to fit them to the titles of old movies."
Ludden, author of four non-fiction books and a novel, all directed at readers under 21, is more inclined to non-game pursuits in his spare time.
He is a gardener and in two years the spacious grounds and gardens of their old colonial home have been restored to mint condition. While he is involved in two writing projects, Betty has been busy redecorating the interior.
Both of them keep active with stock engagements. They have appeared together in "Critic's Choice," "Janus," "Mr. President" and "Bell, Book and Candle." Betty has starred in six productions of "This King and I," in "Take Me Along" and "Brigadoon." Next month she will tackle the part of Nellie Forbush in "South Pacific" in Milwaukee's Melodytop Theater, an assignment for which she is now taking dancing lessons.
"Actors love to play television games," Betty said. "Mostly because, if they are good at it, games reveal the performer as a person which has never happened before. But game-playing can also be a problem — type-casting. You are an actress by trade and have played games a lot on television, lots of luck on your career. This is one reason I'm delighted to play stock, so they remember."
Always Allen, Ludden
"The audience soon forgets that she's Betty White," added Allen. "But I'm afraid it always remembers that I'm Allen Ludden who is acting.a part."
Whatever the audience thinks, such is the power of television that they have been breaking house records wherever they appear.
Ludden, who developed "College Bowl" into a furiously paced intelligence contest between two crack college teams, thinks of it more as a "spectator sport" for the television audience than a game that the audience can play along with the personalities on camera, true of "Password."
"Playing games on television demands only one thing," said Betty. "That is concentrating on the game, which means forgetting the cameras."
Ludden, whose principal television exposure for more than 10 years has been on game shows, wants to expand his television horizons. He is thinking about a talk show and perhaps a variety program.
"But I never want to leave daytime television." he said. "There you find a continuing audience."
Allen Ellsworth & Margaret Frances (McGloin) Children:
Sarah Ludden 
Martha Ludden
David Ludden
Citations and Attributes: