My Family History
My Genealogy Research
My Stories
 My website is about Genealogy, Family, Traveling
and anything else I decide to write about. 🙂
Father: Luke Erwin Doerr
Paternal Grandfather: Theodore Peter Doerr
Paternal Grandmother: Anna Marie Kappes
Paternal Great Grandfather: William Doerr
Paternal Great Grandmother: Marie Catherine Untereiner
Paternal Great Grandfather: Vincent Kappes
Paternal Great Grandmother: Mary Bodensteiner
Mother: Eleanor Alberta Marks (aka Mark)
Maternal Grandfather: Andrew William Marks
Maternal Grandmother: Marie Anine Larsen
Maternal Great Grandfather: Andrew Marks (Mørk)
Maternal Great Grandmother: Margrethe Budolfsen
Maternal Great Grandfather: Christen Larsen
Maternal Great Grandmother: Marie Elisabeth Sorensen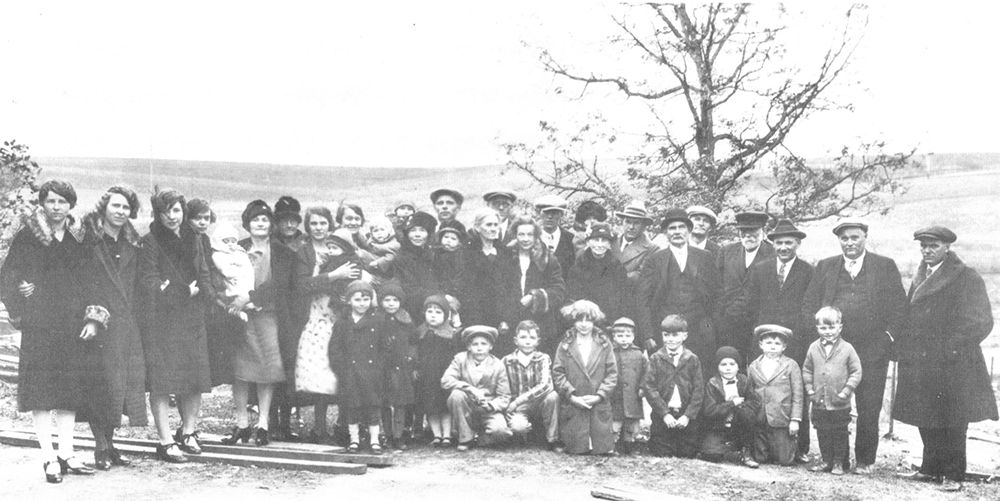 The above picture was taken at William and Catherine Doerr's 50th wedding anniversary celebration at the farm of John Moellers in Winneshiek County, Iowa. Names of those in the photo:
1st row: John Moellers, Jr; Ardis Einck; Ila Einck; Frederick Einck; Donald Einck; Edna Moellers; Clair Moellers; Maurice Doerr; Luke Erwin Doerr (my father); Jerome Einck; William Doerr.
2nd row: Amanda Schultz; Elizabeth Meyer Miller; Irene Einck; Amelia Espeseth (Gina's sister); Anna Doerr holding LeRoy Doerr (my grandmother and Uncle LeRoy); Cornelia Espeseth (Gina's mother); Helen Moeller holding Ralph Moeller; Gina Espeseth Doerr holding Arlawayne Doerr; Catherine Einck holding Helen Einck; John Doerr holding Dorisgene Doerr; Mrs. August Meyer; Ben Einck; Julie Einck; Gilbert Torgenson (John Doerr's friend); Catherine Doerr (my great grandmother), Henry Schultz holding Geneva Schultz; William Doerr (my great grandfather); A.J. Einck; August Meyer; John Moeller; Ted Doerr (my grandfather); Henry Miller.
In addition to my family, I've done considerable work on my children's paternal family, The Van Matre's. I have not published this in my blog as I am writing a book and hence my recent absence of posts. The Van Matre's came over from Holland in 1663, so have a long and interesting history that I've been able to trace. There is a lot of conflicting information that I'm researching and putting in my book. The original name was van Meteren and changed to Van Metre or Van Meter (spelling of names was dependent on the person doing the writing) during the second generation in America. The first generation seldom used the surname. One branch of the family would later use the spelling Van Meter and another would use the spelling Van Metre.  A much later generation would change the spelling to Van Matre, the reason unknown.  However, they all most likely descended from the same family in Holland, and two cousins who emigrated to America.