Building a Research Toolbox
This week our Topics are:
Building a Research Toolbox
Citing Sources
Building a Genealogy Research Toolbox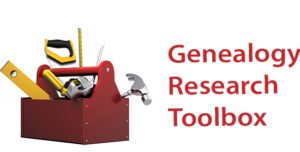 Thomas MacEntee gave us many options for building a toolbox.  I have done a variation on several of these over the years, but never really used them as efficiently as I should have. I would say I am very good at bookmarking sites, but the organization of my bookmarks is pretty bad. Consequently, when Thomas provided us with a list of options and a sample toolbox he gave us permission to 'steal', I was pretty excited.
Thomas called the options for building a toolbox "Containers".  First we need to choose a container.  This can be in any format, such as a Word or Excel Document; File Manager Applications, e.g. Internet shortcuts; Web Browser bookmarks; Note Taking Applications, like Evernote or One Note; Social Bookmarking Sites, such as StumbleUpon or Diigo; Blogs or Websites; Wikis; Web Content Curations Tools, such as Bundlr, URlist and even Pinterest; or Other Online Storage Sites, like Google Docs or Dropbox.
Well, when I read his list, I got pretty excited about the Blogs or Websites because my WordPress is always open in my browser window and if not, easy to access. It's also easy to access from my laptop or my Mac.
So I chose setting it up on my website using WordPress.  I 'copied' Thomas' sample and established my own Research Toolbox.  I set this up so it's part of my main menu and easy to access. I've customized it a bit for my use and it will be a living Toolbox for me, as I'll update it as I find other resources to add. I also plan to leave this public, since it's always good to share.
Citing Sources
Since I cited sources as I did my research over the last two weeks, this one was already done. I found that it's really important to cite your sources when you find them, which is what I did. In fact I wrote a post about citing sources correctly.  I also put this in practice as I wrote my last blog post about my grandfather Andrew William Mark.  If you scroll to the bottom, you'll see my sources listed.
All in all, I feel pretty good about this week and continue 'on track' with my Do-Over.
---
The Genealogy Do-Over journey is a 13 week challenge from Thomas MacEntee, of GeneaBloggers.