Jan Joosten Van Metetern Lineage
There are a variety of conjectures as to who Jan Joosten parents were and no "evidence" to prove any of them. I will be covering the three most popular theories. 
Spoiler Alert! The author of The Quick Family Chronicles1 states he has a Y-DNA 700 finding that show a link from the Van Cuijk Van Meteren family before 1500 AD to the American van Meteren family. Cool Beans!! But which line is our Jan Joosten van Meteren from???  I'll cover the three most popular options below, but first I'll cover what we know about the beginning of the name van Meteren.
Dutch Naming Standards of the Time
One of the earliest types of surname is the patronymic: a person's father's name, with the equivalent of "son" or "daughter" attached. Dutch patronymics added the suffix –s, –se, –sen, or –en; or the abbreviated – sz or –dr for "szoon" (son) or "dochter." (daughter). For example, Peter Johnson is the son of John, William Peterson being the son of Peter.
If a surname was used, typically the location or geographic surnames, prefixed by "van" or "van de(r)" becoming the surname, such as van Meteren (from Meteren), van Haaften (from Haaften), van Cleef (from Cleef), etc., and usually signifying a person's place of origin, would be added to the Patronymic. An example would be Joost Janse Van Metereen, son of Jan Joosten Van Meteren.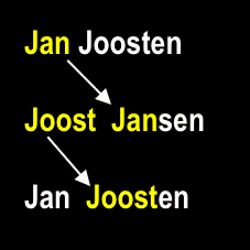 For a first name, Dutch naming customs usually followed a distinctive pattern: first- and second- born daughters and first- and second-born sons were given the first names of their paternal and maternal grandparents. Later children were named for parents, aunts, uncles, godparents, and friends. The pattern varied by alternately choosing from the paternal then the maternal line with the birth of each child. When a child died young, his or her name was given, at times, to the next child born of the same sex, thereby preserving the name that the dead child had carried.2
Also, it was standard in Dutch families for the women to retain their "maiden" names. For example: Macyke Hendricse (wife of Jan Joosten and Sara DuBois (wife of Joost Janse continued to use their "maiden" name in legal documents throughout their life. Catherine DuBois, wife of Louis DuBois, would retain her name until her second marriage.
Spelling was not important. Although most records I've found have been translated to english and the spelling was at the mercy of the person writing the original record or maybe even the translator. As an example: Gÿsbert, Gÿjsbert, Gisbert, Gijsbert are all spellings I found for this name.
Meteren and the Title Lord of Meteren (where it began)
The Place Name Meteren is first found in  the "Ridderschap" (Knighthood Rolls), which began in Holland in 1250. At that time it belonged to Otto van Bentheim. The following timeline is the documented change of ownership and evolution of the title "Lord of Meteren" and the first person taking on the name van Meteren.
1253 – September, Meteren is in a deed, belonging to Masen, Otto van Bentheim.
1265 – Meteren belonged to the ancient family and estates of the Cuycks as recited in a deed.
1267 – Otto van Bentheim ceded Malsen to his brother Egbert. Otto's son, Johan II van Bentheim, inherited Malsen from his Uncle Egbert, who died childless, sold in 1306 to the Count of Guelders [Holy Roman Empire].
1306 – Meteren and Malsen was sold? to the Count of Guelders  and becoming a sole judiciary of the Tielerwaard. Meteren came under the rule (?) of Deil and remained under it until the revolution (1566-1648).
1315 – Otto van Cuyck is Lord of Meteren. He appears to be the first Lord of Meteren.
1350 – After the death of Otto van Cuyck, Meteren comes to his nephew Johan van Cuyck, son of his elder brother Hendrik van cuyck, sho follows him in death in 1352.
1352 – The Lordship of Malsen and Meteren, still united, now belong to the third son, Wennemar, who died in 1380.
1380 – Possession of Malsen and Meteren, now goes to Wennemars son Jan van Cuyck.
1394 – After Jan van Cuycks death in 1394, including the Countyof Cuyck, reverted to his sister Johanna van Cuyck.
1394 – Johanna became Lady of Cuick and Grave. She took possession of the Meteren Manor about that time.
1394 – Johanna, Lady of Cuick and Grave, was given in marriage to Willem, son of the Duke of Mechteld. Marriage agreement concluded at grave 3 October 1394 and the wedding held at the same place 24 Dec 1394.
1400 – With the death of Johanna, Meteren and Cuyck reverts to her sister Elisabeth.
1400 – Elisabeth Van Cuick marries Jan van Tiel also called van Eyll.  He becomes the Lord of Meteren and takes on the name Jan van Meteren. He becomes the first van Meteren and his children become the first to use the name van Cuyck van Meteren.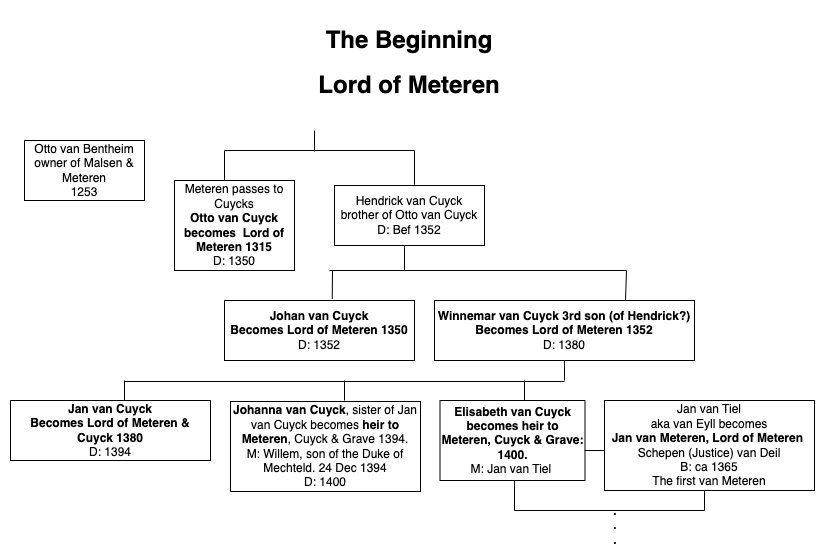 It appears to me that Jan van Tiel is the first van Meteren and that all future van Meterens and van Cuick van Meterens descend from this Jan van Meteren and Elisabeth van Cuyck.
However, the records skip for over 100 years where we pick up future generations of van Meterens and van Cuyck van Meterens.
The "Huize Meteren" was a stately building, the residence for many generations of prominent members of the Meteren family, and subsequently by others. This mansion stood in a beautiful park of magnificent trees, some of which were of great height and dimensions. Rebuilt in 1768-69. It was sold in December 1906 and within a short time after was torn down, along with the grand old trees.3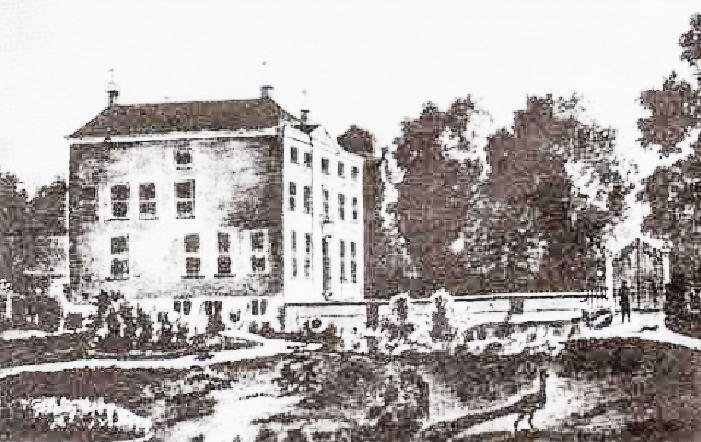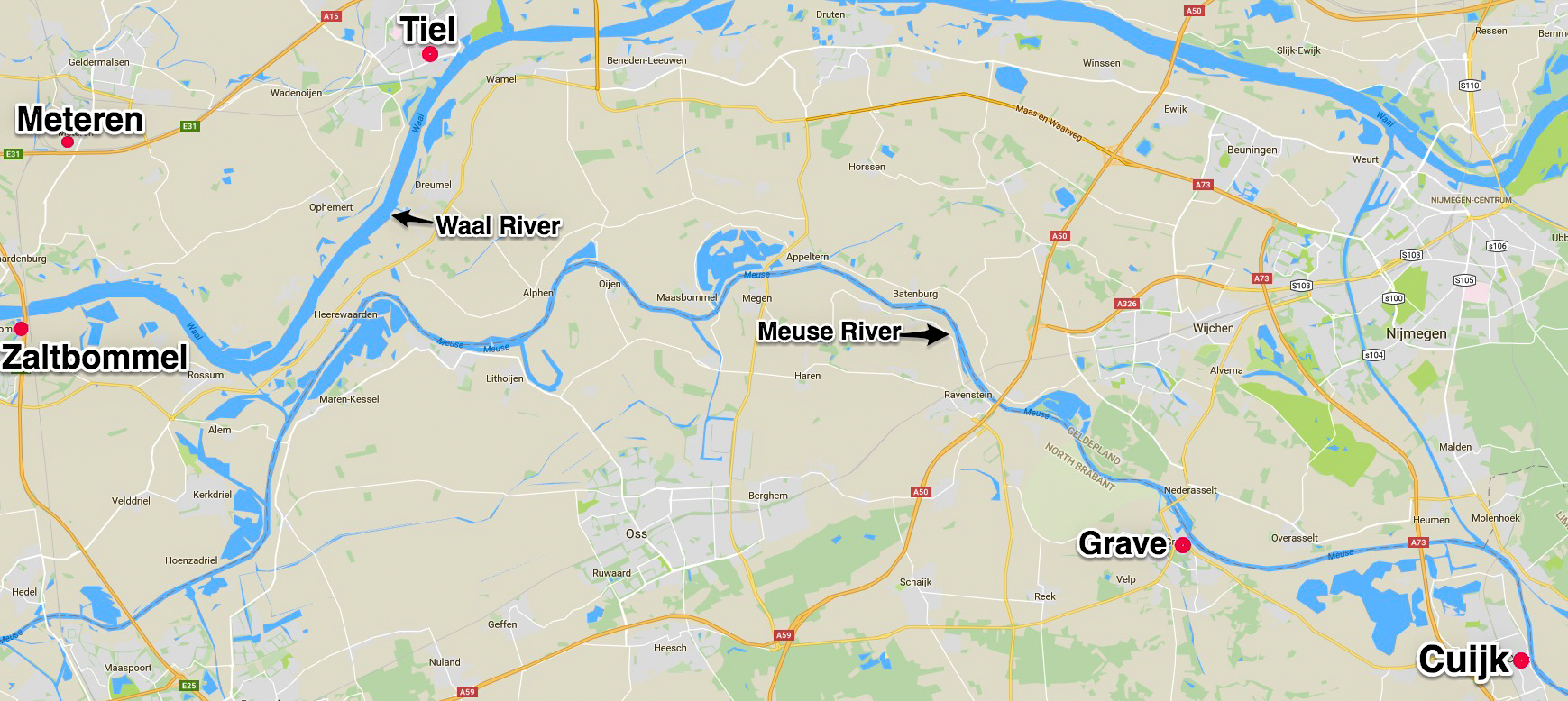 Johan van Meteren Titled Line
This Tree follows the titled line of Johan van Meteren, Lord of Meteren.
One of the most popular theories is that Goosen, son of Melchoir is our Jan Joosten. This is not likely, as Joosten and Goosen are two completely different names. In The Origin and Descent of an American Van Metre Family4 by Samuel Gordon Smyth, 1923, he put (Joosten?) next to Goosens name. Unfortunately, this assumption has gone viral. Also, Gosewijn (aka Goosen) died with no children and therefore could not be our Joosten.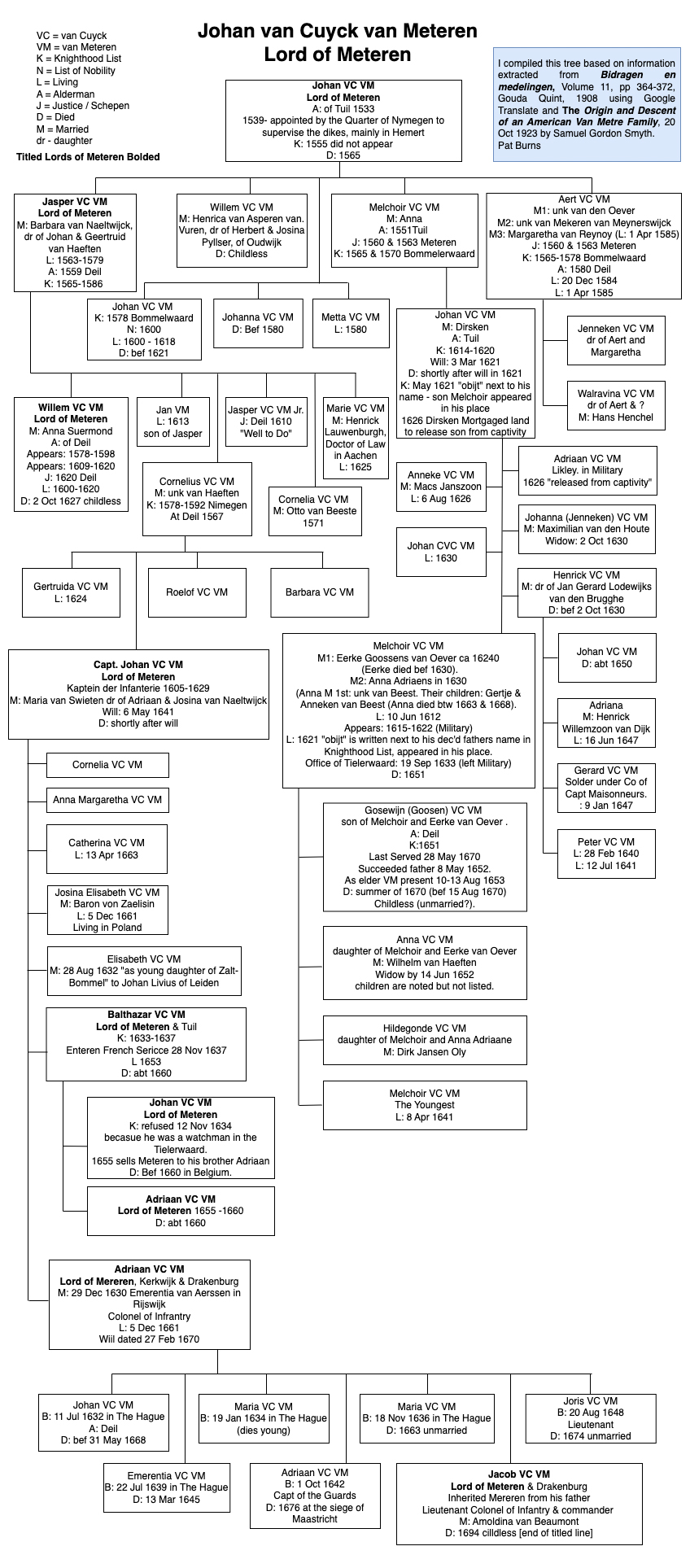 Jacobus and Emanuel van Meteren Line
This line descends from a very well educated and wealthy family.
Jacobus van Meteren married Otillia Ortelius. He had a dangerous occupation as a publisher and trader in forbidden books, including the English versions of the Bible.  He married Otillia Ortelius, daughter of William Ortelius, of Ausburch (Augsburg, Hungary). Otillia was the aunt of the world-famous geographer, Abraham Oretilius. Abraham was the son of Otillia's brother Leonard. After Leonards death, Jacobus and Otillia raised his son, Abraham, who was about 10 years old at the time. He would become close to his cousin and Jacobus and Otillia's son Emanual van Meteren.
Emanuel van Meteren was well educated and then apprenticed for 10 years with a merchant to learn commerce. After his apprenticeship he moved to London where he would marry and raise his family. He married twice: First to Maria van Loobroeck, who dies a year later of pestilence, along with about 23,700 others. He second married Esther van den Corput, daughter of Nicolaus van den Corput, secretary of Breda and son of Johann van den Corput, formerly mayor of Breda. 
Emanuel and Esther had 13 children, 3 sons and 6 daughters still living at the time of his death.  
Emanuel settled in London as a self-employed merchant. He lived on Lime Street and occupied the all-important office of postmaster. In 1583, he was elected chief or council of the "College of Dutch Merchants in London". He was Dutch Consul until just before his death in 1612.
Both Jacobus and Emanuel had interesting life stories that you can find in my post: Jacobus and Emanuel van Meteren.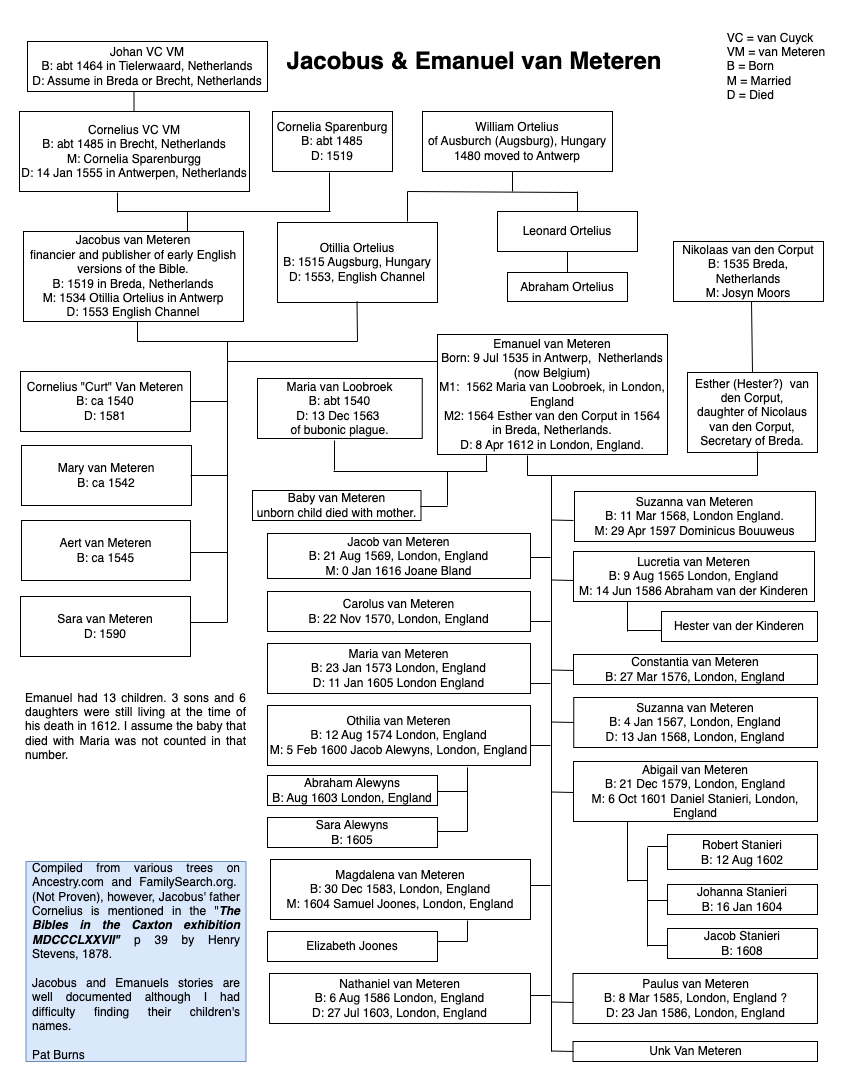 This is a less known and untitled line.  Gysbert van Meteren and Jutta van Herwijnen marriage is noted in The Bibles in the caxton exhibition5, by Henry Steven and in The Origin and Descent fo an American Van Metre Family6 by Samuel Gordon Smyth.  
The rest of the names were obtained from a variety of sources, including a tree obtained from  Fine Lineage7 by P.S. Ehrlich, unfortunately the Van Meter section is now under reconstruction and not available at the date of this post.
Jan Joosten and family will emigrate to America in 1662. His cousin Jan Gijsbertsen van Meteren and his son Krijn will emigrate to America in 1663, where I will pick up their stories.