Following are our photo's we took on our trip to Miami and on down to Key West, Florida in May 2021, along with some Key West History and a bit about our trip.
We flew down from Raleigh, NC to Fort Lauderdale early Sunday morning the 16th of May, 2021.  We rented a car and just a bit after 10:00 a.m. were on the road and drove through Alligator Alley across Florida  to the Gulf side of the state to see two properties John owned. We stopped for McDonalds French Fries which served as our "brunch". Luckily, no potty stops were required on my part. It was a beautiful day and the trip to and from was uneventful. [John sold the lots later that year for a nice profit.] 
We got back to Miami about 4:00 pm and checked into our hotel, where we had dinner and relaxed for the evening.  Although not anything on the menu that looked good for me, I decided to go for just soup and house salad, which turned out to be pretty good.  A long Island Ice Tea topped off the meal (it was one of the best we've ever had, too)
On Monday morning we left Miami and began our trip to Key West.  This trip took several hours drive, but we were not in a hurry so took our time enjoying the views of the beautiful turquoise waters in both the gulf side and the Atlantic side.  The towns were quaint and like in the old days, we drove through several fishing communities.
We stopped in Islamorada (AKA Islas Morada) and had lunch at Marker 88. Islamorada is located directly between Miami and Key West and on five Islands: Tea Table Key, Lower Matecumbe Key, Upper Matecumbe Key, Windley Key and Plantation Key. Marker 88 is located at Mile Marker 88 on Plantation Key. We sat at a picnic table right on the beach facing the gulf and the view was awesome with a pristine white beach and beautiful turquoise water.  John had seared Tuna and I had the 5 cheese mac and cheese with green beans.  The food was excellent although a bit expensive.
Once on the road, again we enjoyed the view going over the many bridges.  One emergency stop for Pat and then again on our way. 
Oceans Edge Resort and Marina
We stayed at Oceans Edge Resort and Marina that is located on Stock Island. The resort was beautiful, and our room had a balcony with view over the swimming pool and a beautiful marina. The daily sunsets were awesome. On Monday evening we had dinner at the resort. The food was good but menu mininmal and a bit expensive.
Key West was discovered by Ponce de Leon, named Los Martines and claimed by Spain in 1513.
In 1815 Don Juan de Estrada granted Key West to Juan Pablo Salas for meriforious service to the Crown.
John W. Simonton, from Alabama, bought the island from Salas for $2,000 in 1821. Lt. M.C. Perry, USN took possession of the island in 1822 and claimed it for the United States as part of the ceded territory from Spain.
In 1823 Key West was claimed a port of entry to the United States, the first customs house was opened and the first Naval Depot was established. The Marines came in 1824 and the Army came in 1831.
Throughout the history of the Florida Keys, the deepwater port of Key West attracted pirates such as Blackbeard and Jean LaFitte. Piracy in the Caribbean became such a problem that Commodore David Porter was dispatched to end it in 1822, using Key West as a home port. Wrecking and salvage became a principal occupation of the islanders.
In 1828, Congress established the Superior Court of the Southern Judicial District of Florida at Key West, which allows salvage court to be held in Key West, as previously it had to be held in St. Augustine. This allowed for a growing salvage industry and increase in population of the island.
In 1829 Key West got its first post office and in 1831 William H. Hall established the first American cigar factory in Key West.
The military constructed Fort Taylor in 1845 and in 1846 began Fort Jefferson in the Dry Tortugas, 60 miles off Key West.
In 1832, Key West became a full-fledged city.
In 1836 the East and West Martello Towers were constructed. Interestingly enough during the Civil War the Southernmost City in the United States remained in the hands of the Union.
The 1846 hurricane destroyed much of Key West, which at that time extended no further east than White Street. The rest of the island was considered "country" and salt ponds.
In the 1850's, a series of lighthouses were erected along the reef from a point near Key Largo to Key West. The marking of the dangerous reef allowed for safe navigation of the waters in the Keys and caused the salvage industry to decline.
Sponging, fishing and farming of pineapples, Key limes, tomatoes and melons were a mainstay on the Keys, while Key West enjoyed its "Metropolitan" flavor, military support, deep water port and industrial life of the cigar makers.
Between 1863 and 1886, the San Carlos Institute was established, and Cubans began migrating to the United States through Key West, which continued to be a wealthy and prosperous city.
Then, in 1886 half of the city was again destroyed, this time by fire.
In 1904, Henry Flagler began his Overseas Railroad to Key West.  It was completed in 1912. Key West prospered as trainloads of wealthy from the north would come to stay on Key West, at the exclusive resort Flagler had built. The current Customs House and Federal Building were completed.
The Great Depression in the 1930's put Key West into impoverishment. Rehabilitation was begun by the Florida Emergency Relief Administration. Economic experts were imported to evaluate the future of Key West. Their answer was "tourism".
In 1935, a Labor Day hurricane wiped out the Florida East Coast Railway and killed 500 people in Upper Matacombe, north of Key West.
Henry Flagler's dream came to an end. In 1937 work began to construct a highway over the railway bed.  It opened to traffic in 1938. 1942 saw the completion of the Overseas Highway.
In 1939 the government established a submarine base in Key West and in 1940 the first Naval Air Station opened.
In the 1940's President Harry S. Truman enjoyed his stays in Key West where he had established his "Little White House."
1940 and 1950 the population doubled in Key West. Monroe County Beach was opened and in 1952 the passenger-auto ferry from Havana to Key West was established.
In 1961 relations with Cuba were suspended and Key West suffered yet another economic blow. The revolution in Cuba created an influx of Cubans to Key West in their desire to escape Communism.
Key West was a sleepy town through the 70's. The military came and went and came back. The great shrimping industry began to decline and sought other coastal areas to base their operations. Writers, painters and a number of artists were imported to stimulate the tourist trade again. Many famous authors and writers did make Key West home or at least a "second home". Ernest Hemingway. Robert Frost, Elizabeth Bishop, Ralph Ellison, Philip Burton, James Herlihy, Phil Caputo and Tennessee Williams, were among the more well known.
In 1982, the Conch Republic was established. This creative republic drew attention to the serious economic problems the Keys and Key West were once again experiencing. In 1982, the Federal Customs Agents set up a barricade at the top of the Florida Keys, in search of aliens, drug dealers and drugs being brought in from waters around the Keys. The agents identified themselves as a "Border Patrol" and held up traffic for hours searching vehicles and seeking identification of passengers. The mayor of Key West and various political leaders protested to the U.S. Government and seceded from the United States in order to draw attention to the economic plight created by the situation.
Thus the Conch Republic was born! A Prime Minister, Ministers of Justice, Education, Tourism and an Admiral of the Fleet were appointed and to this day April 23 is celebrated as Conch Republic Day. Key West was the mouse that roared.
The 1990s have seen much growth and development in the Keys and Key West. The once sleepy Duval Street is like a big city "downtown" with bars, tee shirt shops and tourist shops intermingled with artists galleries, fine restaurants and exclusive designer shops. The hustle and bustle of the "good times" is back. Key West International Airport averages over 26,000 passengers a month. Approximately 28,000 call Key West home according to the 1990 U.S. Census and 6,500 more are "snowbirds" or part-time winter residents. There are approximately 80,000 residents who live elsewhere on the islands of Monroe County and 45,000 who visit seasonally.
Tuesday and Wednesday - Hop on Hop Off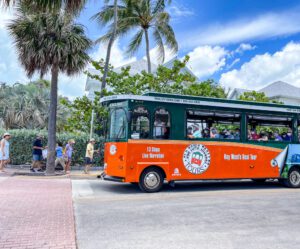 On Tuesday, we took the hotel shuttle that dropped us off about a block from the Cuban Coffee Queen (walk up place to get Cuban coffee) and close to the Sails to Rails Museum.
We walked over Front Street and crossed Duval Street, then a block or so to Two Friends Patio restaurant for breakfast. Expensive (everything in old town is expensive)  but an interesting place to eat. We then walked over to Mallory Square, where we purchased tickets to the hop on hop off bus for two days. 
The tour covered old town and new town, doing a loop with stops at a variety of places. We hopped off about mid-point at the Southernmost Point, where we waited in line to take our photo.  We then walked from there to the Hemingway House where we took a tour. I loved seeing all the cats (six toed) who all descended from Hemingway's cat "Snowball".  There are supposed to be over 50 cats, although we didn't see all of them, we did see many. The tour was interesting, but I was a bit worn out and sat on a bench while John did more walking around. Definitely a "to do" in Key West. 
We walked to the next stop for the bus and hopped back on back to Malory Square where we switched buses to go back to our drop off point to catch the shuttle back to the hotel where we relaxed a bit before going to dinner. We ate dinner at El Siboney Restaurant (a Cuban restaurant), where I again had soup and salad. John had a surf and turf, shrimp and steak. It was a Cuban black beans and rice, called Moro. John says it was yummy!  Much more affordable than downtown Key West and at the resort.
The sunsets were spectacular from our balcony. We looked over the Marina and several boats had colored lights that lit up at night.
On Wednesday, we had a leisurely breakfast at the resort, more for convenience than anything.   We then caught the shuttle to Old Town and the driver, Kevin, dropped us off at Malory square where we again took the Hop on Hop Off. This time we stayed on the bus for the full loop and video taped the tour with Johns GoPro. When we got back to Mallory square we did a bit of shopping, got Mia (our granddaughter) a gift and John a map. We also toured the Key West Historic Memorial Sculpture Garden. 
We then caught the Hop on Hop Off back to drop off #2 at the Cuban Coffee Queen, (a block from our pick up point).  This is where John bought the Cuban coffee, one for him and one for Toni and Jeff (our daughter and son-in-law).  Unfortunately, the weather turned and we were trapped there for a bit due to a crazy rain storm. We thought the hotel shuttle would drive by and we could catch it from there, but when it let up, John said lets go…so we ran the block to get closer to the pick up site. We then saw the shuttle come in from a different direction, so it's good we moved when we did or we would have missed it.  
We relaxed for a bit before going to dinner at Stock Rock Café on Stock Island.  Again the prices were good as was the food. This was an open air restaurant right on the water, where you could park your car or park your boat, as it was right on the dock.  It was very casual, with picnic table style seating.  I had Quesadilla and John had Key West Blackened Pink Shrimp Skewer. The food was good and plentiful and affordable. About the Key West Pink Shrimp, a couple of shrimpers discovered them accidentally…they put out their nets and fell asleep…so they didn't pull in their nets until the next morning. When they did they had a net full of the pink shrimp. It turns out the shrimp burrow into the sand during the day and don't come out until night time.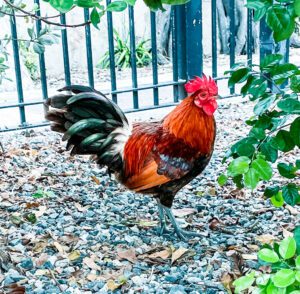 When people stopped the process of turning live chickens into Sunday dinner many decades ago, some backyard chickens gained their freedom. Other roosters were released when cock-fighting became illegal. Key West residents call them Gypsy Chickens.
Key West chickens that roam the streets are descendants of jungle fowl that originated in Cuba and the Caribbean Islands.
Since Key West is a no-kill island, so it didn't take long for the population of chickens to explode on this two-by-four-mile island.
How are the Chickens Controlled?
When the population of chickens gets out of control and the predatory hawks migrate out of town, Key West Wildlife Center will loan residents a humane chicken trap to collect unwanted birds. Once caught the resident brings the chickens to the center. There they are provided care and sent off to various farms on the mainland. On the mainland, they are prized for their eggs and go to work as "organic pest control" workers.
At these locations they live free range just like they do in Key West, but safe from traffic and well cared for.2
The Hemingway House & Museum Cats
We took an intersting tour of the Hemingway House. Among the photos you'll see many cats and even a Cat Cemetery.
The Ernest Hemingway Home and Museum is home to approximately 60 polydactyl (six-toed) cats. Cats normally have five front toes and four back toes. About half of the cats at the museum have the physical polydactyl trait but they all cary the polydactyl gene in their DNS, which means that the ones that have 4 and 5 toes can still mother or father six-toed kittens. Most cats have extra toes on their front feet and sometimes on their back feet as well. Soemtimes it looks as if they are wearing mittens because they appear to have a thumb on their paw.
Ernest Hemingway was given a white six-toed cat by a ship's captain and some of the cats who live on the museum grounds are descendants of that original cat, named Snow White. Key West is a small island and it is possible that many of the cats on the island are related. The polydactyl cats are not a particular breed. The trait can appear on any breed: Calicos, Tabbies, Tortoise Shell, White, Black, etc. They vary in shapes, sizes, colors and personalities.3
Ernest Hemingway Home & Museum Photos
[click on any photo to get full view and you can scroll through them from there]
Key West, Florida is a place I would love to go back and re-visit. Recommended as a bucket-list place to go.
Key West History - @Home in Key West website (Accessed 8 May 2023).
Key West Chickens - Information was obtained from @Home in Key West website - Local Legends: Key West Gypsy Chickens (accessed 8 May 2023)
Earnest Hemingway Museum Cats - obtained from the Heminwayhome.com - Our Cats - website (Access 8 May 2023)