Sea Day, Naples, Amalfi & Pompeii, Italy
Tuesday, May 24th was a Sea Day. We had a relaxing day, played Scrabble, napped and just enjoyed Cruising.
We passed a community on shore named "Riggio".  Riggio was the last name of some friends and neighbors when we lived in Pahrump, Nevada.
From Corfu, we travelled through the Ionian sea and through the Straight of Messina.
The show tonight was "One Night Only".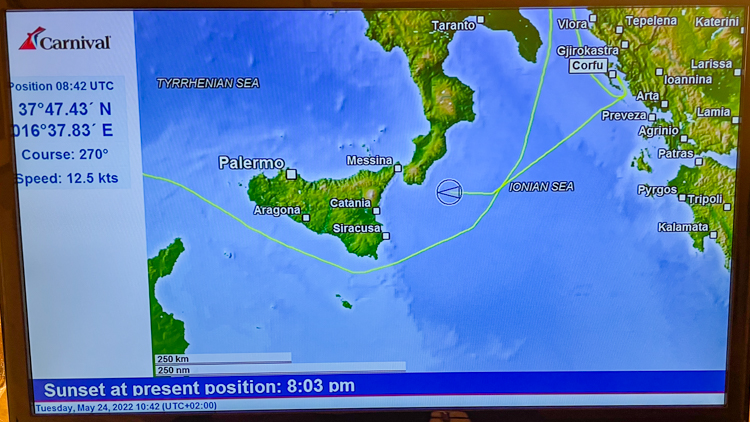 On Wednesday, May 25th we docked in Naples, Italy. We did not spend time in Naples, but got many photo's of the view from the ship that I'll post along with our on ship photos.
John and I again took separate excursions.  John took the 8 hour  "Pompeii & Amalfi Coast by Land and Sea" excursion and they went by boat along the coast and made a stop in Amalfi before traveling to Pompeii.   I took the 3 hour "Pompeii for Small Groups" excursions.
We got a great sunset photo of Mt. Versuvius from the ship.
Amalfi Coast by Land and Sea
This was a full-day shore excursion that allowed John to explore the Amalfi coast, traveling along one of the most scenic coastal roads in Italy to reach picturesque Positano. 
He took a relaxing hour drive to Salerno where they boarded a private boat and enjoyed a 45-minute cruise to Amalfi. They were led into Amalfi's main square where they saw the magnificent facade of the 12th century cathedral and enjoyed some free time to explore this famous maritime village. 
They then boarded their motor coach for Pompeii, where they had a typical Italian lunch before exploring the old streets of this ancient town. Unfortunately, the Pompeii portion of the tour was a bit rushed, but at least we marked it off the "bucket list".
While John took his 8 hour excursion, I took a shorter 4 hour excursion to Pompeii. The photos are mixed below.
We discovered the ancient ruins of Pompeii. I was with a smaller group (about 20). Unfortunately the radio I received from that allowed our guide communicated the details did not work and they didn't have another one. Also, it was quite hot and there was not much shade, so I got a bit over heated.  Overall the weather was beautiful, just needed more shade. Ha!
The tour itself was quite awesome…so much history.  A definite "Bucket List" item.
There are some interesting free You Tube videos published if you're interested in the history of Pompeii.