The Red Book - Genealogy Sources by State
Anyone doing American genealogy research should take the time to review the Red Book. The guide is alphabetical by state and is laid out consistently for each state, making it easy to use.
When starting a research project for a new state, I always start with the Red Book. I love the map of the counties and pinpoint where my ancestors were when. it provides dates you can expect to find specific records and where you can expect to find them (or not). There are also many references to important publication which can assist you in your quest.
As stated on the first page: "Designed to help you recover the multigenerational facts of your ancestry, this book is an expansive guide to the most useful resources in each of the fifty United States and the District of Columbia…" 1
Under each page you will find a short history about the state and information on where to find the following: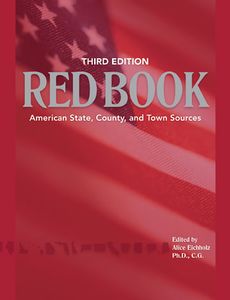 Vital Records
Federal and State Census Records
Background Sources
Maps
Land Records
Probate Records
Court Records
Tax Records
Cemetery Records
Church Records
Military Records
Periodicals, Newspapers, and Manuscript Collections
Archives, Libraries, and Societies
Special Focus Categories such as


Immigration
African American
Native American

County Resources
A list of counties, dates established and parent counties
A Map of the state with county boundaries
In my opinion, this book would be at the top for adding to a genealogists library. However, it is available free at Ancestry.com through their Ancestry Wiki for those on a budget or prefer working with an online copy.
You can access a free online version at the following link:
https://wiki.rootsweb.com/wiki/index.php/Red_Book:_American_State,_County,_and_Town_Sources