Vincent Kappes and Mary Bodensteiner Kappes
The Kappes family is the least known on my tree, since there were no stories written or passed down that I can find. Annas father, Vincent Kappes, and one of his sisters was actually born with the surname Ditzenbach (his mothers maiden name was Katherine Ditzenbach), so most likely his father Frances Joseph is not his biological father, unless he was not Catholic and the Catholic Church did not recognize their marriage. I'm still looking for the marriage record for Vincent and Katherine, which would give us another clue.
Update! Note the following as listed as a cause for emigration from Germany in the early 1800's:
"In the early 1800s, an economic depression and over-population caused restrictions on marriages and attempts to limit growth in poor areas of the south and central Germany. Young couples in these areas often emigrated separately or together, often with illegitimate children." 1
Their Parents and Grandparents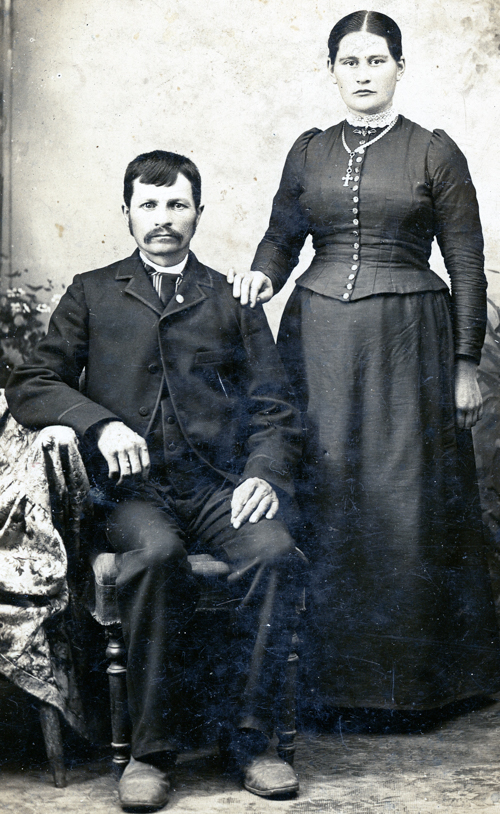 Vincent Kappes was born Vinzenz Ditzenbach in January 1857 in Hochhausen-Tauber, Mosbach, Baden, Germany, and baptized in the Catholic Church on 22 Jan 1857. The record shows him born the same day.  His mother was Katharina Ditzenbach and her parents were Michael Ditzenbach and Gertraud Apell.  No father is listed.  His older sister, Marie Eva Kappes, was also born as Marie Eva Ditzenbach in 1854 in Germany.
Census records show Francis Joseph and Katherine (Ditzenbach) Kappes
immigrated in 1857, the same year Vincent was born. I assume they met in Germany and migrated together. Francis went by the name Joseph in most of the records after he immigrated. So far, no marriage record or immigration record for Joseph and Katherine have been found, so will add these to my "to-do" list for further research.  Joseph and Katherine first settled in Taycheedah, Fond Du Lac County, Wisconsin, where they had their next three children, Paulina Kappes, Joseph Amor Kappes and Isabella Kappes.  Sometime after 1860 and before 1863 they moved to Auburn Township, Fayette County, Iowa and settled on 144.3 acres, their 'home farm' in Section 3 NW and overlapping to Section 4 NE. Their two children Leonard Kappes and Julia Saloma Kappes were born in St. Lucas, Iowa. Vincent would eventually inherit or purchase the 84.3 acres in Section 3. Katherine died on 15 October 1884 at only 42 years old.
An interesting development I found this week was that Joseph remarried Margaretha Sonnet about 1891 and had another daughter, Margaret Mary Kappes on 24 Mar 1892. This may have been about the time he turned the farm over to Vincent as the family is found in the Washington Township, Winneshiek County, Iowa on State and Federal Censuses. I will be adding this to my 'to-do' list for additional verification. Frances Joseph Kappes died 28 Jan 1917 at the age of 88.
Mary Bodensteiner was born on 8 Aug 1867 in St. Lucas, Fayette County, Iowa. She is the daughter of John Carl and Margaretha "Maggie" (Balk) Bodensteiner, who were both born in Germany. John Carl (born Johann Karl) Bodensteiner immigrated to America in Jun 1859. I believe, but have not confirmed, that Maggie migrated at the same time. John Carl and Maggie were married a month later on 26 Jul 1859 in St. Lucas, Fayette County, Iowa. They settled in their 'home farm' in Section 6 SE and overlapping into Section 7 NE in Auburn Township, Fayette County, Iowa about 3 1/2 miles from the Kappes 'home farm'.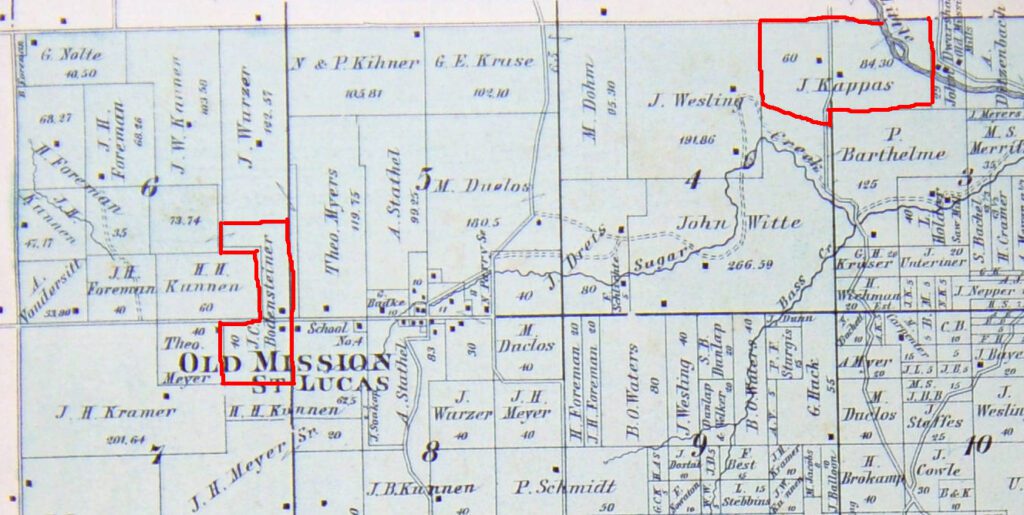 Vincent married Mary Bodensteiner on 7 Apr 1885 in St. Lucas, Fayette County, Iowa. I imagine these two attended the same Catholic Church and grew up together in the same community. Vincent was a farmer and took over or purchased 84.3 acres of the family farm in Auburn Township, Section 3, NW NW, three miles from St. Lucas, Iowa. Vincent and Mary would have nine children. Mary died in 1904 (most likely due to complications of child birth as she died on the same day her son Gerhard Kappes was born, who only lived 15 days). Vincent was now a widower and left to raise their eight surviving children. Vincent died 20 October 1917 in St. Lucas, Fayette County, Iowa at the age of 60.
Vincent and Mary Kappes' Kids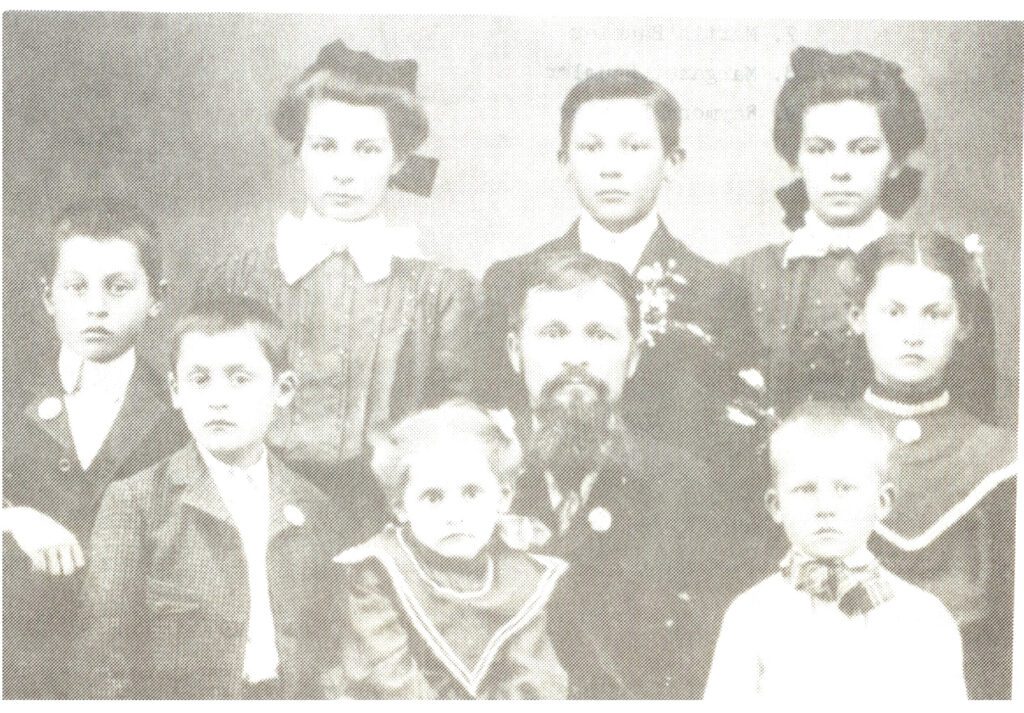 Mary Kappes was the oldest at 17 at the time of her mothers death and most likely became primary caregiver and housekeeper. Born 17 Mar 1887 in St. Lucas, Fayette County, Iowa and died in May 1918 at the young age of 31, single.  Most likely keeping house for her father until his death in 1917. She is buried at Saint Lukes Catholic Cemetery, Saint Lucas, Iowa.
Katherine "Katie" Kappes was 14 when her mother died and most likely helped around the home and with the smaller children.  In the 1910 census we find her living with the Joseph Shafenbuhl family, working as a servant, keeping house at a private home.  She was 20 years old.  The Shafenbuhls lived on a farm about 1 1/2 miles south of her family farm and had four small children. The 1925 Census shows Katie living with the Louis Mihm Family and listed as cousin. (Louis was son of Mary Bodensteiners sister Margaretha). By 1930, Katie is living with her brother Carl and his wife Ottie and her other siblings, George, Leo, Vincent and Minnie.
The 1930 and 1940 census shows Katie living as an inmate at the Fayette County Home for Paupers and Insane in Westfield, Iowa. She died in West Union, Iowa on 6 Feb 1962 at the age of 71.  What happened to her after she left the "home"?  Our Family history book only shows her birth and death dates, so I have added to my 'to-do' list to see if I can find out more about Katie and about the "home" she spent so much time at.
Carl G Kappes was 12 when his mother died.  Some records also show him as Karl or Charles.  In 1910 he is 18  living and working on the family farm with his father and several siblings.  On 14 Jun 1914 he marries Ottie Vaughn in Wesley, Iowa.  Carl and Ottie had four children: Arthur b 15 Jun 1915 in Wesley, Iowa, Herbert b 24 Feb 1917 in Wesley, Iowa, Irene born 24 Dec 1919 in St. Lucas, Iowa and Phoebe born 28 Apr 1938 in Waucoma, Iowa.  This is interesting information because my grandmother Anna and grandfather Ted lived in Wesley, Iowa during this same time period.  Perhaps it was his fathers death in 1917 that brought them back to St Lucas, as we find Carl and Ottie living at the family farm with Carls siblings (without his children) in the 1920 census. He's listed as a farmer.  We find the three children, Arthur, Herbert and Bernice living with Bernard Meinert, 74 and his daughter Sophia, 44 in Auburn Township.  Another "to-do" how are the Meinerts connected? This living arrangement was most likely temporary. By 1925, the Iowa State Census shows Carl, Ottie and their three children living in Waucoma, Fayette County, Iowa (224 miles SW of St. Lucas).  The 1930 census shows the family renting in Eden Township.  Carl was a Mason and Plasterer. I was unable to find him in the 1940 census. He died in Evansville, Indiana on 10 Jun 1976. Ottie dies in Evansville, Indiana in June 1986.
Anna Marie Kappes born 8 Dec 1893, is my grandmother. She was 11 years old when her mother died. She married Theodore "Ted" Peter Doerr on 26 Nov 1912 in St. Lucas, Iowa. Ted and Anna moved to Wesley, Iowa, where Ted was a carpenter and worked on construction projects. He worked on his own account. They owned their home in Wesley and had five children: Maurice Englebert Doerr born 18 Dec 1914 in Wesley, Iowa; Luke "Duke" Erwin Doerr (my father) born 21 Jan 1920 in Wesley, Iowa; William Vincent Doerr born 20 Feb 1922 in Wesley, Iowa; LeRoy John Doerr born in Wesley, Iowa and Helen Ann Doerr born 24 Sep 1929 in Britt, Iowa.
Anna was about 7 month pregnant when her father died in 1917, so she most likely did not attend his funeral service. The moved from Wesley to Britt sometime between 1927 and 1929 where Ted continued to work in construction. Newspaper articles indicate they rented out their house in Wesley for many years.
On 7 Nov 1930 their little girl, Helen, died. From what I've been able to determine, it was an unexpected death, possibly what we call today SIDS.  I imagine they were devastated by the loss of their little girl, who would have been just over a year old. In 1939 their son Luke entered the Navy and son, Maurice would soon follow. They were both assigned to the U.S.S. Helena and were docked in New York City in July 1940. On 2 Jul 1940 Maurice was hit by a hit and run driver while crossing a street in New York City and he died the next day at the age of 22. That must have been a difficult time for them. Anna joined the Navy Mothers organization and was quite active in that group. She would travel to conventions and became president of her local chapter.
About 1942, Ted and Anna moved to San Francisco, where their son Luke was stationed. Ted worked at the Navy Shipyards until the war ended.  Anna worked at the San Francisco Post Office. They would remain in San Francisco until Anna died on 01 Apr 1965 at the age of 71. She is buried at Saint Francis Solano Cemetery in Sonoma, California.  Ted eventually moved in with his son, William in Sonoma, California and died 12 Apr 1968 at the age of 84.
George Kappes was 9 when their mother died. He was born 29 Aug 1895 in St. Lucas, Iowa.  He is found on the 1920 census living with Theo A Scheideumtel as a Farm Laborer He married Mathilda Leibold on 3 May 1921 in Ossian, Iowa. George and Mathilda had four children. Gladys Kappes born 01 Nov 1921 in St. Lucas; Clarence Kappes was born 23 Jul 1926 in St. Paul, Minnesota; Dorothy Ann Kappes was born 30 Jul 1933 in St. Paul, Minnesota and Robert J Kappes born 29 May 1938 in St. Paul, Minnesota. It is evident that between 1921 and 1926 they moved to Minnesota. In 1930 he is listed as a Laborer, manufacturing shingles. Mathilda's two brothers Adolph Liebold 20 and Raymond Liebold 18, are living with them. In 1940 George worked at Hamm's Brewing Company in St. Paul, Minnesota. He died 21 Apr 1978 in St. Paul at the age of 82.
Leonard "Leo" Kappes was 7 when his mother died. He was born 7 Dec 1897 in St. Lucas, Iowa. In 1920 he was living with his brother Carl and his wife Ottie at the home farm and was 22, working as a farm laborer. He married Bertha Leibold (cousins of Mathilda?…adding to my to-do list for research) 26 Nov 1924 in Ossian, Iowa.  They had five children: Rita Kappes, born 19 Jan 1927 in Waucoma, Iowa; Zeno Kappes born 27 Jan 1930 in Ridgeway, Iowa; Neil Kappes born 21 Apr 1933 in Ridgeway, Iowa; Leonard Kappes born 16 Dec 1937 in Ridgeway, Iowa and Elain Kappes born 9 Sep 1939 in Ridgeway, Iowa. The 1930 and 1940 census shows the family living in Orleans, Iowa, listed Leo as a farmer, working on his own account and owning his own farm. (Located 4 1/2 miles west of Redgeway, according to the John Carl Bodensteiner Family Book).  He died in 1987 at the age of 90. He is buried at the Calvary Cemetery, Cresco, Iowa.
Vincent "Kaps" Kappes was 5 years old when his mother died. He was born 13 Dec 1899 at St. Lucas, Iowa. My dad used to talk about "Kaps", which was a nickname for one of the Kappes brothers.  I believe this nickname belonged to Vincent.  The 1920 census finds Vincent living at the home farm helping as a farm laborer. Vincent married Pearl C French on 20 Jan 1923 in Decorah, Iowa. His residence is showing Eldorado, Iowa at the time of the marriage.   Vincent and Pearl had one child, Arlene C Kappes born about 1925.  The 1925 Iowa State Census finds them living next to or with Pearls parents, Ben and Bell French and family in Dover, Iowa. Sometime between 1925 and 1930 they relocated to South Dakota. Pearl is found in the 1930 census as a patient in the South Dakota State Sanatarium for Tuberculosis, where she died on 30 Sep 1930 and is buried in the Custer Cemetery, Custer, South Dakota. Vincent is found  as a roomer in the home of Lenora M Hand with 8 other roomers in Minneapolis, Minnesota. He was a salesman working at a store. His daughter Arlene, who is now five, is found living with Pearls mother and father  in Perkins County, South Dakota and is still with them in Custer, South Dakota, at 15 in the 1940 census. So it looks like Arleen's grandparents raised her.
Vincent next married Margaret "Marge" Liebschwager in 1932. Marge was born 4 Aug 1915 in South Dakota.  Vince and Marge had five children: Yvonne Joy Kappes born 21 Aug 1933 in Faith, South Dakota; Joan Kappes born 23 Aug 1935 in Faith, South Dakota; Calvin Kappes born 6 Jul 1939 in Faith, South Dakota; David Kappes born 8 Sep 1940 in Corvallis, Oregon and Sharon Kappes born 17 Apr 1942 in Redwood City, California. Vincent and Marge moved to Philomath, Oregon where they are found in the 1940 Census. I recall my father talking about visiting them in Philomath and have a picture of Sharon Kappes, my brother Mark Doerr and my Uncle LeRoy Doerr about 1947 in Philomath. I am not sure why Sharon is showing as being born in Redwood City, California since most records show them still living in Philomath at the time, but they did move to Redwood City, California about 1957, so maybe Marge had family there (more Collateral Research here?).
Vincent died on March 13, 1967 at the age of 67. The Record of Funeral document listed a phone number for LeRoy Kappes (nephew at 142 Bosworth St., San Francisco). This was most likely my Uncle LeRoy Doerr, who would have been Vincents nephew and who lived with his parents (my grandparents) off and on at 142 Bosworth, St. San Francisco, California.  The document shows Vincents residence at 42 Fiesta St., Redwood, California for the last 10 years. I suspect that Uncle LeRoy assisted Marge in making the arrangements, since his number was listed. I believe my grandparents were close, so this makes sense. Vincent was a carpenter for 47 years.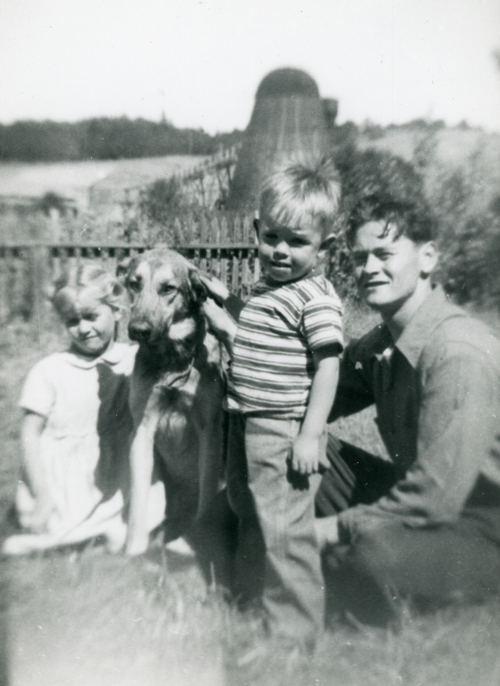 As a side note, it's also interesting that one record shows his father (Frances Joseph) was born in Wisconsin and his record of funeral shows his father was born aboard ship, Atlantic Ocean. His fathers German birth record contradicts that, so maybe this is what his parents told him.  We do know they immigrated to America the same year Vincent was born.
Philomena "Minnie" "Peggy" Kappes was 2 when her mother died. She was born 30 Jan 1902 in St. Lucas, Iowa. The 1920 census shows her living with my grandparents, Ted and Anna (Kappes) Doerr in Wesley, Iowa. She is also listed as living with Carl and Ottie on the home farm, so this must have been a year of transition for her. In 1924 Minnie married Clarence Wyman Trudo. The 1925 Iowa State Census shows them living in West Union, Fayette County, Iowa. In 1930 they are living in St. Paul, Ramsey County, Minnesota. She is working as a waitress in a Restaurant and he is a packer in the Wholesale Meat Plant Industry. It is possible that Minnie and Clarence divorced about 1935. I have not been able to verify this, but we do find Clarence living alone in the 1940 census working as a Bartender in a Tavern (which matches the information in the John Carl Bodensteiner Family Book).  I have not yet been able to find Minnie in the 1940 Census.  She died 30 Jul 1977 in St. Paul, Minnesota. Her Social Security Death record shows her as P. Trudo, so she kept the Trudo name and most likely did not remarry.  It also appears she stayed in the St. Paul, Minnesota area.
Gerhard Kappes born 23 Jul 1904 in St. Lucas, Iowa. He died 15 days later on 7 Aug 1904.  Mother, Mary, died on the day of his birth. 🙁
 

German Genealogy German Emigration Records Website,  

http://www.genealoger.com/german/ger_emigration_records.htm, accessed 14 Feb 2016.