Carnival Pride - Dover, England
Cruise Day!
Friday, June 10th we began the 3rd of 4 Back to Back Cruises. This one goes to Norway through the Norwegian Fjords. The following is this cruises itinerary:
10 June – Day 1 – Dover, England
11 June – Day 2 – Sea Day
12 June – Day 3 – Stavanger, Norway
13 June – Day 4 – Skjolden, Norway
14 June – Day 5 – Alesund, Norway
15 June – Day 6 – Molde, Norway
16 June – Day 7 – Olden, Norway
17 June – Day 8 – Bergen, Norway
18 June – Day 9 – Sea Day
19 June – Next Cruise Dover, England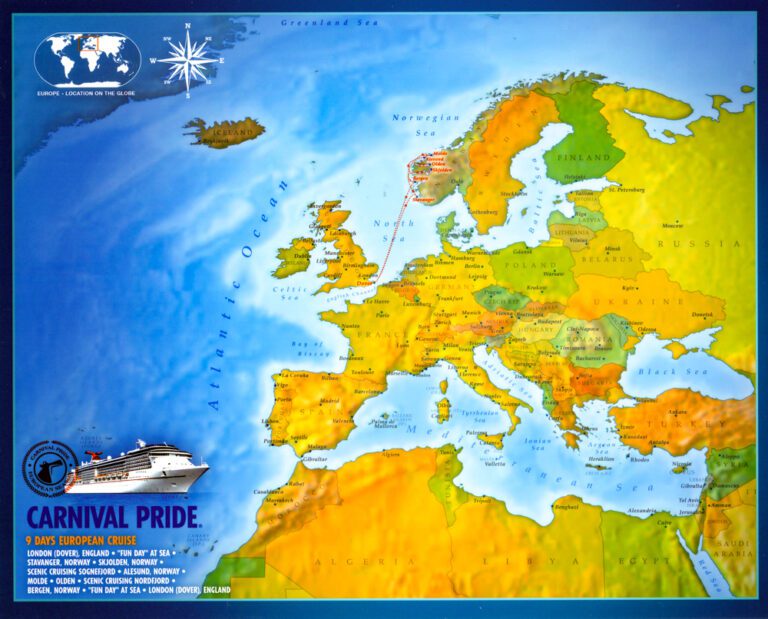 Today is the 1st day of our third cruise. We docked in Dover, England and can see the White Cliffs of Dover and the Dover Castle from the ship.  We chose to stay on the ship today to experience the Back to Back process.
There were about 300 Back to Back cruisers. This time, we had to change rooms, but only had to move to the room next door. So instead of fully packing up, we just put loose stuff in bags to get ready for the move.
Going into a new country, we had to go through customs, but Carnival made it fairly easy and a Customs officer came on board so we did not have to leave the ship.  Check in took about 1 1/2 hours. We just sat in the Theatre and waited until they called our row. The immigration lady just asked a few questions, we then got our new cards, photo's taken and champagne (I got a Mimosa). 
When we got back to our room, we found our Cabin stewards had already moved us.  Nice!!!
The rest of the day we just relaxed, spent some time on the Lido, played Scrabble and walked around the ship. Later in the day we received a free bottle of champagne & fruit dish for being Back to Back cruisers.
We were docked with our cabin on the port side of the ship, so got to do a lot of people watching.  We saw the ship getting deliveries and people arriving to the ship for the beginning of the cruise. Cruise Day!!!
Overall a great day!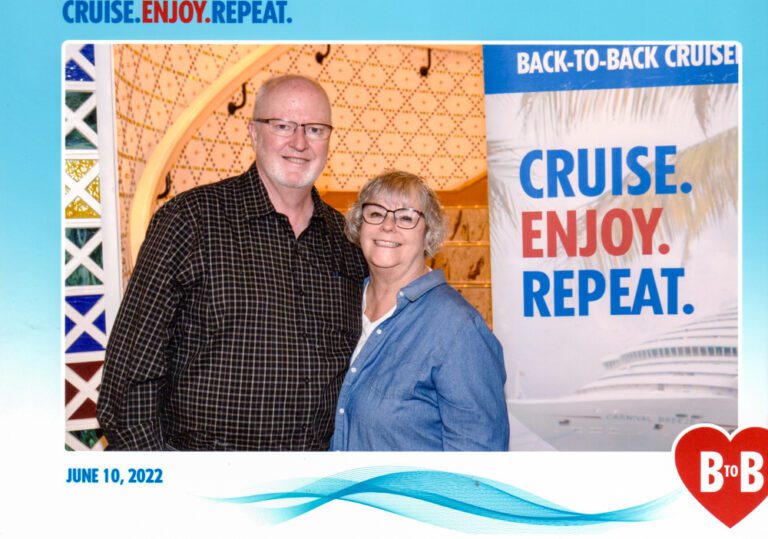 Dover, England and Cruise Day Photos
Saturday, June 11th was a Sea Day. We sailed through the North Sea. Ship time changed again today and we lost an hour. We passed several oil drilling rigs which are very common in the North Sea.
Today we spent the day relaxing, playing a little Scrabble and just hanging around the ship.
During lunch we sat outside at the Serenity area, where it was a bit cool, but we were comfortable enough.
John sent to the show "88 Keys" featuring piano music from Billy Joel, Elton John and others. A very good show.