Sunday, June 12th we docked in Stavanger, Norway. This was a really cute little town of about 130,000 people. The city's rapid population growth in the late 20th century was primarily a result of Norway's booming offshore oil industry and is referred to as the Oil Capital of Norway.
We left early for an excursion "Stavanger Past and Present".
1st we stopped at the "The Three Swords", which had to do with the unification of Norway under one king.
2nd we stopped an Iron Age Farm dating back to 300 to 500 AD. That was interesting.
3rd we stopped at Ullanhaug Tower (Ullandhaugtarnet). A tourist attraction that offers a great viewpoint of all of Stavanger. There were memorial stones of the Old Harald Tower which stood at the same site and was partly destroyed during WW2 by the Germans. The stones were engraved with the names of several famous historical figures that had visited the site, including Leif Erickson.
4th we stopped at the Norwegian Petroleum Museum which provided a great deal of information about the oil industry in Norway. Norway is a rich country due to the oil. They also had some fun dinosaur exhibits.
And finally at the end of the tour they took us through Stavanger Old Town which was right next to the pier where our ship was docked. This area used to be what they called the poor side of town. It is now all fixed up and very cute little houses and shops, all very close together. It was the site where the processing of Herring was done which was the principal industry in the area at one time.
Norway has many highway tunnels including several in Stavanger. Today we passed through one under the harbor about 2 miles long (we went under our cruise ship). There are tunnels in other parts of the country that are 15 miles long.
Houston, Texas is Stavangers sister city.
Weather was cool, about 60, cloudy, rainy, windy and sunny.  We found a duck on the elevator!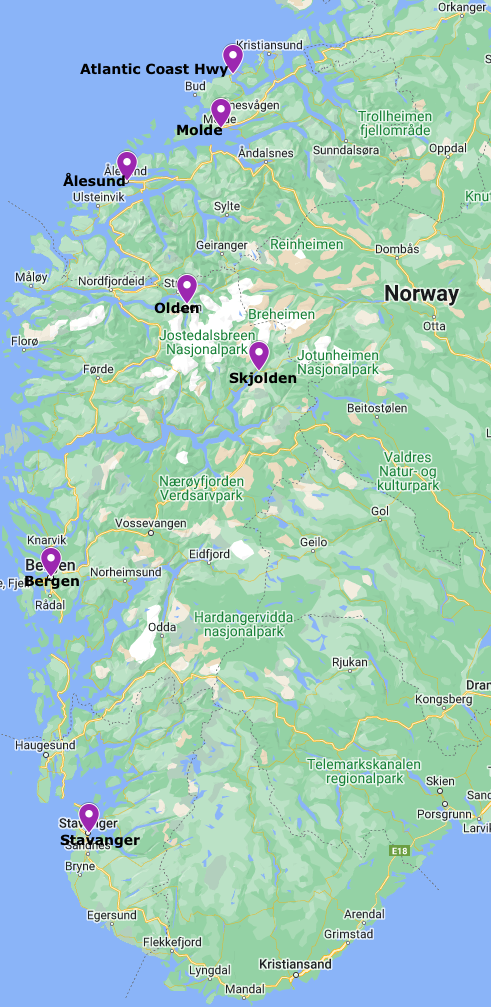 Stavanger Three Swords Photos
Click on a photo to get easy pop up to scroll through photos.
Note: First Photo of Three Swords Sculpture retrieved from Wikipedia Commons 1
More Stavanger, Norway Photos
Three Swords Sculpture https://en.wikipedia.org/wiki/File:Sverd-i-fjell.jpg#/media/File:Sverd-i-fjell.jpg