Genealogy Misinformation!!!
I've found that records can be wrong. It doesn't matter what kind of record…it can be wrong. Whenever people are involved, mistakes can happen or they can be intentionally incorrect.  So you have to really evaluate documents and come to the best conclusion.
Some errors are pretty obvious, others not so much. I thought I would share some examples of misinformation…some we know are wrong, others we have to evaluate and come to a conclusion.  Maybe never knowing the true answer.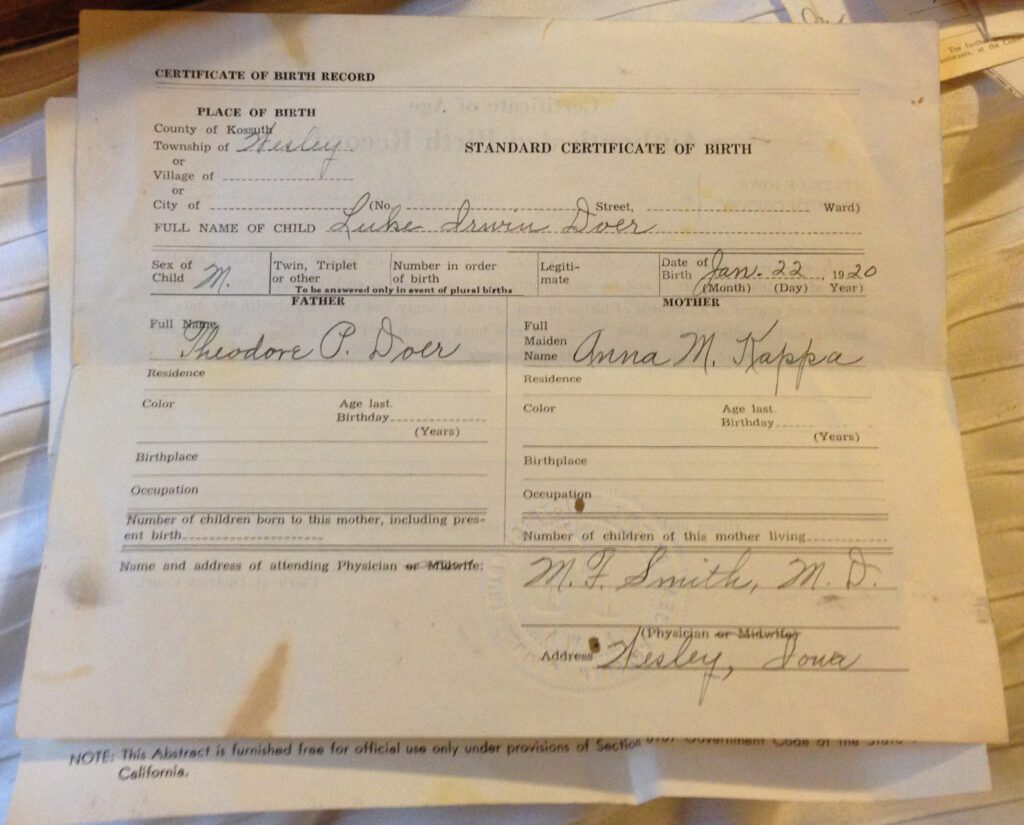 The one ancestor that I was sure was the most accurate of all my records was my dad. I knew my dad. I knew when we celebrated his birthday. I knew his name. I had evidence, such as military records, census records, death records, and marriage records. When I received a copy of his Birth Certificate, I was surprised to find his official birthdate was off by a day.
When my kids were born, I had to sign their birth certificates. I assume I reviewed the information to make sure it was correct (I actually don't remember, but my signature is on them). Back in the early 20th century, I don't think they had any standards for collecting information (if they did, they weren't always enforced). States were all required to collect vital records starting at different times and it took years for standards to be put in place.
My dad was born in Iowa. Their vital record system originated in July 1880. Early birth records contain only minimal data– name, date, place, and names of parents. He was born in 1920. From the looks of the Standard Certificate of Birth, it doesn't look like they came very far since 1880.  The form for my dad is missing a lot of information.
The big surprise was his birth date. His certificate of birth shows 22 Jan 1920. We always thought it was 21 Jan 1920.  ALL of his records I've obtained up to this point show the 21st. Unfortunately, we'll never really know his real birth date. I'm inclined to believe his mother and father knew when he was born. So I'm going to keep the 21st as his birth date. It appears to be signed and filled out by the doctor.  Could he have done it after the fact and therefore gotten the date wrong?  Here's the rest of what's wrong:
Name: Luke Irwin Doer – should have been Luke Erwin Doerr
Father: Theodore P. Doer – should be Theodore P. Doerr
Mother: Anna M. Kappa – should be Anna M Kappes
My parents marriage certificate also has errors, however, I believe my mother lied about many items on the document so my father would not know her true age.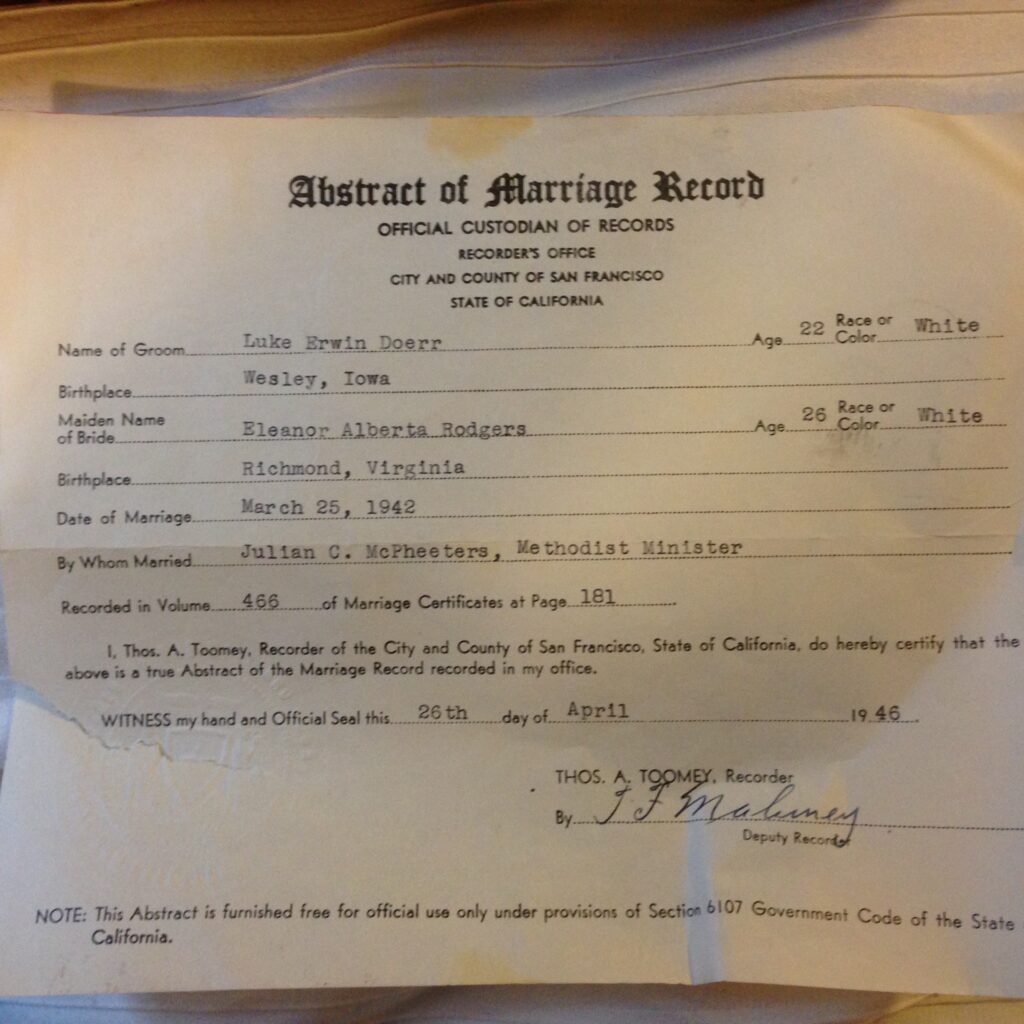 Here is what is wrong:
My mothers name shows as Eleanor Alberta Rodgers. Nobody knows where the name Rodgers came from. My dad thought she had been living with a Rodgers at some point and took his name. She was in process of a divorce from her current husband Vincent Morris at the time. (Yes she married my dad before the divorce was final)
My mothers age was wrong by 8 years. She was 34, not 26.
My mothers birthplace showed she was born in Richmond, Virginia. She was actually born in Omaha, Nebraska.  Who knows why she lied about this item.
In looking at the document by itself, you would assume it is not her. However, this document was in my dads posession and his information is all correct. When doing your research, don't automatically assume a record is not the person you're researching because some of the information is wrong. Take a bit more time to ensure that it's not just more misinformation.