In Memory - Katie Burns (1999-2016)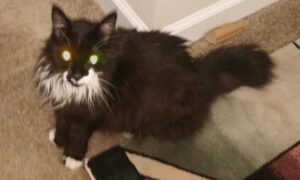 Saturday, March 26, 2016 at about 2:50 pm we lost our sweet girl Katie.  We had noticed that she had lost quite a bit of weight and when we took her to the Vet, she was diagnosed with an over active Thyroid Gland. She was not able to keep her food down and despite the Thyroid Medication continued to lose weight. There may have been something else wrong with her, but because of her age, we chose not to put her through any additional tests. (photo: Katie, March 26, 2016)
We lost Katie only 5 1/2 weeks after losing Stanley.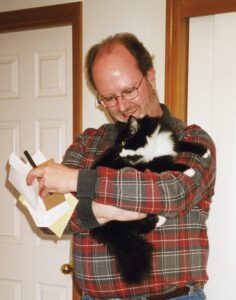 Katie was a gift to John from Toni (my daughter) for Christmas in 1999. Toni got Katie from one of my friends and co-worker, Marla Duffield and her husband Brian. Marla's neighbor had found Katie on the side of the road with two breaks in her tail, poor baby. Marla and Brian had an older cat that didn't tolerate the kitten, so they needed to find a new home for her. She was about six months old when we got her. The neighbor girls had named her 'Pepper' but we decided to rename her 'Katie'. (photo: Johns Christmas Gift – December 25, 1999)
Katie, a long haired black and white cat with short legs (Munchkin?), was a surprise for John.  Christmas morning, Toni and I planted clues around the house, so John had to do a 'scavenger hunt' to find his gift. Once he found Katie, he put her down to explore, but being the 'scaredy cat' that we later found she was, she hid under the bed for several hours. Katie would always hide when someone new came to our home. If the doorbell rang, she would get even lower than her little short legs were already, and run to hide.
Phyllis (Fread) spent that Christmas with us. Several hours after hiding under the bed upstairs, Phyllis was in the living room reading, when Katie decided to come down and explore.  She approached Phyllis and got her first taste of lovins in our home.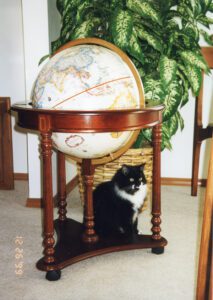 Because she had such short legs, she couldn't jump very high and it kept her close to the ground. She was able to jump up onto the couch and low chairs, but no counter tops for Katie. We bought a kitty stairs so she could get up onto our bed and cuddle with us at night. She would do this every night, but didn't stay for long, preferring her own kitty bed or chair we have by our bed to sleep in. (photo: Katie December 26, 1999)
Katie was not a 'people' cat like Stanley. She preferred being alone in her 'safe place' whenever we had company. She would come out and visit with us every day, but spent much of her sleep and rest time in her safe place.  But she would always join Stanley in the kitchen when they heard (or smelled) the treats come out (or the word "treat") or when John opened a can of tuna fish.
Katie moved with us from Milwaukie, Oregon to Colorado.  On the way to Colorado, we stopped over to have lunch with Johns brother Bill and his wife Linda.  When we got into the house, John said to leave Katie in her crate. While he went to the bathroom, I decided she needed to get out and stretch. Well, John was right and I was wrong.  Katie hid under their hutch and it took us quite a bit of time and furniture moving, to get Katie out. Obviously, John is the cat expert in our house.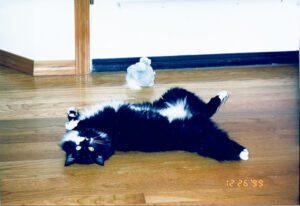 When in Colorado, Toni and Pat decided Katie needed companion-ship and that is when we brought Stanley home. (See his story here).
Both Katie and Stanley moved with us from Colorado to Nevada and then to North Carolina. So they were well traveled cats, although I have to admit that neither of the cats enjoyed the road trips.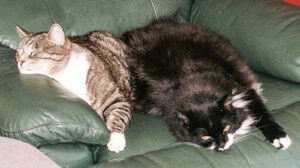 Katie was a hot kitty (where Stanley was a cold Kitty). Being a long hair, she preferred cooler temperatures. She would spend the cooler hours outside on our screened in Porch, where Stanley was a sun lover and preferred a warm lap and warmer temps. (Photo: Stanley and Katie – About 2004)
Each morning I would have fried eggs for breakfast. I would leave some egg yoke on the plate and Katie would lick up the leftovers.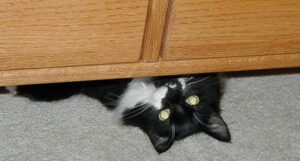 We had Katie for over 16 wonderful years and she would have turned seventeen this summer.  We already miss our Katie and will never forget her.  She was our sweet girl.