Molde, Norway and the Atlantic Ocean Road
Wednesday, June 15th we docked in Molde, Norway. The Town of Roses! Molde is located along the Moldefjorden and the River Molde and is famous for its fantastic panoramic view of 222 mountain peaks. The dock is in the center of town 300 meters (less than 1/5th of a mile) walk.
John went on the "Atlantic Ocean Road and Håholmen Island" Excursion.
John purchased a bottle of a local craft IPA. He did not have time to drink it so brought it back to the ship. The Crave Cave Brewery beer was very good, not too hoppy, he said. 
After John returned to the ship we both got off and walked around the little town. 
John saw the Glen Foster show this evening, a comic magician.
The weather today was cloudy and mild.
This is the farthest North for us! 
     Sunrise: 3:28 a.m.
     Sunset: 11:40 p.m.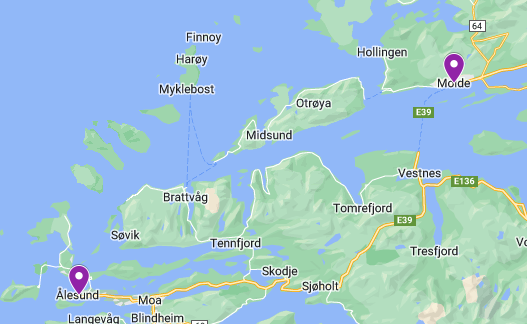 Atlantic Ocean Road and Håholmen Island
John went on the "Atlantic Ocean Road and Håholmen Island" excursion. It was a great excursion and the countryside was very scenic and seemed to combine the Rocky mountains and Pacific Coast. An interesting contrast. The Atlantic Ocean Road is a piece of engineering that offers unforgettable sights. It zigzags across bridges and causeways, from skerries to islands to mere scraps of land at the edge of nowhere. This is where the ocean begins. 
At Geitøya, Goat Island, he was picked up by boat for a cruise across the Håholmen archipelago, consisting of around 20 small islands and islets. Håholmen was once home to legendary Norwegian explorer Ragnar Thorseth, who built three replica Viking ships. They showed a short film about building the replica Viking ships and how it was able to circumnavigate the earth. Unfortunately, the replica ships were destroyed in a freak storm.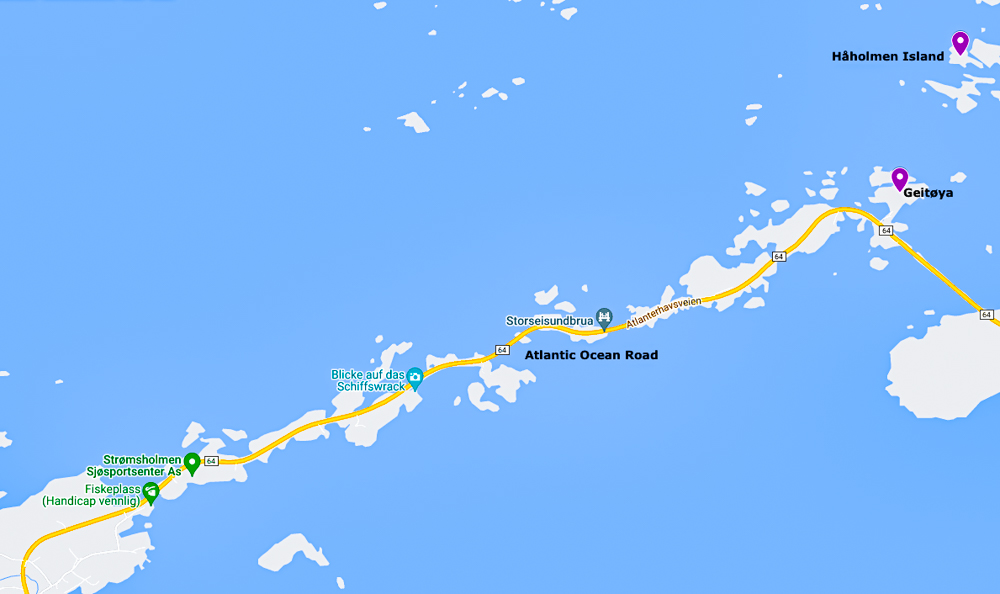 Atlantic Ocean Road and Håholmen Island Photos