The London Eye is one of the world's tallest Ferris wheels, or cantilevered observation wheels, and one of the highest observation decks in the English capital. On a clear day, you can see for up to 25 miles from the top on the Eye, allowing you to see almost all the City's landmarks as well as distant attractions like Windsor Castle.
It was designed to commemorate the turn of the millennia. It was initially proposed to be a temporary structure, but has become a permanent fixture due to its popularity, being one of the most popular paid tourist attractions in the world.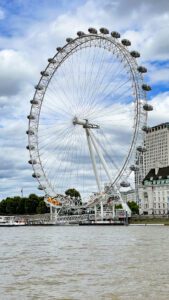 Photos of and from The London Eye
Click on a photo to get easy pop up to scroll through photos.