This post is about The Netherlands and includes a map to give you a visual look at where our Van Meteren ancestors are from. 
I've edited the map below to show important locations (approximately) with a red dot. The Van Meteren line (actually the van Cuyck van Meteren line) began with Jan van Tiel (also known as van Eyll) who married Elisabeth van Cuyck, the owner of the House Meteren, in the village of Meteren. He took on the name van Meteren  and became Lord of Meteran. I believe that all of their descendants are van Cuyck van Meteren, although many of them dropped the van Cuyck portion of their name. None the less, they are descended from the prestigious van Cuyck line (with a variety of spellings, including, but not limited to): Van Cuyck, Van Cuijk, and even later Quick).
The author of The Quick Family Chronicles states he has a Y-DNA 700 finding that show a link from the van Cuijk Van Meteren family before 1500 AD to the American van Meteren family.1
There is a little over 100 years between the time this couple married to the time we begin finding records of the van Meteren families. See my post Jan Joosten van Meteren Lineage to see the three lines I believe to have descended from this couple.
The Netherlands is broken into Provinces. To clarify, not all of the Netherlands is Holland. North Holland and South Holland are Provinces, as you'll see on the map. So, our van Meteren family is not from Holland, Netherlands, they are from Gelderland, Netherlands.
The provinces are broken into regions. Both the Tielerwaard region and the Bommelerwaard region are in the Gelderland Province, Netherlands.
The villages of Meteren and Tiel are in the Tielerwaard region, Gelderland Province, Netherlands. The village of Zaltbommel is in the Bommelerwaard region, Gelderland Province, Netherlands. (Just across the river from each other)
This line follows the title Lord of Meteren. Most of the titled line remained in the Tielerwaard or Bommelerwaard regions, as far as I can tell (at least in the 17th century). I've noted Tiel, Meteren and Zaltbommel on the map, as those villages show up frequently in documents.
Most, but not all, of these van Meteren families retained the surname "van Cuyck van Meteren". Because they were titled, there are many records that can be traced to this family until the late 17th century, when the title appears to have died out.
Jacobus and Emanuel van Meteren Line
This was a wealthy, well educated and famous family.
Jacobus Van Meteren is famous for financing and editing the English versions of the Bible (which was illegal at the time). His son Emanuel was a famous author and Dutch Consulate in London. He knew Henry Hudson. It was Emanuel who obtained Hudsons journal and published it.
See my post Jacobus and Emanuel van Meteren for more about this family. Both Jacobus and Emanuel have interesting stories to tell.
Jacobus' direct ancestors appear to have migrated to Breda, in North Brabant sometime during the 15th century. They then moved to Brecht and later Antwerp (then Netherlands, now Belgium).
Due to religious persecution, Jacobus and his son Emanuel would settle in London, England, although Jacobus and his wife returned to Antwerp to help raise their nephew after his fathers death. They would then return to London to live out their life, but are killed on the trip back when their ship is hit by fire from the French, sinking the ship and all on board drowned.
I've marked Breda, Brecht and Antwerp with red dots on the map. 
The Gijsbert van Meteren and Jutta van Herwijnen Line
This is not a well known line, although I suspect they were well educated and possibly afflluent.
This line starts out in the early 1500s and remains in the Tielerwaard area until what we believe are two cousins from a later generation emigrate to America in the mid 17th century. One, of course, is our Jan Joosten van Meteren, who emigrated in 1662 and the other is his cousin Jan Gijsbertsen van Meteren and his son Krijn Jansen van Meteren who emigrated in 1663. 
The American descendants from those two cousins would take on a variety of spellings including: Van Meter, Van Mater, Van Metre, Van Meeter and Van Matre. There may be other variations. There is a line in the Netherlands that goes by Van Meeteren, with two e's. It's possible that the descendants of Jacobus Van Meteren are still in Europe and may have retained the Van Meteren name.
Although not well known, both Jan Joosten van Meteren and jan Gijsbertsen van Meteren appear to be well educated and rise to some prominence in the communities they settled in. It's hard to say whether they brought much wealth with them, but they would acquire land and wealth during their lifetimes in America.
You can find their stories on my posts: Jan Joosten van Meteren and Jan Gijsbertse van Meteren Family.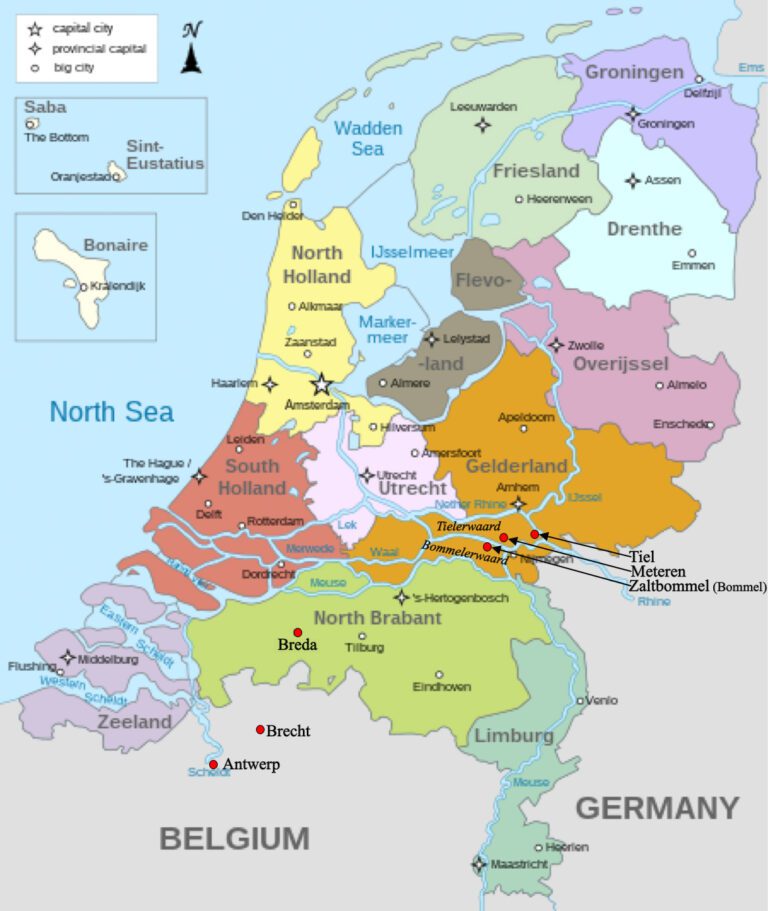 Map of the Netherlands (including the special municipalities of Saba, Saint Eustatius and Bonaire;
the Caribbean Netherlands), showing provinces, large cities, rivers and lakes.English Version (edited).2
The Quick Family Chronicles by Jason J. Quick, 2020, found online at https://qfc.quickgen.net/2020/04/van-cuyck-of-cuijk-culemborg-and-utrecht.html (Accessed 7 Feb 2023).
Map of The Netherlands (including the special municipalities of Saba, Saint Eustatius and Bonaire; the Caribbean Netherlands), showing provinces, large cities, rivers and lakes English version.[edited]. By Alphathon - Own work, CC BY-SA 3.0, https://commons.wikimedia.org/w/index.php?curid=11322507