Livorno, Italy and Tuscany Countryside
Livorno, Italy from the Ship
Friday, May 27th we docked in Livorno, Italy. Many cruisers went to the Florence and Pisa Tours, but we chose to take the Tuscany Countryside and Wine Tasting Tour, which left about 2:00 pm.
We spent the morning relaxing and did some cruise ship paperwork and took our temperatures required by Spain.  We also took the opportunity to walk around the ship and take photos, since the ship was pretty empty.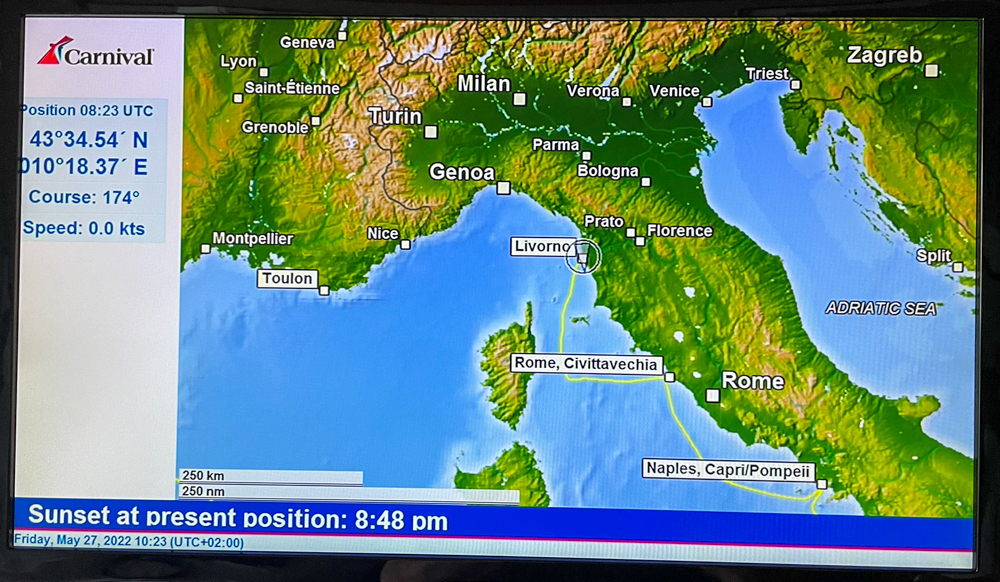 Tuscany Countryside and Wine Tasting
We spent about an hour traveling by bus through the beautiful Tuscan Countryside.  We stopped at the FATTORIA IL POGGIO winery for a short tour of the vineyards and winery before sitting down to a pleasant meal and wine tasting. 
The weather was a bit hot but we were in well aired tents. The company, wine and food was great! We tried 3 kinds of wines, had a couple of pasta dishes and chicken. Overall a very fun afternoon.
We purchased four bottles of wine, a bottle of their olive oil and Balsomic vinegar and had it shipped home to my daughter and son-in-law, Toni & Jeff. A big THANK YOU for taking care of our sweet kitties, Elliot & Ellie. 
After dinner we went to the show "The Showdown".