It's a Small World - A Fun Genealogy Discovery
Just a fun story about what a small world it is.  My first husband, Wayne Van Matre and I had two wonderful children. Consequently, I have spent quite a bit of time on their ancestry. Waynes' 8th great grandfather, Jan Joosten Van Meteren immigrated to New Amsterdam from Holland in 1662.  I enjoyed working on this family because of it's rich and documented history. The name was shortened to Van Metre or Van Meter, depending on who wrote the documents, and a later ancestor changed it to Van Matre.
The Van Matre pioneers seemed to migrate west with each generation, often as Indian guides. John Johnson Van Matre, Waynes' 2nd great grandfather, and his brothers Joseph and Lewis, walked to Southwestern Wisconsin from Ohio to dig for lead in 1827. They spent two years prospecting around Mineral Point and Dodgeville, and they put down a shaft in Shullsburg in what is now the village park but was then known as the Badger Lot Diggings.
John Johnson Van Matre returned to Ohio until 1838 when he again went to Wisconsin, this time with his family, and settled on a farm which remained in the Van Matre family continuously for five generations. The farm had an abundant supply of lead, which was dug for several years and hauled to Mineral Point to be smelted. John Johnson Van Matre purchased thirteen hundred acres of land. This acreage was divided into five farms in La Fayette County Wisconsin.  John Johnson was very active in the community and was in fact a Commissioner for La Fayette County when Iowa County was split up into two counties in 1847. He was elected Chairman.1 One of his sons, Nathan Kelly Van Matre, Waynes' great grandfather (and my son Kelly's namesake), owned one of these farms.
Nathan Kelly was only two years old when they moved to Fayette Township, Wisconsin. He would spend his entire life in the Fayette and Willow Springs Townships (one of his properties overlapped the two Townships). The first school in the township was taught by James Trevoy in the cellar kitchen of Peter Parkison, Sr.'s residence. This was in the winter of 1837, and his pupils included Nathan and Joseph Van Matre. 1  
Nathan Kelly would marry Marilda A Wiley in 1856. They had four children. Their first child, Willis Wiley Van Matre (Wayne's paternal grandfather), lived in La Fayette County, Wisconsin until 1879 when he moved to Nebraska and married Sarah Eudora Hunnell. They had four boys (one died as an infant). Sarah died in 1899. In the 1900 census we find Willis living with the Hunnell family. With three small children, he probably needed the help and support of his wife's family. In 1901, he married Sarah's sister Caroline Verdaline Hunnell.
Willis and Caroline moved from Nebraska to Missouri by 1910. In 1914 they would move to Oregon. They had six children. The youngest was Everett Eugene Van Matre, Wayne's father, born in 1919 in Bend, Oregon, but living in Redmond, Oregon his whole life.
My current husband, John Henry Burns, has his own family tree that he manages. He dabbles in it off and on throughout the years, but isn't as addicted as I am to genealogy. Although not addicted, he supports and encourages my obsession. Dear man that he is.
His maternal great grandfather and namesake, John Henry Meili, immigrated from Switzerland sometime before 1855 and also settled in Fayette Township, LaFayette, Wisconsin. This area of Wisconsin transitioned from mining (which brought the Van Matre's to the area) to dairy and cheese production (which brought John Henry Meili to the area) in the early 1850's.
John Henry Meili married Henrietta Schreiber, who immigrated from Germany, in Argyle, Wisconsin in July  1855. They had six children. One of those children was Otto Ludwig Meili, Johns grandfather.  
Otto grew up in Fayette Township but moved to Oregon sometime after 1910 and married Sylvia Lavina Horlacher in 1917 at the age of 43 in Payette, Idaho. They lived in Malheur County, Oregon and had one daughter, Florence Esther (Johns mother).
When my husband read my post about the Plat Maps, he got curious and started looking for the maps of one of his ancestors, John Henry Meili. He was able to find an 1895 Fayette Township, Wisconsin map that showed the John Henry Meili property in section 24 and noticed the Van Matre name in sections 19, 20, 29, 30, 31 and 32.  When he showed me the map, I knew immediately that the N.K. Van Matre on the map was Nathan Kelly. He had property in section 19 and 20, only 3 1/2 miles from John Henry Meili.
It turns out that these two families had lived within 4 miles of each other for at least 55 years.  Both had sons that migrated to Oregon.  Both had great grandsons that I married.
Interesting!
Here is a plat map of sections 19, 20 and 24: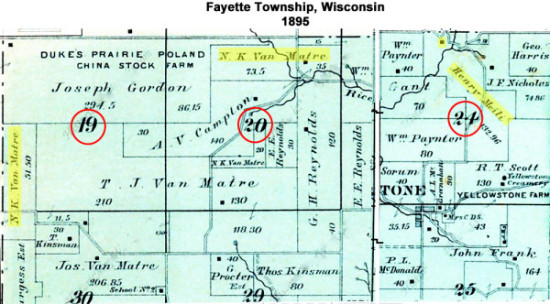 Western Historical Company, History of La Fayette County, February 1881,  pp 481, 489, 637, 658.  http://content.wisconsinhistory.org/cdm/ref/collection/wch/id/8995