Niederklein, Stradtallendorf, Germany
Currently, Niederklein is a community in the town of Stadtallendorf, in the district of Marburg-Biedenkopf, State of Hesse, Germany. Stadtallendorf district includes the communities of Stadtallendorf, Niederklein, Schweinsberg, Erksdorf, Hatzbach and Wolferode. Although our ancestor Johann Adam Dörr was born in Rüdighaim, he lived most of his adult life in Niederklein, where he had a tile oven in his yard for making roof tiles, which was his profession.

Niederklein is about 4 miles south of the city of Stadtallendorf. I haven't been able to find out much history about Niederklein. Maybe because it was off the beaten path is why our ancestors relocated there.
Of Stadtallendorf I found some interesting, if not relevant information. Stadtallendorf was given city rights in 1960; it had been known until then simply as Allendorf.
During World War II, Stadtallendorf was a secret munitions center. The armament firms WASAG (Westfälisch-Anhaltische Sprengstoff Actien-Gesellschaft, "Westphalian & Anhaltish Explosives A.G.") and DAG produced munitions and explosives in two separate large facilities located in the woods nearby. At the time, it was one of the largest of all munitions production centers in Europe. The Munition center continued throughout the war without being detected by the Allies. Labor was provided by both German and foreign forced laborers, including prisoners of war and concentration camp inmates, housed in about a dozen camps in the surrounding area.
The 6 square kilometers premises where the wartime arms works were built were said to be one of Germany's biggest contaminated former industrial sites, in parts with high concentrations of chemical contaminants on residential properties. Since 1991 the premises have undergone a far-reaching cleanup; in March 2006, the job was officially declared done. 154 tons of contaminants were dug out of the ground, 697 tons were dug out of a dump, and 3 tons of TNT – still capable of exploding – were unearthed.
It makes me wonder how our German cousins were impacted by the war and this activity going on so close to their homes.
Church of St. Blasius and St. Elisabeth of Niederklein
We gain some historical information from a post referencing the Church of St. Blasius and St. Elisabeth of Niederklein at the Katholische-Kirche-Stadtallendorf website.1
The community of Niederklein was mostly destroyed by fire on September 18, 1697, except for a few houses [perhaps the home of Johann Adam Dörr was one of those houses, which he would have acquired during his lifetime]. The website provides historical documentation about the church being rebuilt. I've not been able to find more information about the fire. This page includes the timeline and those who were involved in the rebuilding and remodeling of the church. In 1994 the roof dormers were worked on by Reinhold Dörr of Kirchhain (possibly a distant cousin?).
The rebuilt church was consecrated on July 8, 1706 in honor of St. Blasius. A church account from 1619 indicates that the previous church was also dedicated to St. Blasius. From the year 1736, St. Elisabeth of Thuringia was identified as a second patron.
In 1886/87, a thorough renovation was carried out according to the plans of the architect Prof. H. Schneider (Kassel) and the church was gothic style. Various updates have been made over the years.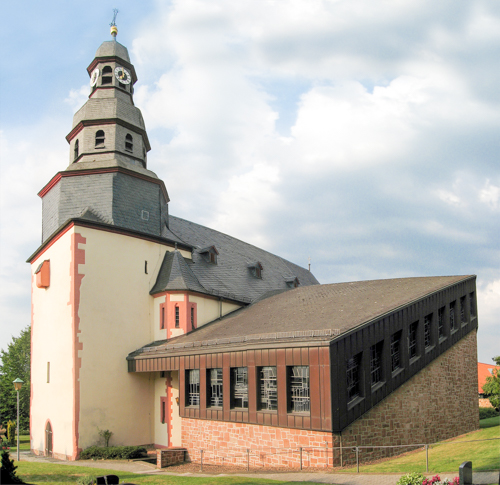 Niederklein Place Name Timeline
The village of Niederklein has had a variety of names including the following:2
1248 – Gleyne
1267 – Clein
1366 – Nydern Glene
1369 ­– Glene
1417 – Niedernglen
1525 – Clene
1574 – Nidern Gleen
1590 – Niedergleina
1663 – Niederklein
Below is the Name Place timeline for the village of Niederklein:2
Before 1349 – Clein, Amöneburg, Mainz, Holy Roman Empire
1349-1366 – Clein, Amöneburg, Schweinsberg, Holy Roman Empire
1366 – Nydern Glene, Amöneburg, Schweinsberg, Holy Roman Empire
1369 – Glene, Amöneburg, Schweinsberg, Holy Roman Empire
1417 – Niedernglen, Amöneburg, Schweinsberg, Holy Roman Empire
1525 – Clene, Amöneburg, Mainz, Prussia, Holy Roman Empire
1574 – Nidern Gleen, Amöneburg, Mainz, Prussia, Holy Roman Empire
1590 – Niedergleina, Amöneburg, Mainz, Prussia, Holy Roman Empire
1663 – Niederklein, Amöneburg, Mainz, Prussia, Holy Roman Empire
1807 – Niederklein, Kirchhain, Marburg, Werra, Westphalia, Confederation of the Rhine
1821 – Niederklein, Kirchhain, Upper Hesse, Hesse, German Confederation
1867 – Niederklein, Kirchhain, Cassel, Hesse-Nassau, Prussia, North German Confederation
1932 – Niederklein, Marburg, Hesse-Nassau, Prussia, Germany
1945 – Niederklein, Marburg, Kassel, Greater Hesse, Germany
1946 – Niederklein, Marburg, Kassel, Hesse, Germany
1974 – Niederklein became part of Stradtallendorf, Marburg-Biedenkopf, Kassel, Hesse, Germany