Theodore Peter Doerr & Anna Kappes Doerr Family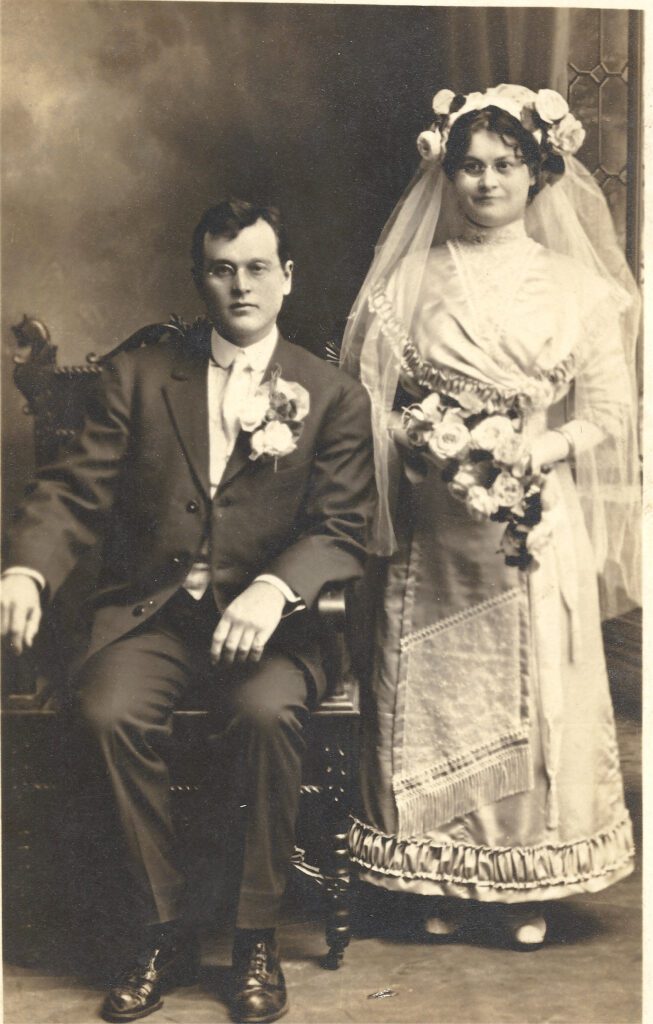 My paternal grandparents, Theodore and Anna Doerr, were married November 26, 1912 in Saint Lucas, Fayette County, Iowa.
Grandfather Theodore Peter Doerr, also called "Ted" or "TP", was born January 31, 1884 in Military Township, Winneshiek County, Iowa, and grew up on the home farm, in Section 18.1  When he was in his early 20's, he traveled to South Dakota and had an adventure as a cowboy for a couple of years. After returning to Iowa he partnered with his brother John on Construction Jobs, building houses. He eventually took on his own crew. He worked 'on his own account' in the construction business until 1942. Ted was 28 when he married Anna. 
Ted and Anna moved to Fort Atkinson, Iowa after right after their marriage, and moved to Wesley, Kossuth County, Iowa by 1915. Ted and Anna owned a home, just south of the Catholic Parochial School, in Wesley until about 1928 when they moved to Britt, Hancock County Iowa, where they appear to have rented until they moved back to Wesley in 1942 for a short time. They rented out their home in Wesley during the years they lived in Britt.
Grandmother, Anna Marie Kappes was born December 3rd, 1893 in Saint Lucas, Fayette County, Iowa 2 3 in Auburn Township. Her family farm was in Section 3. She had seven siblings she grew up with. See their story on my post about the Vincent and Mary Kappes Kids.  Anna was eleven years old when her mother died, leaving her father to raise the seven children. Her sister, Mary was 17 years old at the time and most likely took over the household duties.
Anna was 18 when she married Ted. She was seven months into her first pregnancy when her father died on October 20, 1917 in Saint Lucas, Iowa. She most likely was not able to attend his funeral, since traveling conditions in those days were not easy. A year later, she would lose her sister Mary, who died in May 1918. In early 1940's Anna was very involved with the Navy Mothers club and helps establish the Maurice E. Doerr Navy Mothers Club. She was quite active in the club and is elected commander in April 1941.  In June 1941 she travels to the Navy Mothers convention in Omaha, Nebraska.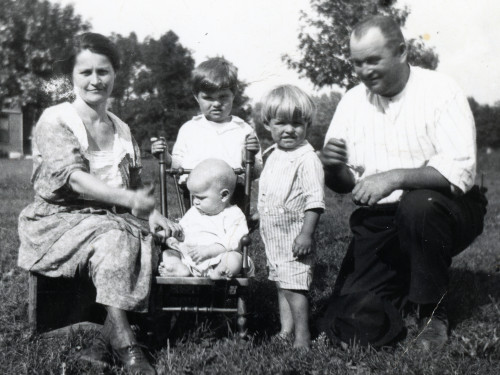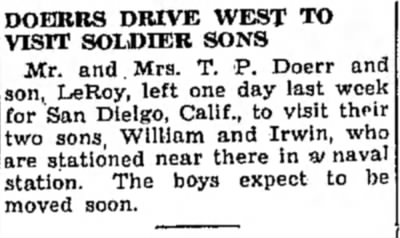 In June 1942, Ted and Anna, along with their youngest son, LeRoy, moved to San Francisco, where two of their boys were stationed. Ted worked at Hunters Point Naval Shipyard during the rest of the war.
After the war he worked with his son Luke and Anna's brother Vincent "Kaps" Kappes in Construction in Oregon for a few years. After retirement he made small furniture for children. Anna worked for the post office in San Francisco. On April 1, 1965, at the age of 71, Anna died of a heart attack. Sometime after Anna died, Ted moved to Sonoma, California and lived with his son Bill until his death on April 12, 1968 at the age of 84. He laid down to take a nap and never woke up. 
Theodore and Anna Doerr Kids
I only have a few memories of Uncle Bill and Uncle LeRoy. The few memories I have of my uncles is of them sitting around the table drinking beer, laughing and telling stories. Their stories were funny and full of a lot of 'bull' and usually a bit off color.   🙂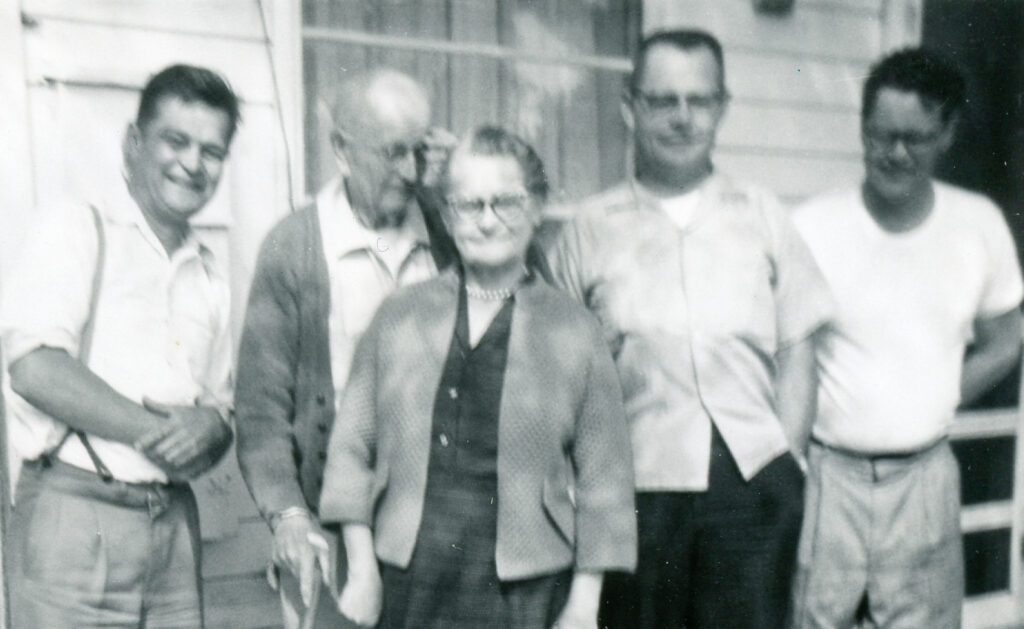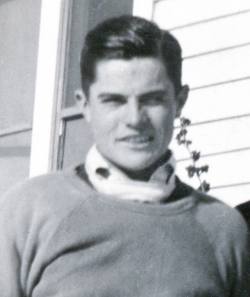 Maurice Englebert Doerr was born December 18, 1917 In Wesley, Kossuth County, Iowa. Maurice attended Catholic Parochial School in Wesley, Iowa through the 4th or 5th grade. He attended public schools after moving to Britt, Iowa about 1928 and graduated from Britt High School in the class of 1937.
He and his brothers helped his father in the construction business and doing odd jobs around town, including digging graves at the local cemetery. On October 4, 1939, he enlisted in the Navy. About February 1940 he was assigned to the USS Helena, the same ship his brother Luke, was assigned. In July, 1940 the ship was docked in New York. He left the ship on July 2, 1940 for a night on the town. Sometime during the evening, he was hit by a car while crossing a street in New York City. He died in the hospital the next day, July 3, 1940 at 22 years old. The following is from his brother Luke's journal:
"…I got a phone call from a fellow who had witnessed the accident. He wanted to see me. I had no trouble getting off the ship so I met the fellow at the scene of the accident, Seventy second and Central Park West. Most of the witnesses were there. I got a lot of information.
About two dozen or more people had gathered at the site. Some were waiting for the bus that stopped there. The others waited for the green light as they were about to cross the street to the subway stop.
The bus stopped with its front bumper only a few inches from the crosswalk. The light turned green. There was no doubt about that.
Two people were approaching the bus door. The crowd began to move to cross the street. Maurice and a soldier started to cross the street. The car had to have been traveling very fast. Maurice may have stopped to double check for traffic by peeking around the bus. At any rate, the right windshield post of the speeding car struck Maurice at the left side of his skull toward the front. The impact knocked him about forty two feet. He knocked the soldier that had been to his right about half that far. The vehicle continued on almost a quarter mile before it started to slow to a stop. The soldier was severely injured, but he recovered, to what extent I don't know, but I understand that he returned to duty. He did correspond with my parents for a long time…"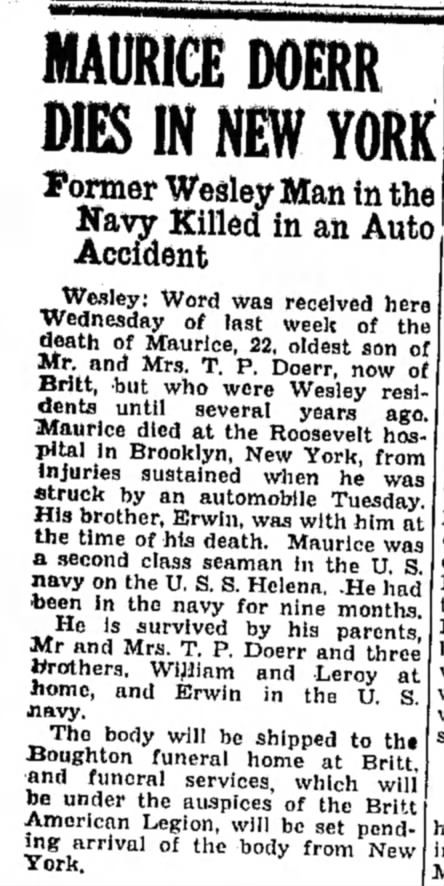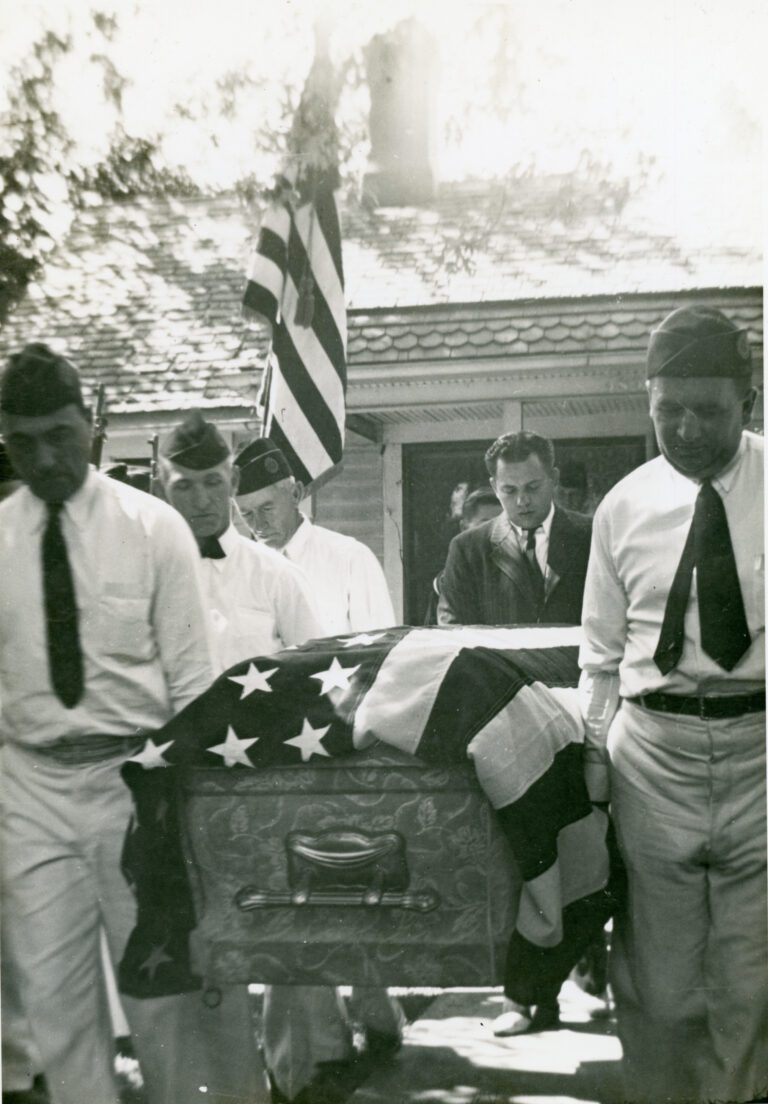 Luke Erwin Doerr (my father)
Luke Erwin Doerr was born on January 21, 1920 in Wesley, Kossuth County, Iowa. He was called Erwin as a young boy and Duke as an adult. Affectionately called Papa Duke by his grandchildren. He attended the first few years of school at the Catholic Parochial School in Wesley. After moving to Britt, about 1928, he attended public school.  He dropped out of school after the 10th grade. He helped his father on construction jobs and did other odd jobs around town, including digging graves at the local cemetery. 
The following is from Duke's Journal:
"…Jobs were scarce. In school, Grades nine and ten had bored me to tears. My grades, for some reason, were mostly "incompletes". It is quite possible that making it to school only two or three days a week might have contributed to this situation. So I sort of "quituated". I did get an occasional short-time job, mostly doing hard work, so much so that I was tempted to go back to school. That temptation didn't last long. I also did a bit of traveling, hitch-hiking, or by freight train. That wasn't as good as it sounds.
One day I decided to fix an antique pistol that wouldn't shoot. This was for someone else, for free. I didn't get it fixed, but I did find out the problem. Suddenly, as I closed the weapon, I heard a loud noise, the inside of my left hand turned black. The back of my hand oozed out a bit of gore. That .22 bullet had gone through my hand but it missed the bones. That was my third such embarrassing and stupid accident. It was winter, so my minor injury wouldn't interfere with any job that I might not land anyway.
In January of 1939, I turned nineteen, and I had made a decision.
I slogged through about four inches of snow. It was colder than a Nun's nipple, but it wasn't far to the highway. I caught a ride to Mason City. That is where the nearest Navy recruiting office is…"
Duke joined the Navy on June 7, 1939 and traveled to Des Moines, Iowa for his physical. He spent Boot Camp at Great Lakes Naval Training Station near Chicago and was the "Guidon", the person carrying the flag. During Boot Camp the big sporting event was the boat races once a week. He joined the light boat crew and practiced by rowing Whaleboats, but they raced in cutters. They broke several records and won most of the races.
1939-1941 USS Helena
On September 18, 1939 he traveled to Brooklyn Navy Yard where he was assigned to a brand new Cruiser, the USS Helena as a signalman striker. They departed from the Navy Yard for her sea trials and shakedown cruise. They stopped at the following ports: Annapolis; Norfolk; Guantanamo Bay and Cuba. They cross the equator on January 13, 1940 where Duke becomes a "Shellback". They visited Buenos Aires; Argentina; Montevideo; Uruguay (site of the wreck of Admiral Graf Spee); and Santos Brazil. They begin their return on February 10th and stop in Guantanamo Bay, Norfolk and arrive at the Navy Yard in New York on March 2, 1940.

The following is from Dukes Journal:
"… In the Navy, a sailor becomes a Shellback when he crosses the Equator, until then, I seem to remember that he is a pollywog or something similar. We were supposed to be at peace with the world, so we had time to do it right. A big celebration was planned for this rather important occasion. One of the portly crew members was elevated to the position of King Neptune. The royal barber whacked off my hair with one clip close to the skin and in front. I had to crawl through a canvas tube about two feet in diameter through about a four-inch layer of garbage. Those of us who disclosed our location by bumping the top of the tube got a sharp rap with a shillelagh (pronounced 'shil lay lee'). This wicked weapon is a canvas tube about two inches in diameter about four feet long and filled with wet sand packed tight…"
In late 1940 the USS Helena is sent to Pearl Harbor, Hawaii. Duke spends about 13 months sailing around Pearl Harbor. Mostly on the USS Helena, but he is also on other ships during those months in Hawaii.
November 1941 – August 1942 Treasure Island Naval Base
In November 1941, he was assigned to Treasure Island Naval Base in San Francisco, California on the gun inspection crew and spent some time on merchant ships inspecting their guns. He was in the hospital with Catarrh fever (flu-like symptons), when Pearl Harbor was hit.

The USS Helena was moored at 1010 Dock Navy Yard on the base southeast side of the harbor. By chance, Helena was in the berth normally assigned to the battleship Pennsylvania, and thus became a prime target for the Japanese planes. Reports are inconsistent that some Japanese pilots aborted their attacks on Helena after realizing she was not the USS Pennsylvania. 20 men were immediately killed. 4
August 1942 –  March  1943  SS George Chamberlain


On August 23, 1942 Duke was assigned to the SS George Chamberlain. He traveled by train to Portland, Oregon where the ship was being readied to go into service. Port stops included: Portland, Oregon; Seattle, Washington; Long Beach, California; Wellington, New Zealand; Aden; and Suez, Egypt.
In Egypt they got a few liberty days and took the train to Cairo to see the sights and ride camels. They left Suez through the Red Sea and along the coast of Africa to Mombassa, Kenya. They sailed south through Mozambique Channel (between Africa and Madagascar) on Christmas Day 1942. The next ports were Cape Town, South Africa; Bahia, Brazil; Paramaribo, Suriname; Trinidad and then to Mobile, Alabama where they were transferred off the SS George Chamberlain. They were then sent to New Orleans to wait until they received orders to report back to Treasure Island Armed Guard Center. They had 30 days to get there. Duke chose to take the train. His folks and wife met him at the train station in San Francisco.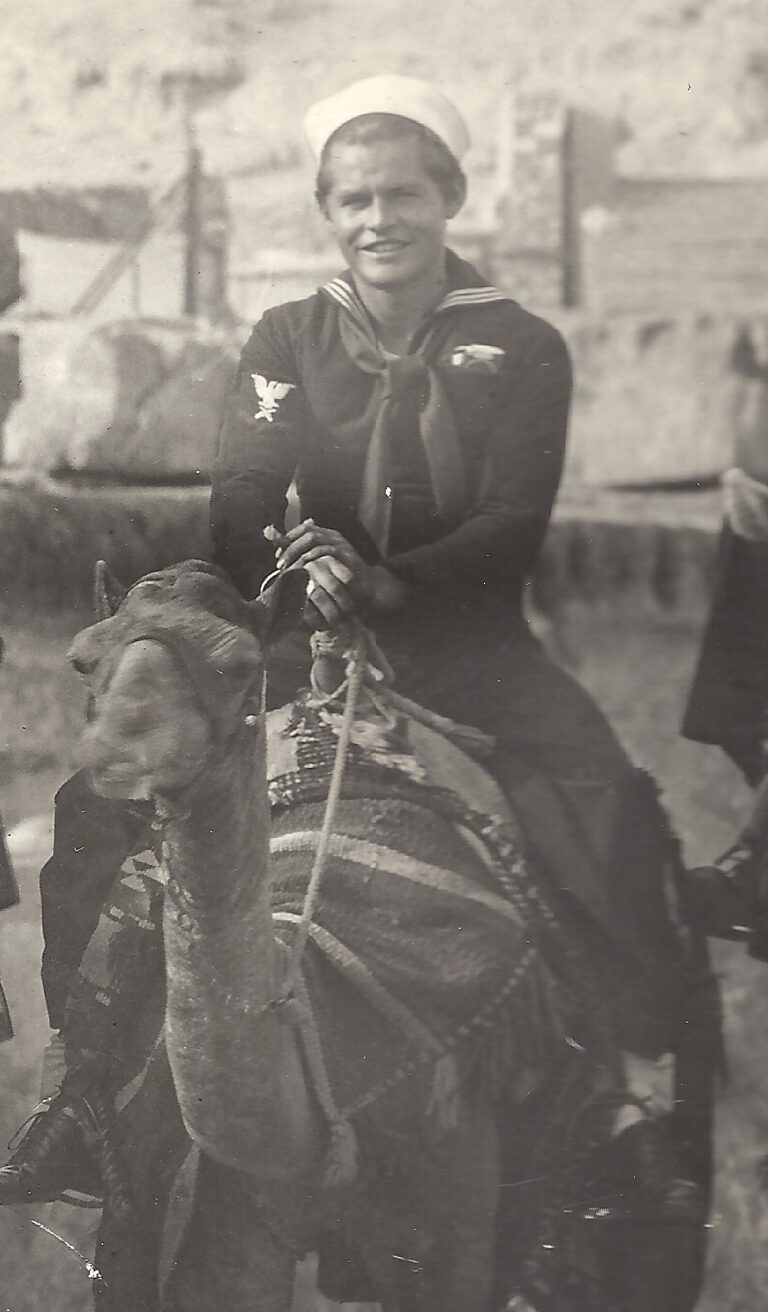 April 1943 – March 1944 SS C.P. Steinmetz
About April 1943 Duke was assigned to the SS C.P. Steinmetz and sailed to: Sydney, Brisbane, Townsville and Darwin, Australia. In Darwin they tied up to a T-shaped dock late int he afternoon. About 8:00 a.m. the next morning they were ordered to battle stations, as a fleet of 9 Japanese Bombers were coming in. Dukes gun was too small to do any good at that distance so he was more of an observer. The Australian airfield sent up their Spitfire fighter planes to discourage the incoming bombers.  Duke wrote:
"Before the Bombers got to within sight, our ship began to move. We had a sunken ship in front of us and another lying along our right side. So the ships crew had to back up the ship, then swing the rear toward the shore. The idea was to then head out into the harbor and then out to sea and test the theory that it's more difficult to hit a moving ship with a bomb. But it was not to be. The ship moved as planned until we backed up far enough to complete the maneuver, but someone in the engine room was supposed to shift into forward. The ship kept going in reverse. When the ship hit the earthen bank it stopped, stuck in the mud.  As the Ship finally got in forward gear, it tended to stay stuck in the mud. So the ship stayed stuck and we spent the entire air raid as a sitting duck. But, on the plus side, the two gun crews on the bow had one hell of a solid gun platform."
After the raid was over, the nine bombers got away. The ship unloaded their cargo and they left the next day. When arriving back at Sydney, they were notified that a couple of hours after they got out, Japanese bombers returned. This time they blew the T-dock up at Darwin.

After leaving Sydney, stops included: Brisbane, Port Moresby, New Guinea and Cape York, Australia.
March 1944 – 1945 Treasure Island Naval Base
They returned to Treasure Island on March 10, 1944. Duke was assigned to the gunnery school as an instructor for 3 months. Liberty was good and he worked from eight a.m. to four-thirty p.m. with an hour off for lunch. He lived in the school in a room of his own and went home three evenings out of four (He and his wife, Eleanor, had rented half of a house).
His mother and father both traveled by bus and/or streetcar, so Duke used his dad's old '39 Chevy Pickup. What should have only been a 3-month assignment turned into 15 months. Eventually he did end up on the "sea list".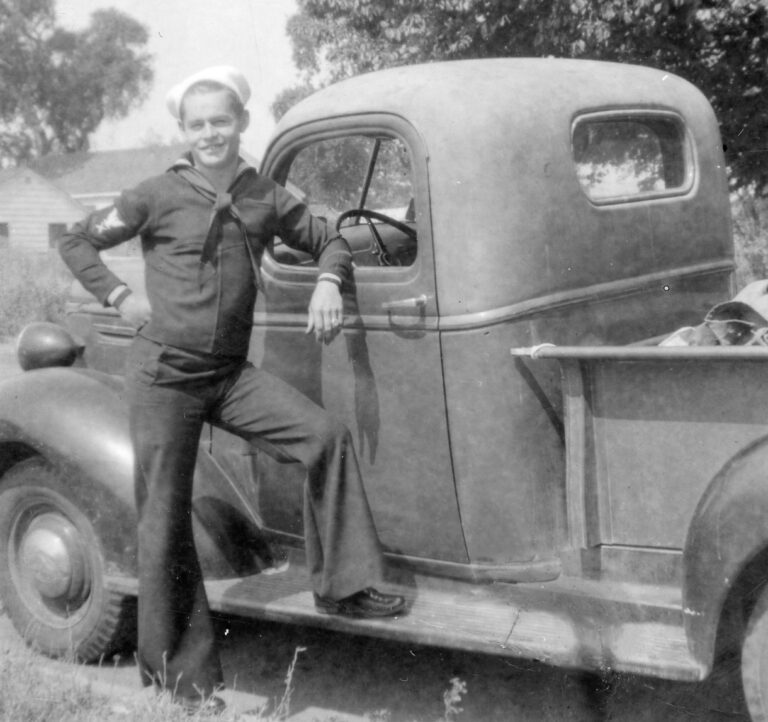 1945 – July 1945  SS Fort Dearborn
Early 1945 he was assigned to the SS Fort Dearborn and spent time sailing between Guam, Panama and Ulithi. They were on their way back to Panama in July when the announcement came that the war was over and they returned to San Francisco.

August 1945 – June 1946 Treasure Island Naval Base
In August 1945 he was assigned to the Carpenter Shop and became carpenters mate. After returning from a 60-day leave, he spent most of the rest of the time in the service doing odd jobs.

He received his discharge papers on June 9, 1946, his sons (Mark) first birthday.

 

 

 
Duke married Eleanor Alberta (Marks) Rodgers on March 25, 1942 in San Francisco, California. She was born on January 27, 1908. They had three children: Mark Erwin Doerr, Anina Kathryn "Kathy" Doerr and Patricia Marie Doerr (me).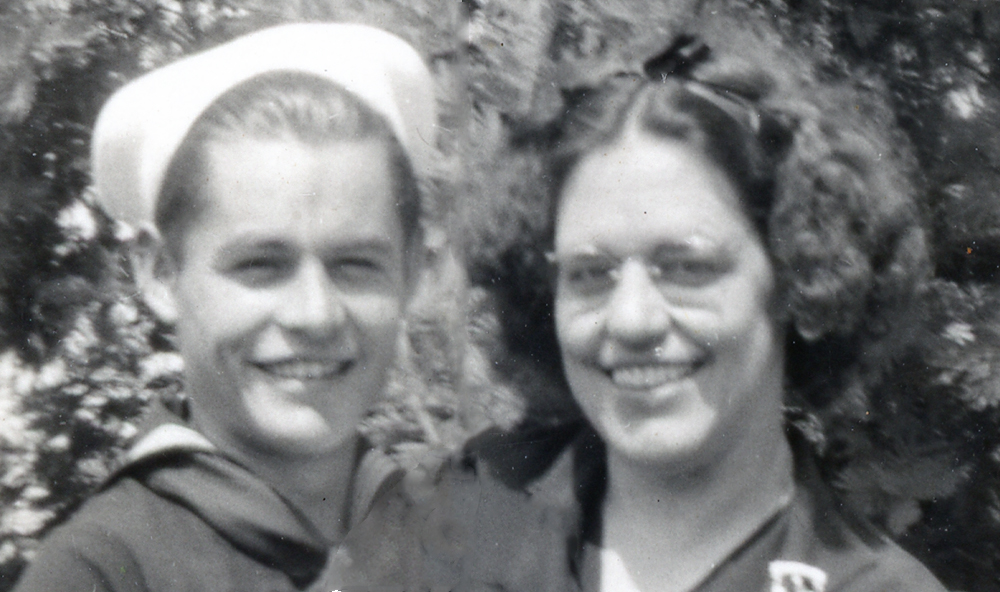 After leaving the Navy, Duke worked on construction jobs with his dad and his Uncle Vincent "Kaps" Kappes in Oregon. They lived in Astoria for a time before moving to Kennewick, Washington in 1948 to work at Hanford. In the early 1950's he worked on McNary Dam until about 1953.
He was as a used car salesman from about 1953 to 1955. In December 1954 he purchased the house at 115 N. Irby Street, Kennewick, Washington. (This is what I remember as being my childhood home). From about 1955 to 1959 he worked at Prudhomme's Hardware Store on Avenue C in Kennewick, just down from the bridge. In 1959 he went to the community college in Pasco taking Bookkeeping and Accounting courses.
Duke and Eleanor divorced sometime between 1959 and 1962.  Eleanor died on July 20, 1979 in McCall, Idaho at the age of 72.  She is buried in Riggins, Idaho, where she made her home the last several years of her life.
In the fall of 1959 Duke took classes at the Business school in downtown Kennewick near the old Benton Theater, which is where he met Margaret Noble. Margaret has two daughters, Sharon and Janet who both married in the early 1960's and now have large families.
Duke moved to Beaverton, Oregon in the fall of 1962, where he worked for Canyon Glass in Beaverton. He stayed in a rooming house with a friend. He and Margaret married on January 19, 1963 in Eltopia, Washington. Margaret worked at Welch's Grapes in Kennewick in their main office while they were engaged and after they were married until she joined him in Beaverton in June 1963.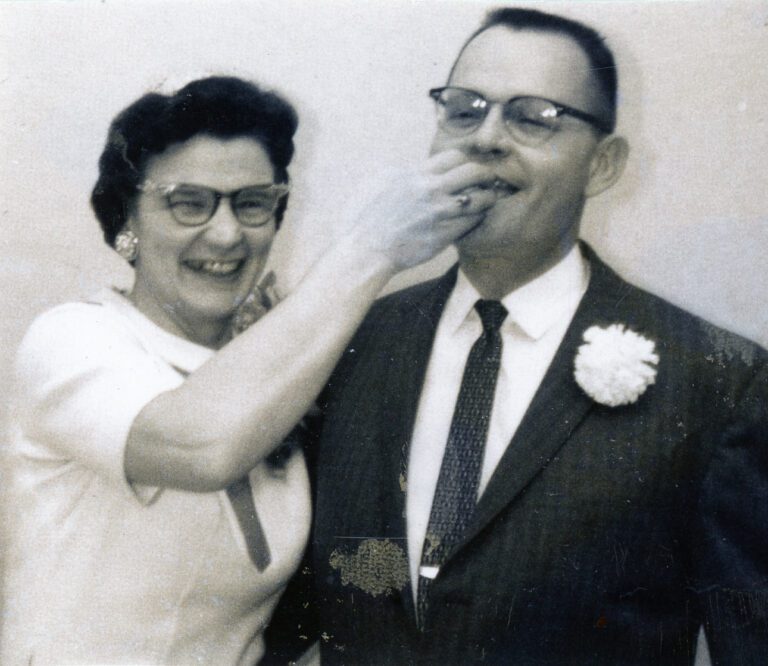 They rented a house in Beaverton early 1963 and Duke spent his time cleaning it up before Margaret moved in with him in June. They purchased the house a couple of years later.
Duke and Margaret were Rock Hounds. They spent many weekends rock hounding with their friends. Duke set up shop in his basement with the tools to polish and cut the rocks. He made beautiful pieces out of the cut rock, including clocks, tables and lamps. Duke worked for Canyon Glass for most of the years they were in Beaverton. Margaret worked for Dictaphone Company in Portland, Oregon.
in 1985 and spent many years traveling around the country in their RV. In 1987 they sold their Beaverton home and moved to Eltopia, Washington. During their travels, they visited all of the states west of the Mississippi except North Dakota. East of the Mississippi they traveled to Minnesota, Iowa, Arkansas, Missouri, Mississippi, Alabama and Louisiana. They visited all of the National Parks in the western states.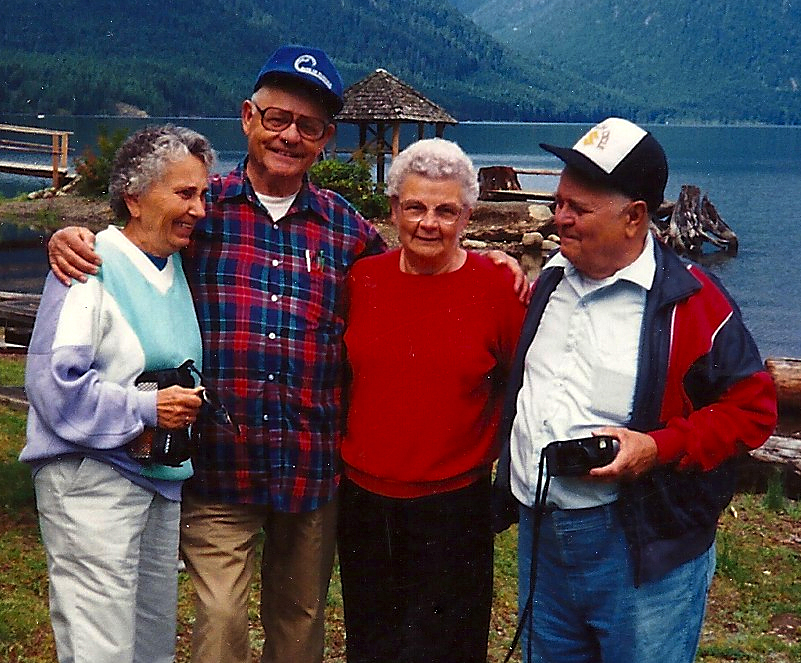 By about 2002 Duke could no longer drive, so they parked their RV and Margaret did the driving by car. In about 2002 she drove to Iowa to visit Dukes family and from there drove south to Texas to visit with her daughters family.
Duke died on March 26, 2009 at the age of 89 in Pasco, Washington and is buried in Eltopia, Washington. Duke and Margaret were happily married for 46 years. As of this writing [May 2015] Margaret is 92 years old and still living on her own. She spends her time sewing. Due to poor eye sight, she no longer drives, but is sharp as a tack and keeps up on the activities of her children, grandchildren, great grandchildren and great great grandchildren.
William "Bill" Vincent Doerr
William Vincent Doerr was born on February 20, 1922 in Wesley, Kossuth County, Iowa. He attended public schools in Britt, as the family moved there about 1928. The 1940 census shows the highest grade completed was 7th grade. He was listed as an unpaid worker, most likely helping his father in the construction business. In August of 1940 he joined the Navy 8.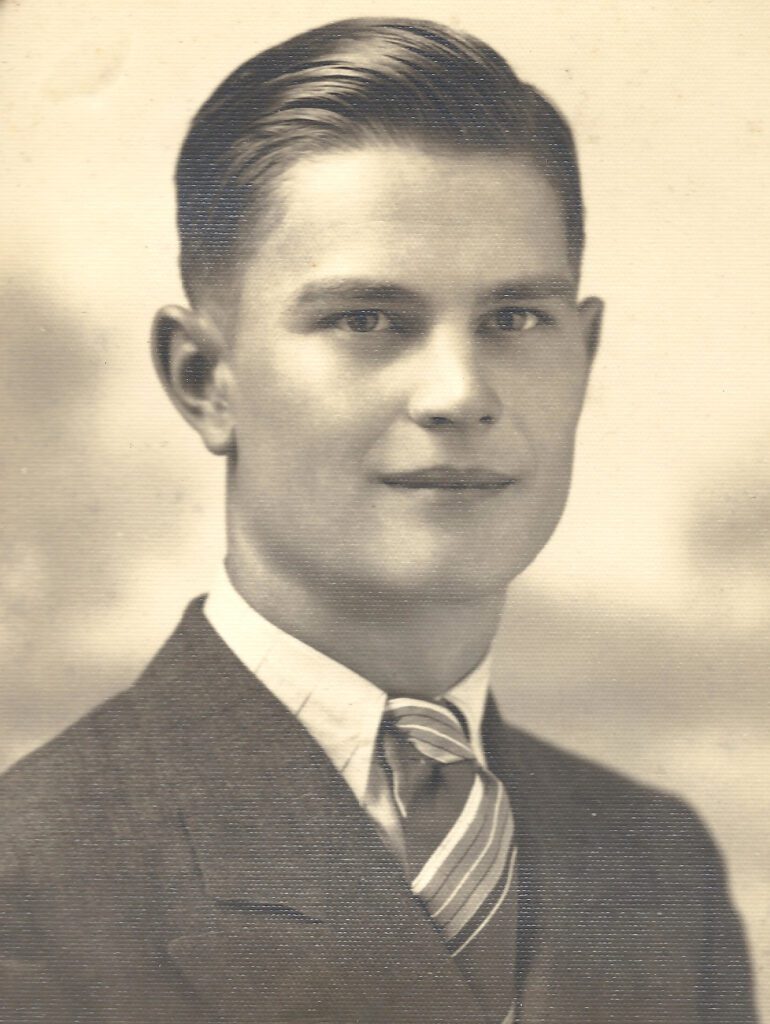 Bill's War Years

1941 to 1942 – Battleship USS Idaho.5
Bill served on the Battleship USS Idaho between 1941 and 1942. The ship sailed for Hampton Roads on 6 June 1941 to perform Atlantic neutrality patrol. She moved to Iceland in September 1941 to protect American advance bases and was on station at Hvalfjörður when the Japanese attacked Pearl Harbor on December 7, 1941. Idaho departed Iceland two days after Pearl Harbor to join the Pacific Fleet, and arrived at San Francisco, California, via Norfolk, Virginia, and the Panama Canal on January 31, 1942.5


1942-1944 – San Francisco California(?): I am speculating that Bill was assigned to Treasure Island sometime during this period based on the dates recorded of the ships as described. The information about which ships he was on, is listed in our family history book.3 I also know from a newspaper clipping, that Ted and Anna drove to California to see their two sons, William and Erwin in July 1942 (the clipping says San Diego, but it would have been San Francisco). He was also present as a witness when Duke and Eleanor married in March 1942 in San Francisco.

1944-1945 – USS Flint Light Cruiser. 6
Bill served on the USS Flint from 1944–1945. Flint reported to the 3rd Fleet for duty at Ulithi on December 27, 1944, and six days later, sailed  in support of the invasion of Luzon. She screened aircraft carriers as they launched strikes on Luzon, Taiwan, and the China coast, and fired protective anti-aircraft cover during a Japanese kamikaze attack on January 21, 1945. Replenishing at Ulithi from January 26 to 10 February 10, 1945, Flint then sailed for air strikes on Tokyo preceding the attack on Iwo Jima. Her force arrived off Iwo Jima on February 21, 1945 to provide anti-aircraft cover for the Marines who had landed two days previously, and Flint returned to Ulithi March 12, 1945 for a brief 2 days of replenishment. Putting to sea with TF 58 (The Fast Carrier Task Force) for strikes against Kyūshū in preparation for the invasion of Okinawa, Flint aided in bringing down several airplanes in heavy attacks on the task force from March 18-22, 1945. The task force then closed Okinawa, and Flint with other cruisers bombarded beach installations in preparation for the landings on April 1, 1945. Aside from the period of May 14-24, when she was at Ulithi for upkeep, Flint operated off Okinawa until June 13, 1945, when she anchored in Leyte Gulf. Flint sortied from Leyte on July 1, 1945 to screen the final air attacks on the Japanese home islands and to join the bombardment of the east coast of Honshū until the cessation of hostilities. On August 24, 1945, she took station off Nii Shima to serve as rescue ship and homing station for transport planes carrying occupation troops to Japan. From September 10-15, 1945, she lay in Tokyo Bay, then sailed with a carrier task force to provide air and sea surveillance of Central Honshū until 21 September, 1945. 6

1945-1946 – USS Robert L Wilson destroyer.7
Bill served on the USS Robert L Willson from 1945-1946. Following shakedown in Cuban waters, Robert L. Wilson sailed from Norfolk, Virginia on 23 July 1946 for a six-month tour of duty with the 6th Fleet in the Mediterranean. 7

Bill was discharged from the Navy on August 16, 1946.
About December 1943 Bill married Marge Fink. They had a daughter, Vicky Doerr. They moved to Sonoma, California where Bill was a Sawman and Carpenter from 1947 until he retired. Bill and Marge divorced sometime before 1951.
On March 9, 1951 he married Ruth C (Silva) Dietrich in Carson City, Nevada. They had no children, but Ruth had a son, Edward "Eddie" Vernon Dietrich by a previous marriage that Bill helped raise. Sadly, Eddie died in a car accident only six weeks after he married Carol A Fruth in 1967. Ruth was a Seamstress and power machine operator.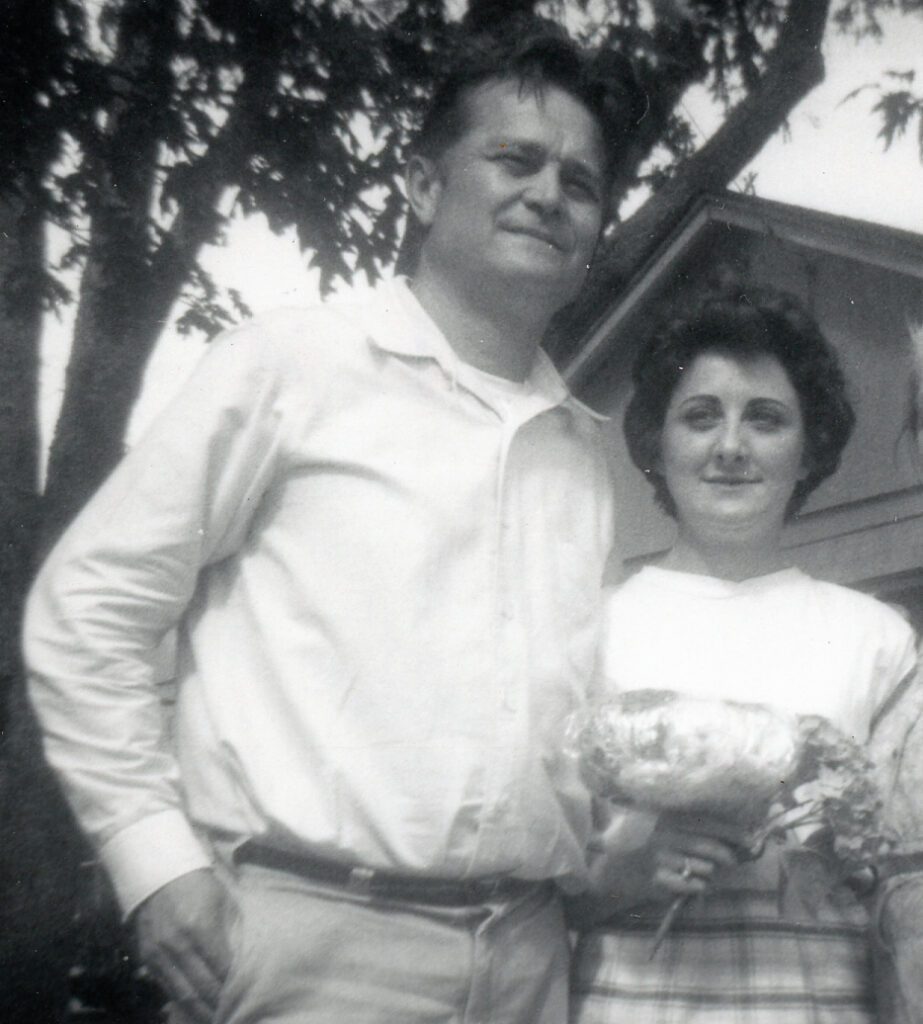 Ruth died March 16, 2003 at the age of 78 in Sonoma, California. Bill died on October 5, 2005 in Sonoma, California at the age of 83. They are both buried at San Joaquin Valley National Cemetery in Santa Nella Village, Merced County, California.
Bill's niece (Duke's daughter and my sister) Kathy lived with Bill and Ruth for a time after she graduated from high school.  This is when she met her husband, John Von Dohlen. They had two boys, John (Jr) and Craig. John (Sr) wrote the following story:
"Bill and Ruth had a trailer on the Napa River which they paid 1 dollar a day rent on. Almost every weekend they would go and stay in their trailer, go fishing, drink beer, shoot the bull with whoever was there, do some more fishing, drink more beer, have lunch, drink more beer, do some more fishing, kick back, drink more beer. That was just about what they did most weekends, when Bill was still working.
We would take the kids out there on a Sunday, (my one day off at that time) and do some fishing and drink some beer. Bill and Ruth liked beer a lot, we would take the kids out in the boat to fish. John liked to fish, Craig not so much. One time he [Craig] had a fish on and was so surprised that he gave Uncle Bill the pole and said "Here you reel it in, I don't want to break the pole". Bill gave it back and told Craig to reel it in, which he did and caught a nice keeper of stripped bass.
They spent a lot of time at the river and at Knights Landing on the Sacramento River  fishing  for sturgeon. They would back up their station wagon to the river set out their poles and wait for some time for the fish to bite. Sometimes it would go into the night. They rolled out some sleeping bags and laid down waiting for a bite. They had bells on their poles to warn them of a strike if they were sleeping. Lots of work for sturgeon, but well worth it. At that time it had to be 4 foot long at least, (sturgeon is a pre historic fish, and has prized fish eggs, as they use it for caviar, if you catch a female, with eggs.)
Ruth's bell went off early in the morning and woke them up as they had fallen asleep that night. She jumped up, hooked a good one. After about an hour fighting the fish, Bill wanted to take over as Ruth was getting a little tired, but she told Bill to sit on it "it's mine and I will bring it in", which she did. It was 6 feet 6 inches, a foot taller than she was, and twice as heavy. It took about 2 hours to land. It weighed about 125 lbs. They got about 90 pounds of meat, lots of waste on sturgeon , the head alone weighs about 20 lbs. She was pretty tired after that, and she never let Uncle Bill forget it. He never caught one that big (jokingly of course. so she says).
When Bill retired they spent a lot on time at the coast as well, making new friends  along the way. They never did much traveling, although they had money to go and do things, they did not want to spend any. They did go up to Washington to visit with Lyle and Vickie [Bill's daughter] one time and that's when mom and dad [Bills brother Duke] went and picked them up and brought them to their house in Eltopia [Washington]. Bill never liked to be away from home for any length of time, he had neighbors to look in on the place as well as us to check on things as well.  I think the reason was Bill did not trust banks as they had five thousand  dollars stuck in a galvanized pipe under their house. Any time something would come up about banks or the stock market Bill would go bananas thinking it was going to happen to him (paranoia big time).
So many times at the river, that's where John and Craig learned to scrounge for anything. Uncle Bill taught them that, hooks, sinkers, leader, whatever, bottles anything that looked good. I told Bill thanks a lot all he could do was have a [big] grin on his face. He also liked to play Acey Duecy (kinda like a backgammon game) with me and Ruth. We would play whenever we went to visit them at home, and drink more beer. They sure liked their beer, they did."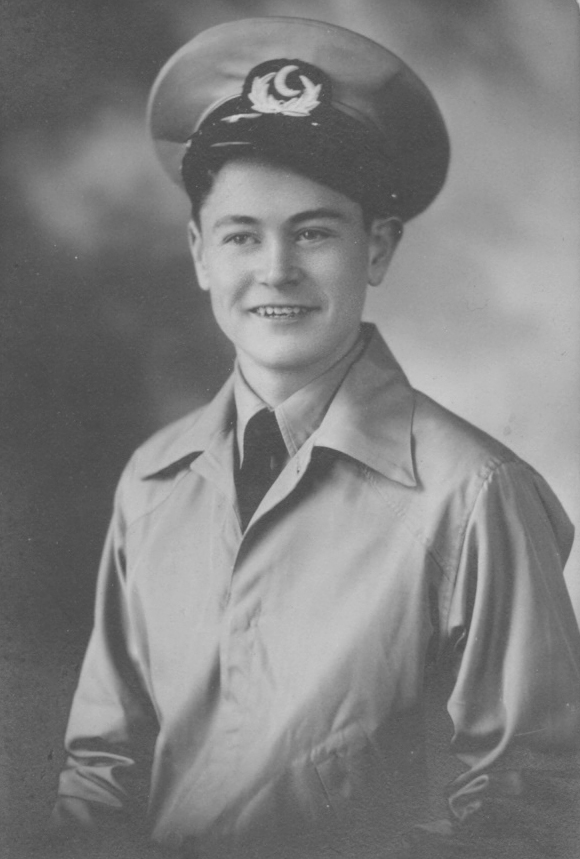 LeRoy John Doerr was born on March 3, 1927 In Wesley, Kossuth County, Iowa. The family moved to Britt, Iowa shortly after LeRoy was born. He spent his school years at public schools in Britt and finished 6th grade. He spent one year in the Army and then joined the Coast Guard. He spent 22 years in the Coast Guard, mostly in Hawaii, Alaska and St. Paul Island in the Pribilof Islands in Alaska. 3
The following was written by LeRoy on May 18, 1988:
"Doerr LeRoy J Z420029
550-30-0310 – Z42-0029
SS Paul Shupe – Tanker – Coastwise 42 [1942?]
SS Mission Periesma – Tanker 43 [1943?]
SS Cape Neddick C-1 1943 Transport Fourin
SS Cape Duglass C-1945 Transport Fourin
SS Bald Eagle C-2 1945 Reffer – Fourin
SS Battle Creak Victory 1945 & 1946 – Fourin
SS Wm Terry Howell Liberty 1946 – Fourin
Above, a list of the merchant Vessels I served on during and after WW II.
My Last Z 420029 4E & Z-Documents copy were issued 4/12/71 -They were lost [illegible] with other property in storage in 1980.
General Freeman
Signed: LeRoy J Doerr
dated: 5-18-1988″
LeRoy was an avid fisherman and outdoorsman. Going through his papers, I found many pictures of wildlife and photo's of him with his 'catch'.
After LeRoy retired from the Coast Guard, he lived in the family home at 142 Bosworth Street, San Francisco. He later moved to Clearlake, California. LeRoy died April 28 2014 at the age of 87.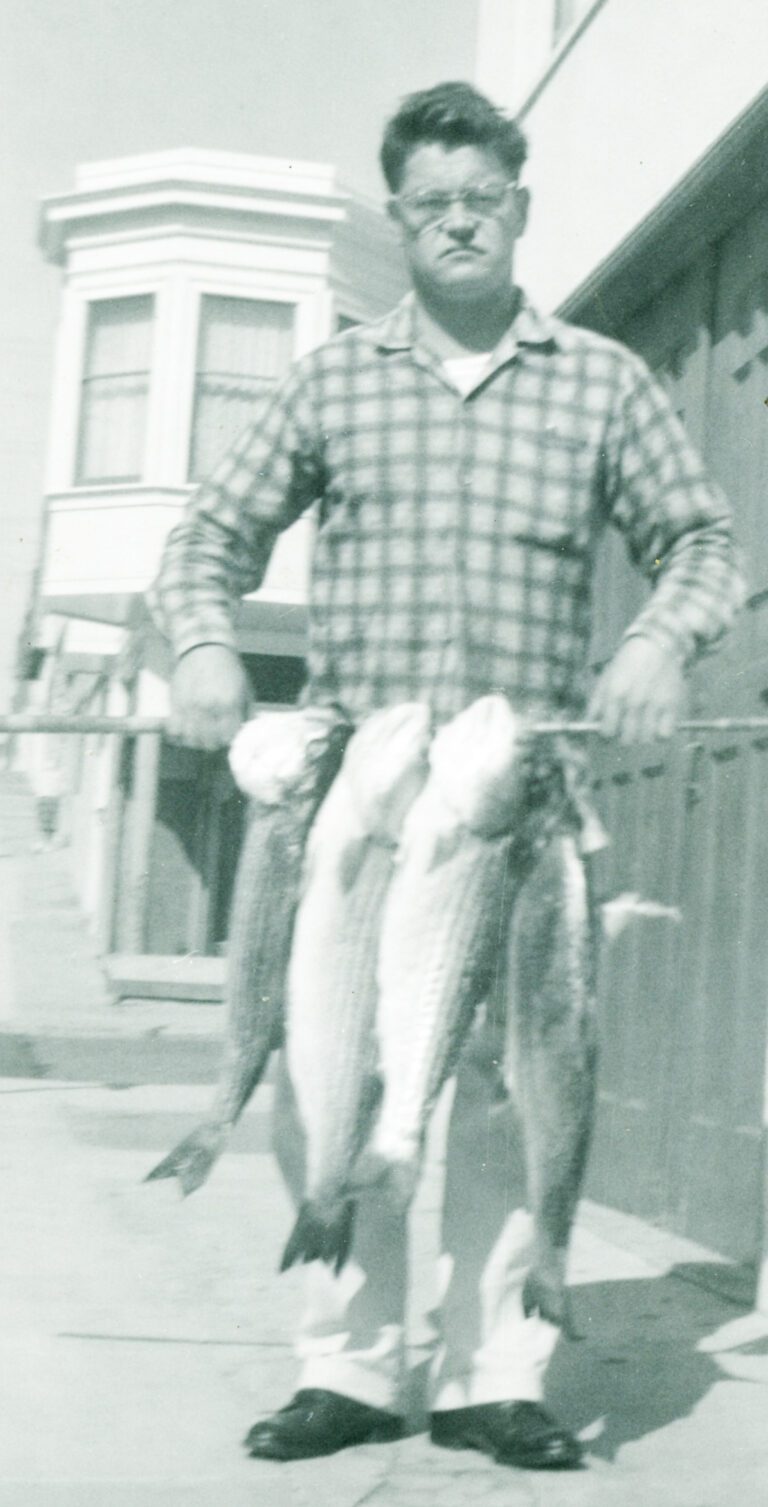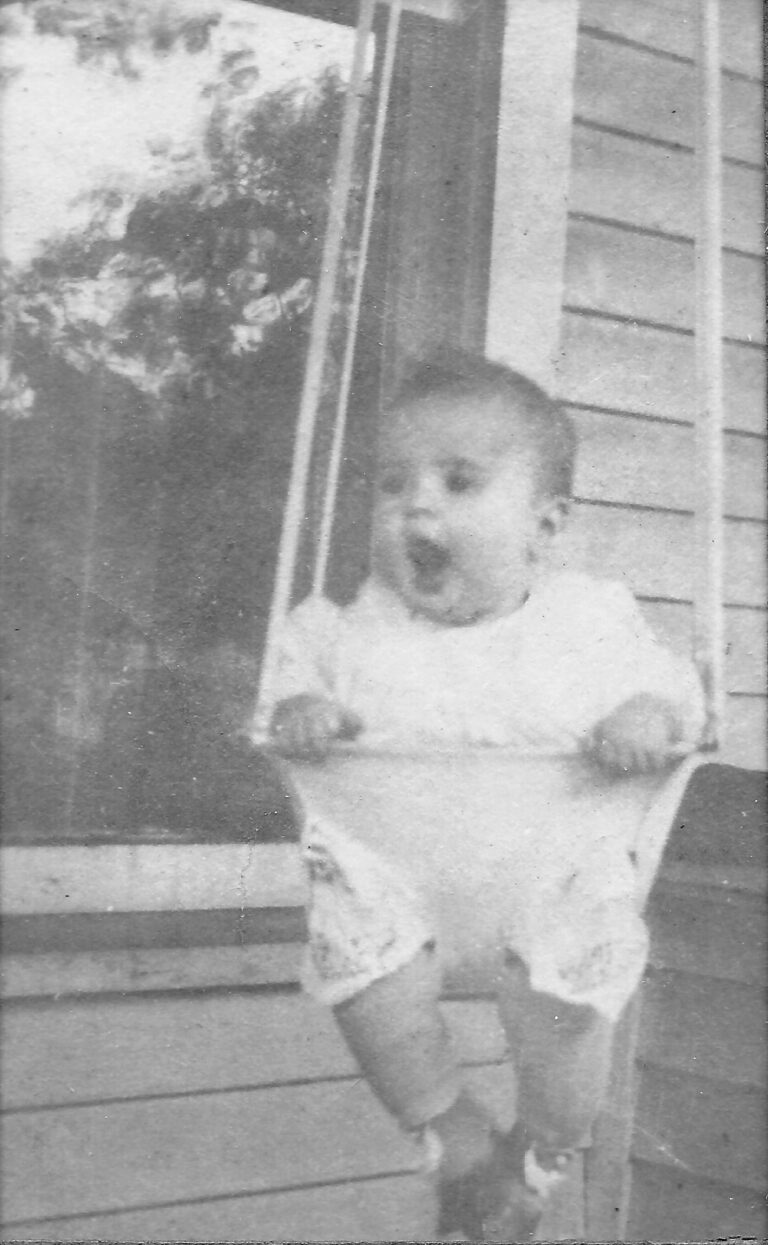 Helen Ann Doerr was born on September 24, 1929 in Britt, Hancock County, Iowa. The only girl of five children, she was probably doted on. Sadly, Helen died at 13 months and 13 days on November 7, 1930 at their home in Britt, Iowa. My father told me she died of "Crib Death" or what we call today Sudden Infant Death Syndrome (SIDS). From what I've read in newspaper articles, it looks like they put her down for a nap after lunch and she never woke up.
Sources:
1 Iowa, Winneshiek County. Certificate of Vital Record (Birth) #176, for Theodore Peter Doerr, 31 January, 1884.
2 Kuennen, Lorraine Bodensteiner. 1979. The John Carl Bodensteiner Family. St. Lucas, Iowa.
3 Einck, Donald and Margaret, Doerr Families, Denver, Iowa, undated.
4 http://en.wikipedia.org/wiki/USS_Helena_(CL-50)
5 http://en.wikipedia.org/wiki/USS_Idaho_(BB-42)
6 http://en.wikipedia.org/wiki/USS_Flint_%28CL-97%29
7 http://en.wikipedia.org/wiki/USS_Robert_L._Wilson_(DD-847)
8 Application to State of Iowa for World War II Service Compensation, Iowa, World War II Bonus Case Files,( Ancestry.com accessed on 30 Apr 2015)  State Historical Society of Iowa, Des Moines, Iowa.for William Vincent Doerr, Britt, Iowa.
Pat Burns. Copyright © 2022. All Rights Reserved.