Festina & Old Mission, Washington Township, Winneshiek County, Iowa

Wilhelm and Anna Doerr were members of St. Mary's – Our Lady of Seven Dolors Catholic Church Catholic Church in Festina where their children attended parochial school. I assume that most of their social life revolved around the church. Although their farm was in Military Township, just east of Washington Township, Festina was only about 2 1/2 miles southwest of their farm. Ossian was located about 3 miles east of their farm, so likely interacted in that community also.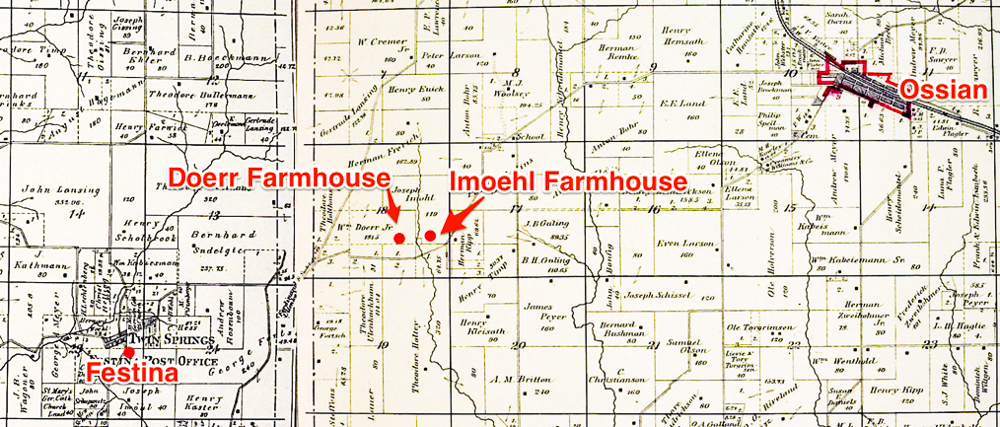 Festina, Winneshiek County, Iowa
"Festina village (known as Twin Springs at the time) was platted and recorded October 17, 1856. Here is located the brewery of A. F. Gartner, two general stores, a public school, a post office, and other branches of business [1882]. The German Catholic church [established in 1854] here is a very large building, and has a school connected with it. It was described as lying in a beautiful valley five miles south of Calmar." A creamery was located at the settlement in 1894.1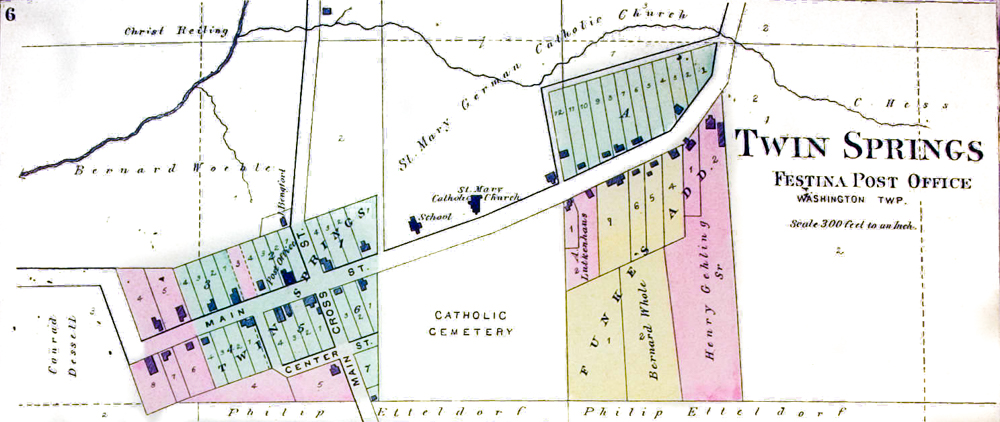 The U.S. Government built Fort Atkinson to protect the Ho-Chunk (Winnebago) during their removal from Wisconsin. Construction of the new fort began in May 1840 and was complete by the summer of 1842. 
The regular army turned the fort over to Iowa volunteers as the troops stationed there were needed for the Mexican-American War. Father Joseph Cretin of Dubuque had ministered to the Catholic Winnebagos at Yellow River and soon visited them at the Fort. After the Ho-Chunk were removed from Iowa, the post was abandoned on February 14, 1849. 
A mission was built southeast of Fort Atkinson along the Turkey River overlapping sections 33 and 34, where several cabins, a school and a log chapel was built by Catholic soldiers, Indians and traders.  This became known as "Old Mission" and it was by this name the early Festina parish was known. 
By 1848 and 1849 the Indians and troops were moved from the Fort Atkinson reservation to Minnesota, opening up the neutral grounds for settlement. Fort Atkinson was abandoned, but still managed by the government with caretakers until 1853 when it was sold. At the same time (1849-1849) the Old Mission buildings were abandoned.  Pioneer settlers were then allowed to move into the region. 
Pioneer families from Aldenburg, Indiana came in the spring of 1849 and used the abandoned Mission buildings as shelter until they could purchase their own land.  These families were George Beckel/Bachel (who, in 1851, became the first County Sheriff), Joseph Huber family and his father-in-law John Gartner (aka Johann Gaertner), Andrew Meyer, Anthony Stottle / Stadel, Jos. Spillman and Jacob Rausch. . 
After settling in their own homes, these families purchased a forty acre tract, to establish their church. These Catholic families selected the largest of the cabins, excluding the school, to use as a church and purchased it from the government. They then moved it to the Southwest 1/4 of the Southeast 1/4 of section 27, just south of the Turkey River and where the current St Anthony of Padua Chapel is located.  
In 1850 the Old Mission Post Office was established in the cabin that the Huber family had taken shelter in when they first arrived. This cabin was later moved to the site of St. Anthony of Padua Chapel.  The plaque reads:  "This cabin, restored in 1996, originally stood a mile southwest of the present site. It was once part of the Indian Agency and used as a dwelling by the F. J. Huber family when they arrived at Old Mission in 1849. That summer Father G. H. Plathe visited the immigrants and offered Mass in the cabin. In use by Huber descendants until 1965, the cabin was dismantled in 1993 and restored as a memorial to F. J and Mary Ann Huber" 3.
In 1854 between Christmas and New years, the small church burned and arson was suspected. All church records were lost in the fire. To prevent this from happening again and also because of frequent floods, a new log church was erected in Twin Springs (Festina), where a majority of the settlers lived. The land was set aside for the new church. The map above shows the property as St. Mary German Catholic Church (St. Mary's – Lady of Seven Dolors) and the Catholic Cemetery. 
In 1885 John Gartner and the Joseph Huber family built what is commonly known as the "Smallest Church" but is actually St. Anthony of Padua Chapel. It was built in the location of the original log church that was destroyed by fire in 1854. John Gartner was married to Magdalin Bouillon, who is a first cousin of Elizabeth (Bouillon) Untereiner, my 2nd great grandmother. This is another interesting story you'll find in my post St. Anthony of Padua Tiny Church.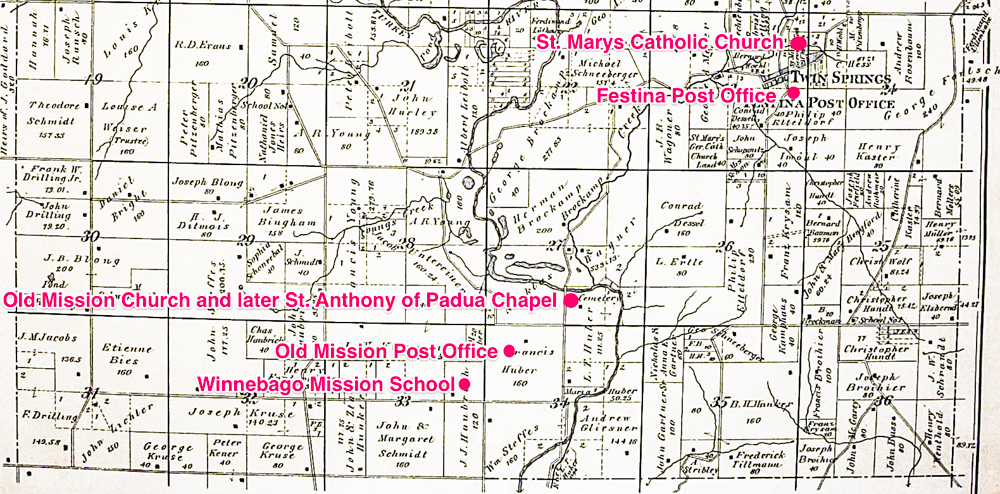 Festina / Old Mission / Twin Springs Timeline
This  timeline  includes events leading up to and including the time the Winnebago Indians were moved to and from Iowa. Although the mission was originally located in Allamakee County on the Yellow River, it was later moved to Winneshiek County at Fort Atkinson. A mission was established at what is called Old Mission shortly after.  
1832 – Winnebago Treaty – September 15, 183. The Winnebago Indians ceded to the United States their lands south of the Wisconsin and Fox rivers, east of the Mississippi. The government on its part, by this treaty granted to the Winnebagoes "to be held as other Indian lands are held", that part of the tract of country on the west side of the Mississippi river known as the Neutral Ground.
1833 – Mission and School Buildings were erected on the Yellow River, Allamakee County, Iowa.
1837 – The Winnebago Treaty – 1837 – Winnebagos agreed to remove to a portion of the Neutral Ground in Northeastern Iowa, although the treaty of 1837 was loudly proclaimed by the tribe to be a fraud.
1840 – The Old Mission Agency was moved in 1840 from the Yellow River in Allamakee County to a point on the Turkey river, in Washington Township, Winneshiek County, about four miles southeast of the fort buildings. The Winnebago Indian School and Mission was located in the Southeast quarter of the Northeast Quarter of Section 33, just a short way southwest of the Old Mission Post Office.
1848 – The Winnebago Indians were moved from Iowa to the state of Minnesota, leaving the buildings, school and mission abandoned.
1849 – The families from Aldenburg, Indiana, arrived in Winneshiek County (details mentioned above).
1849 – Shortly after arriving, probably about 1850-1851 the families from Indiana, used the largest log cabin (excepting the school) to use as a Church, called The Old Mission Church. They moved it about three quarters of a mile north east of the Mission on a forty-acre tract, which those five families had purchased from the government, on which to place the church. The location they moved it to is where the current "St. Anthony of Padua Chapel" aka Smallest Church, is located.
1849 – In September, 1849, the first Mass was read in the Old Mission Church. Bishop Loras sending a priest who walked in from either Dubuque or McGregor, Iowa. From then, services were held once every four months, if it was possible. Pioneer farm families who had a part in organizing the Old Mission Church were Joseph Huber, Anton Stadel, Andrew Meyer, George Beckel, Jos. Spillman and Jacob Rausch. The Priest sent to take charge of this humble church as Rev. G. H. Plathe.
1850 – The Old Mission Post Office was established in in the Northwestern part of Section 34 of Washington Township. 2
1850 – About 1850-51 "a single house of entertainment, a kind of saloon" was located at Festina.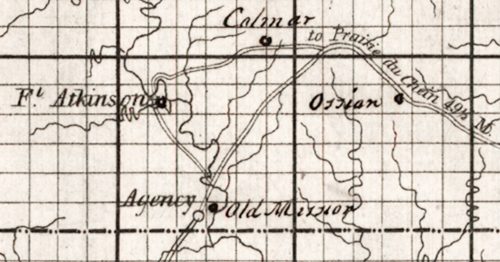 1853 – The Old Mission Church was destroyed by fire. All records were lost. Arson was suspected. All records were destroyed.
1854 – A new log Church was built in Festina, St. Mary's Our Lady of Seven Dolors Catholic Church, referred to as the German Catholic Church on the 1886 Plat Map above.
1856 – The village of Twin Springs (now Festina) was platted.
1880's – A school house was added to St. Mary's Catholic Church in Festina.
1882 – The Old Mission Post Office was closed.
1885 – John Gaertner, his daughter Mary Anna (Huber) Gartner and her husband Joseph Huber, along with other volunteers, built the tiny church and dedicated it to Saint Anthony of Padua, and often referred to as the World's Smallest Church.
1887 – February 10th, 1887, violators of the prohibition law to the number of twenty-one in Decorah, five in Ossian, eight each in Calmar and Spillville, three each in Conover and Fort Atkinson, two in Jackson Junction and one each in Ridgeway and Festina are served with notice of suit. When they found they were "on the rocks," all agreed to "arbitrate" and after submitting to an injunction paid the costs and agreed to sin no more.
1892 – September 1892, Joseph Hasty, 20 years old, of Festina, while attending church Sunday was suddenly seized with insanity, during mass. At first, he talked in a low mumbling tone, but in a few moments became violent, got away from his friends, raced around the church, yelling and cursing. It created great excitement, as he even attacked worshippers with chairs.
1894 – February 1st, 1894, Winneshiek county has eighteen creameries. The Ossian Creamery Co. operated one each at Castalia, Ossian, Festina and Nordness.
1899 – September 1899, "Decorah Journal: there is a man living near Festina thirty years old, who has never been in Decorah. Anything strange about that? This writor has lived in this town 43 years and was never in Oelwein, Westgate, Sumner, St. Lucas or "Growlors" Gulch." No business has ever called us to those places and we do not race around much for the mere pleasure of going somewhere."
1904 – September 4, 1904, St. Mary's Catholic Church, Festina, celebrates it's fiftieth anniversary.