Monday, July 3rd was an easy day for the most part. We took the Hop On Hop Off bus to the blue line and that took maybe about an hour and a half to do the loop.
After that we got off the bus and walked over to the London Eye and the City Hall Building where we had a relaxing lunch at Gillrays Steak House and Bar. Because is was a high end restaurant it wasn't as crowded as all the rest in the area and they had a table available so no waiting. 
After lunch we took a ride on the London Eye. My post on the London Eye gives a bit about it and includes many photos taken of and from the London Eye.
The ride took about 45 minutes to ride completely around and the views were spectacular although it was very cloudy out so not much sunshine on the city. But we still got some good pictures.
We then purchased a magnet before returning to the hotel about 4:30. Dinner was a quick affair at Bay Yum which was located adjacent to the hotel. Wasn't so yummy.
Weather was in the high 60's to mid 70's. Partly sunny although clouded up this afternoon. Very comfortable for the most part. No rain.
You can find additonal information and pictures on these posts: The Palace of Westminster, The Tower of London, The Tower Bridge and The London Eye.
Monday, July 4th
We had arranged for a car to pick us up at 5:30 a.m. to take us to the airport, so made it to the airport in plenty of time. We flew from London to Boston with a 4-hour layover, then on the Raleigh. Our flights were all on time and we had no issues with our luggage.  This during a time that so many flights were cancelled and lost luggage being reported. We were very lucky.
Jeff and Toni (son-in-law and daughter) picked us up at the airport and we got home to hugs from Mia (our granddaughter) and lots of attention from Ellie and Elliot (our cats)
Overall we had a Fantastic Trip!!!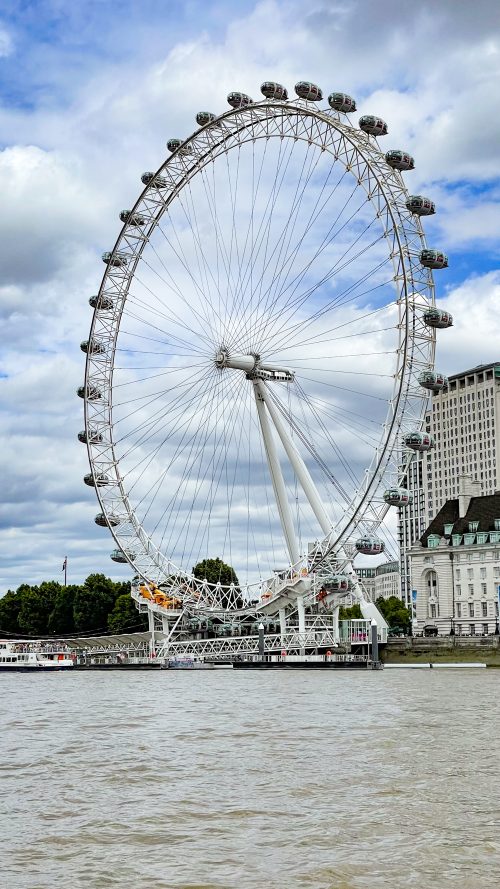 London Photos Day 3 with Captions
Click on a photo to get easy pop up to scroll through photos.