Debarkation & London, England Day 1
Debarkation - Dover, England
After our 43 day, 4 Back To Back European Cruises, we docked in Dover, England the morning of Saturday, July 1st. We stayed in London for 3 nights and this is the first of several posts about our 3 days in London and a few of their historical sites.
The exit off the ship went smoothly. We had to be out of our cabin by 6:15 a.m. After breakfast we left the ship about 7:30 a.m., picked up our luggage and boarded our bus. No customs so it was an easy debarkation. The bus left about 8:45 a.m. for London.
We were dropped off at Victoria Coach station about 11:30 where we got a taxi to our hotel. The Westminster, London, curio. We got to the hotel about noon but was too early to check in so we checked our bags at the desk, bought Hop On Hop Off tickets and walked about 15 minutes to the closest stop.
The following map shows the community of Westminster, London, where we stayed and the many historical sites we'll reference in our posts.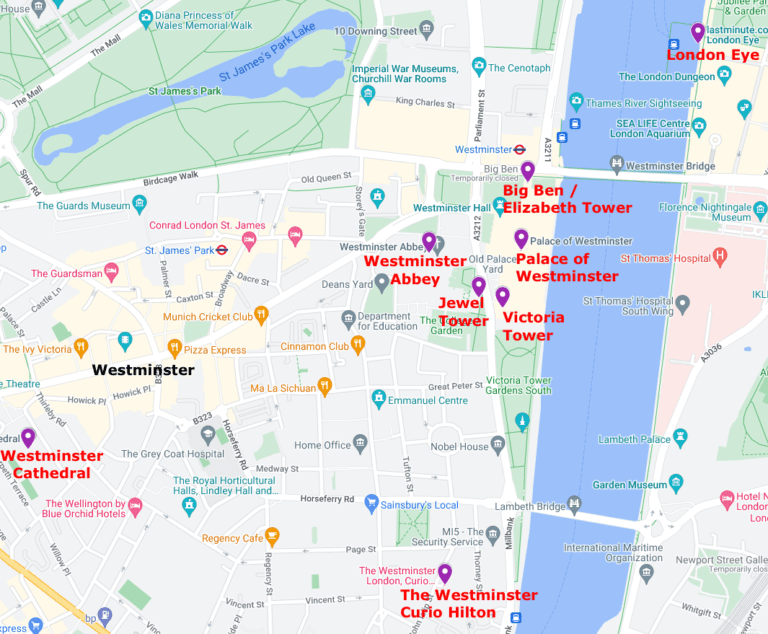 Click on a photo to get easy pop up to scroll through photos.
After riding around for awhile on the Hop On Hop Off bus, we got off on Regent Street. Regent Street is a famous shopping area with upscale stores. We spent about an hour walking down this famous street. London was celebrating "Pride in London" this weekend and you'll see the Pride Flags throughout the city and all along Regent Street.
We had a relaxing lunch at the Steak and Company on Haymarket Street and John had a local beer.
After lunch, we walked to the next Hop On Hop Off and finished the loop to our stop. Lots of great sites on the way. We got back to the hotel after 5:00 p.m. and checked in. 
During our day, we passed many popular sites, including, The Palace of Westminster, Tower of London, The Tower Bridge and The London Eye, all of which I've done separate posts with a bit about these famous places along with more photos.
We had a quick dinner off the hotel restaurants happy hour menu that we thought would be the least expensive but ended up pretty pricy. Oh well, live and learn. When asked if we'd like water, we said yes, not realizing it wasn't free. We each received a bottle and were charged $5 each.  OOPS!
Interesting note, we had to be careful to walk on the left side of the line when crossing the bridges (there were so many people) and us Americans are used to walking on the right side. They also marked the crosswalks with "Look Left" and "Look Right" for us foreigners to avoid oncoming cars. 
Weather was good, cloudy  and sunny off and on. A very comfortable day.
.
Photos of London with Captions Day 1
Click on a photo to get easy pop up to scroll through photos.